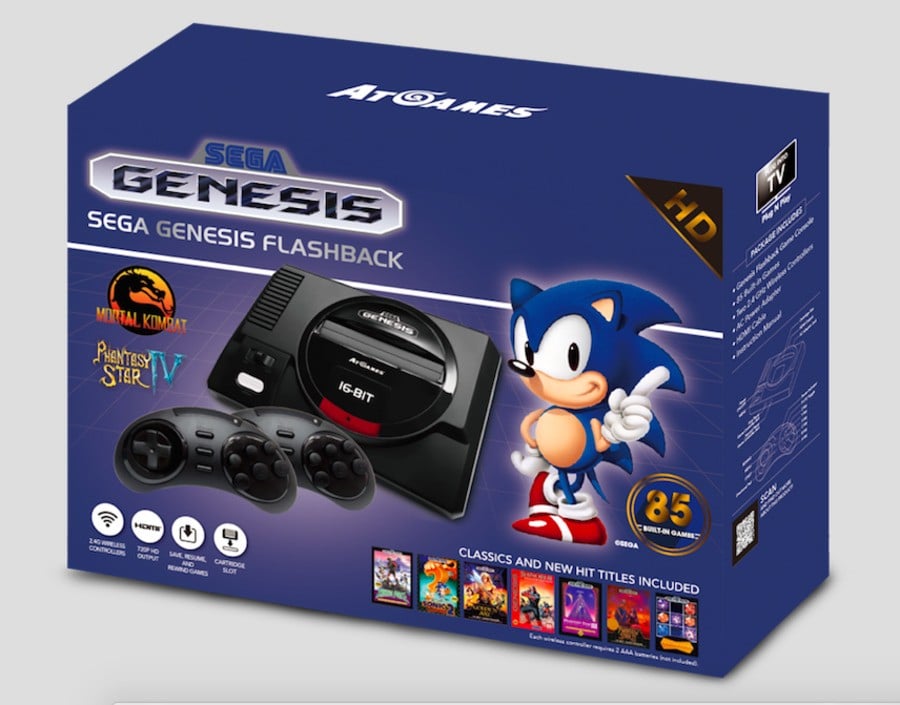 AtGames has confirmed that it is rolling out three new versions of its "classic" Sega Genesis clone hardware this year, alongside three new Atari-themed systems.
Coming this year are the Sega Genesis Flashback, a system we already knew about which features 85 games and support for original cartridges. Wireless controllers and 720p HDMI output round off the package. 
The "Classic Game Console" is similar to the current model, and comes with 81 games. 
Finally, the updated Ultimate Portable Game Player has 85 games and an SD card slot to add more. The big news is the long-awaited addition of save game support, so you can actually, you know, play RPGs on the bloody thing.
Here's some PR for your eyeballs:
The all-new Sega Genesis Flashback has a stunning new design, reminiscent of the original console, and features 85 built-in games as well as an integrated cartridge port that plays almost all of your favorite Sega Genesis and Mega Drive original cartridges. Built-in all-time favorites include the Sonic™ series, Mortal Kombat ™series, Phantasy Star™ series, and Shining Force™ series games. Two new high performance 2.4ghz wireless controllers, styled after the Sega Genesis originals, are included, as well as two legacy controller ports for optional wired gamepads. Other new features for the Sega Genesis Flashback include 720p HDMI output, scan line filtering, and a save/pause/rewind feature for every game.
The Classic Game Console returns in a new value-priced edition, complete with 81 all-time favorites. Amazing new additions to the game line-up include role-playing and strategy legends, Shining Force™, Shining Force II™, and Shining in the Darkness™. Two wired controllers, styled after the Sega Genesis originals, are included, as well as two legacy controller ports to add your own optional wired controllers.

The Ultimate Portable Game Player returns with an enhanced selection of 85 built-in 16-bit Sega Genesis and Mega Drive classic games. The selection of blockbuster games include new additions PAC-PANIC™ and Splatterhouse 2™, as well as many more surprises. You can even add your own games with an optional SD card! Returning for 2017 is save game support for the included Phantasy Star™ series role-playing games. A built-in, rechargeable battery, means the on-the-go fun never has to end. Games can be played on the portable's built-in, high resolution 2.8" display, or on a TV via optional cable.
AtGames doesn't have the best reputation when it comes to clone hardware, but these new features are welcome all the same. Will you be investing?