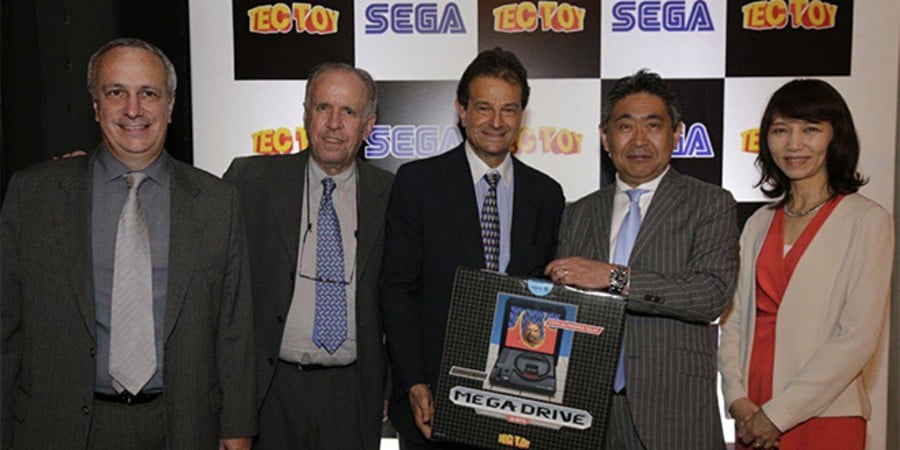 Brazilian firm TecToy has enjoyed a long and prosperous relationship with Sega which dates back to the days of the Master System and Mega Drive, and this year the firm is celebrating 30 years of partnership with the Japanese gaming legend.
TecToy has already confirmed that it is producing a new version of the Mega Drive / Genesis system this year, and last week the first of these units was handed to Tsurumi Naoya, Executive Vice President of Sega Sammy Holdings, at a special event. Shipments to consumers are due to begin this week.
During the presentation it was also confirmed that TecToy is releasing a new game for the console based on the popular "Monica" comic strip. The first game in the series was released in 1994, and was a modified version of Westone's Wonder Boy in Monster Land. In keeping with this tradition, Monica in the Land of Monsters is based on the Mega Drive title Wonder Boy in Monster World.
TecToy CEO Stefano Arnhold also revealed that his company wanted to reprint Ayrton Senna's Super Monaco GP 2, but that copyright issues prevented this from taking place. The late Senna remains massively popular in his native Brazil and products bearing his likeness are regulated by strict licensing agreements.
Given that TecToy operates almost exclusively in Brazil it's unlikely that we'll see this new Mega Drive system officially released elsewhere, but there are already plenty of official "clones" available if you're keen on that kind of thing.
[source seganerds.com]