When Runner3 was announced as a Nintendo Switch exclusive this writer's eyebrows went up a fair amount - it's not particularly common for download games to be exclusive nowadays, much less so from studios with a track record of multiple cross-platform successes. Yet here we are - it's an exclusive, and an exciting one at that. The Runner series, in its multiple guises and styles, has established itself as a guaranteed good time for fans of platforming, rhythm gameplay and good old-fashioned challenge.
Choice Provisions, originally Gaijin Games until the company decided the name was no longer suitable, has been 'in the game' for around eight years. It all began, like a few other notable development names, with a pitch on the WiiWare service. In that generation of hardware the concept of download games was still fresh, a novelty, and studios had more hoops to jump through in order to release their games. Infamously the WiiWare service had a punishing download size limit, while studios needed to provide an office address to even be considered.
Yet some determined companies made their mark, and Choice Provisions - in that Gaijin Games guise - certainly had an impact. Its debut release was BIT.TRIP BEAT, and what followed over the next couple of years was a series of six games in the series, all with colourful retro-style visuals and old-school hooks. One of the very best in this collection was BIT.TRIP RUNNER, and it's that formula that's evolved into its own franchise.
We caught up with Choice Provisions co-founder Mike Roush to talk about the path to Runner3 on Nintendo Switch, which naturally starts with the BIT.TRIP series - the secret to making an initial mark on WiiWare was the system concept, unsurprisingly, primarily the Wii Remote.
The Wii was great for us because of the Wiimote. It allowed us to have control schemes that we just did not see on the other platforms at the time. This led to more interesting and unique games. One of our core values is thinking from the player/controller, to the screen. This basically just means gameplay comes before a lot of flashy graphics, but we are very interested in how the player interacts with our games.
For many 2009 - 2011 will always be about BIT.TRIP when it comes to the history of Choice Provisions, but it wasn't a studio stuck in a grind and one style of development. Lilt Line was another experiment, and the team began its journey towards publishing a small number of games from other developers. After the excellent BIT.TRIP FLUX the group evidently wanted a change and sought that through a sequel. It sounds like a contradiction, but BIT.TRIP Presents: Runner 2 Future Legend of Rhythm Alien was a sequel in name and core gameplay, but very different in every other way. A sizeable adventure, a visual overhaul, some entirely new mechanics and a referential 'retro' set of unlockable levels took the brand off on a tangent. The voice of Mario, Charles Martinet, also added his talents to the narrative; he'll be returning for Runner3.
Roush admits the overhaul from "the 'Atari' style" was "a tad selfish", but also representative of the team upping its game with a bigger, more ambitious title.
We'd just spent two and a half years working within that art style and wanted to change things up! The original style is really AMAZING and we hope to go back to it at some point. We dropped the BIT.TRIP name and changed it to "BIT.TRIP Presents…" because it seemed like the best way to convey to the player that Runner2 was going to be something a little different from what they were used to, but not a complete departure. The spirit of the BIT.TRIP series was that they were small, bite-sized experimental games. Runner2, being a larger production, didn't quite fit that bill. So we wanted to make that distinction.
Runner3, in its way, is also aiming to move the franchise forward, though the gulf in style isn't as visually dramatic as what we saw with Runner2. It seems once again to be a platform for the development team to be playful and express their creativity - just look at this devlog on the 'retro' levels for a flavour of how stimulated and motivated the developers are to make the best (and most interesting) game possible.
We asked Roush to pin down what will differentiate Runner3 from its predecessor; evidently the balance of keeping fans happy while moving forward has been on the minds of the development team.
It's hard, because we want to keep the same spirit of the Runner games, but we also want to branch out. So speaking about branching out, we are having more branching paths, and alternate routes. We are introducing Hero Quests that will add depth to the game, and add some story points. Runner3 will have a richer and more complex narrative than the previous games, along with a lot more VO from Charles Martinet. CommanderVideo will also be able to ride vehicles, double jump, and a few other new mechanics we haven't revealed yet.
We couldn't help but ask, why exclusive to Switch? Nintendo has secured a handful of 'console exclusive' releases - which means those games will likely also appear on PC - and some 'first on console' deals, but outright exclusives are rare. For mid-size 'Indies', in particular, spreading titles across various platforms helps boost the odds of financial survival. Since 2014 Choice Provisions has developed and published a range of games across a host of platforms, with Nintendo gamers included with the likes of Woah Dave! and Dragon Fantasy: The Volumes of Westeria.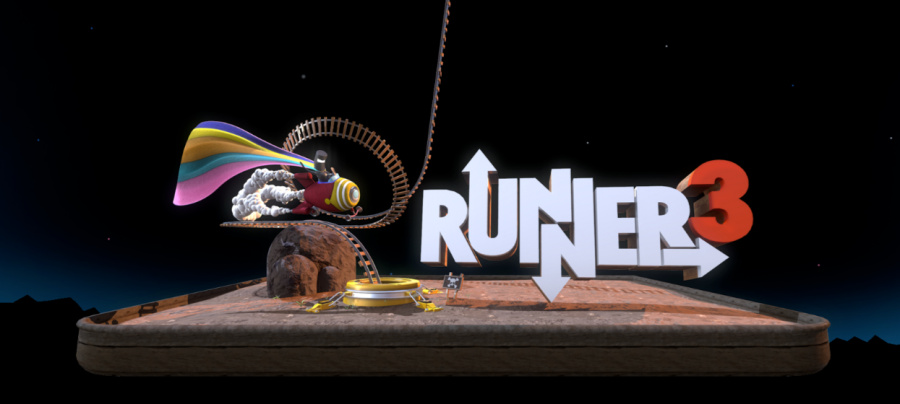 Roush, understandably, won't go into any business aspects of going exclusive on Switch, but explained that Nintendo feels like home for the Runner mascot and star, CommanderVideo.
We have been talking about making Runner3 for a long time, but there were some other games we wanted to make first, such as Laserlife, Woah Dave!, and Tharsis. We kicked off Runner3 mid-August of last year, but there was a lot of pre-production and planning leading up to that date. It was a game we discussed around the office on a very regular basis, just spitballing ideas and discussing what we would like for the game to be.

Nintendo platforms have always been CommanderVideo's home, and of course Nintendo fans are the best. It just feels right to be on Nintendo platforms, to us.
The BIT.TRIP series, going back to WiiWare, made good use of the what the Remote could do - though the games arrived on various other platforms, in some ways the Wii iterations feel the purest of the lot. Runner2 was multi-platform all the way, however, and was well-suited to standard controllers and inputs. We asked Roush how Runner3 (especially with that exclusivity in mind) would utilise the capabilities of the Switch - he's not ready to give details, but did say "there is indeed a reason we've decided to bring the game to the Switch, but that's all I'll say for now". Touch controls, local co-op, HD Rumble, motion-controlled aspects? When it comes to Choice Provisions anything is on the table, we'd suggest.
As the company moves towards its 2017 release of Runner3 on Switch, it's natural to reflect on how much has changed since those bold early steps on WiiWare. The studio has made a lot of games, published quite a few, changed name and worked with the voice of Mario. Runner3 seems like a natural move, then - evolving on its most enduring series and doing so on a Nintendo system. Roush wrapped up with a reflection on the journey the company has had since those retro-infused beginnings on the Wii.
It has been a very long path and something we reflect on often. I was thinking the other day, about how different each of our games are from one another. We are constantly trying to push ourselves to do projects that are outside of our comfort zone. Even with the Runner games, we try and mix it up as much as we can. The team has evolved in natural ways, we are better at what we do, more focused, and much better looking. Alex and I each had some kids since Runner2. That has definitely changed the way we work.
Runner3 will certainly be one to watch on Nintendo Switch in 2017 - it's sure to be full of smart ideas and ingenuity, and in Choice Provisions has a developer that's been there, done it, and then done it again.