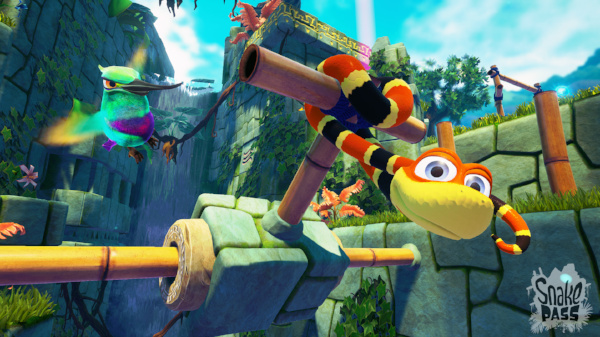 There are few video game sound composers that are as readily recognisable in style as David Wise. He made his name if the 'good old days' at Rare, producing the soundtracks to titles such as Donkey Kong Country. His compositions continue to grace a number of titles - two varied examples on Wii U are Donkey Kong Country: Tropical Freeze and Tengami.
Wise has now been confirmed for an intriguing download title heading to Switch (along with other systems) in the Spring. He'll be lending his talents to Snake Pass, which is an independent project from Sumo Digital - it's a studio best-known for its extensive efforts on games for third-parties, with Nintendo fans perhaps recognising the company for Sonic & All-Stars Racing Transformed.
With Snake Pass drawing inspiration from retro collect-a-thon Rare platformers, while also introducing its own take on physics-based puzzles, it seems like a good fit. Wise is quoted as saying the following:
Once I played the game and saw the captivating world Sumo created, it set my mind on fire. I immediately began composing melodies, then worked with the team to develop these and nail down the feel of the soundtrack. We've ended up with something that not only pays tribute to the game's classic inspirations, but also brings something new to the table, just as the game's mechanics do!
You can check out a couple of brief snippets below.
As for the game itself, if you missed our previous article you can catch up on a short trailer from 2016 below.
That trailer music from last year, also rather good, was by Sumo's in-house sound designer Dom Parker.
Is this one going on your Nintendo Switch wishlist?
[source snake-pass.com]