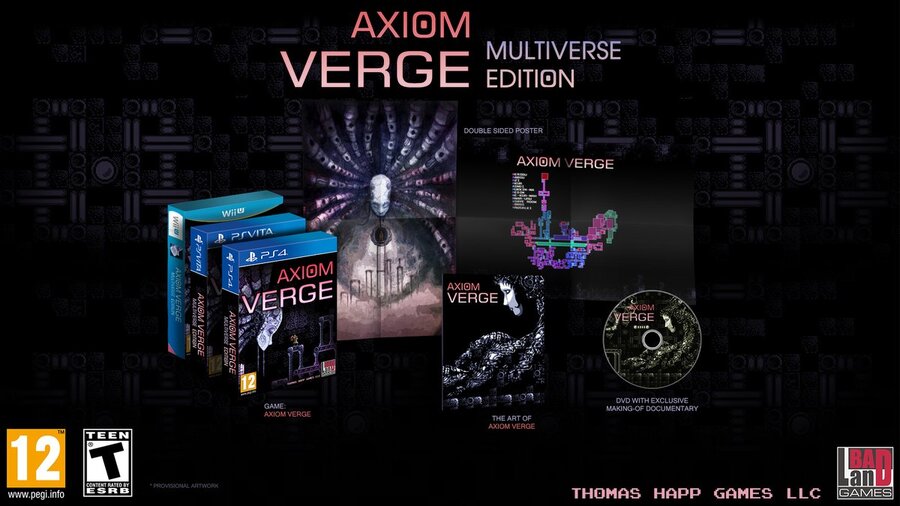 As many of you are no doubt aware, last year was the 30th anniversary of a certain orange and red intergalactic bounty hunter's series. Of course, you'd be forgiven for missing this; aside from releasing the middling spin-off Metroid Prime: Federation Force, the Big N let the milestone pass by unnoticed. Fortunately, fans of the series still got their due celebration, and a particularly stand-out indie game called Axiom Verge--which clearly drew heavy inspiration from Samus' 2D outings--also saw release on the Wii U eShop. We scored it a rare 10/10 here, and now it seems that the game will be getting a special release on several platforms, Wii U included.
BadLand Games has announced that Axiom Verge: Multiverse Edition will be releasing sometime within the next four months. The box will include: a copy of the game, a booklet with development commentary and art, a two-sided poster, and a behind the scenes documentary about the game's development. It'll cost $29.99 at retail, and Tom Happ—the game's sole developer—had this to say about the release:
Fans have been asking for a physical retail version of Axiom Verge since the game originally launched. I'm extremely excited that the Multiverse Edition will be coming to retail soon. As a solo developer, it's always been a dream of mine to see a game that I made end up on the store shelves!
What do you think? Will you be picking this up? How did you like Axiom Verge? Drop us a comment in the section below.
[source destructoid.com]