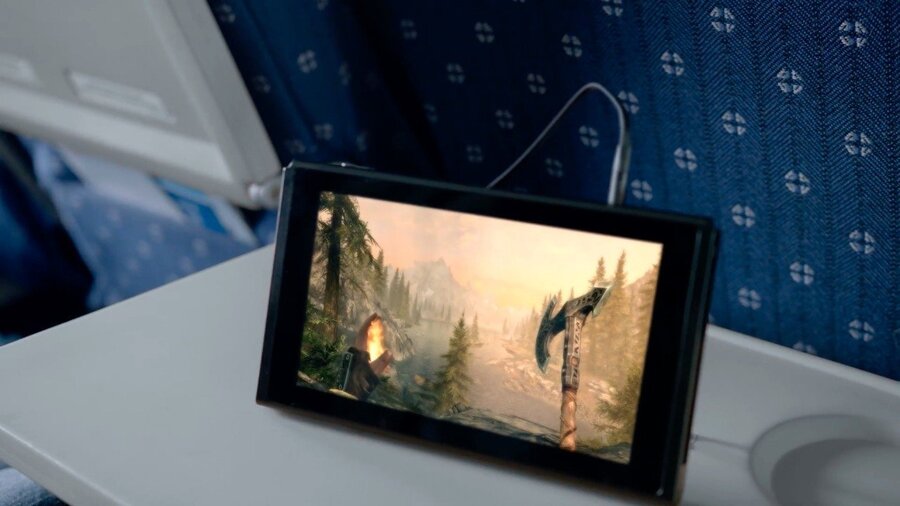 So you're on a long flight and want to get some quality time in with your Nintendo Switch in tabletop mode. The rather large gentleman in the seat next to you has fallen asleep, so you don't feel too self conscious; it's time to make some serious progress on the amazing The Legend of Zelda: Breath of the Wild. You pull out your Switch from your messenger bag and flip out the trusty kickstand and get stuck into your quest. Unfortunately it's a long flight and you're now down to your last bar of battery life, must your adventure really end this way?
Not to worry, all is saved. You remembered to take a portable power bank to top up your mobile phone battery and you have a USB-C cable handy. You're good to go right? Not quite - how do you get your USB-C cable to fit underneath your Switch in tabletop mode? The answer is you can't. The port is recessed a bit, so maybe you could get away with a right-angled USB-C cable, but in all honesty it doesn't look like it will fit very well.
Step in the HORI Compact Playstand which will solve all your Switch tabletop charging woes. Not only does it fold up for portability and have an adjustable angle, it also boasts rubberised grips for stability - and you know we're all about stability here at Nintendo Life. Most importantly of all, it gives you enough clearance to plug in that USB cable and charge the console.
Will you be picking one of these up to make charging in tabletop mode possible, or do you think Nintendo will come up with a more elegant solution in time? Let us know what you think by posting a comment.
[source amazon.com]