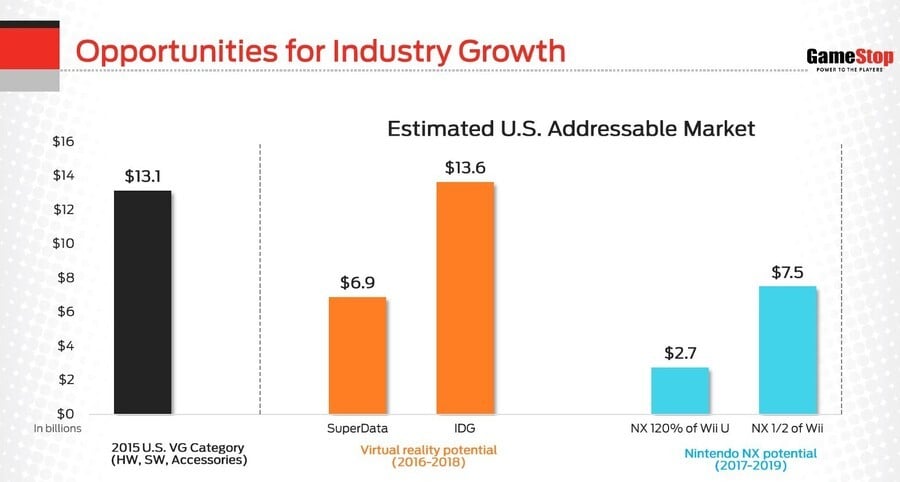 GameStop's quarterly earnings call took place yesterday, with the company revealing that total sales have dropped 4.3 percent to $1.97 billion, while hardware sales have fallen by 28.8 percent. The fall was attributed to the small number of AAA games in the first quarter of this year.
However, the company isn't dwelling too much on these drops, but instead wants to focus on the future - and the potential impact of forthcoming hardware launches including Nintendo NX and PlayStation VR.
Conservative projections on these products were offered, with a GameStop representative stating that the NX market "could" be worth $7.5 billion if the system does half as well as the Nintendo Wii:
Nintendo has confirmed that they will be introducing a new console in early 2017. So let's take a look at the potential for just that one new console. Once again, we're not projecting. We are simply looking at the potential for the new console in comparison to prior consoles.

Should the new NX perform only slightly better than the Wii U, it would generate 2.7 billion dollars in incremental sales over the first two years. Should it perform at even half of the level of the Wii, it would generate 7.5 billion units of incremental sales over that time frame. You can of course apply GameStop's market share to estimate the impact on GameStop's sales.
While it's too early to offer definitive projections, we are monitoring the situation closely in terms of product availability and features, consumer awareness and purchase intent. We plan to provide updates this quarter.
The rep also addressed rumours regarding NX abandoning discs for carts:
We saw these rumors, and of course we can't comment on them. I don't think we know anything about it anyway [about whether it'll be disk or cartridge-based], but certainly for us physical media is a good thing.

The only difference would be on the refurbishment and pre-owned side, and actually cartridges are much simpler to refurbish and repackage, so there's a little bit of an advantage in that direction.
But it's early, and we keep a cool head. Certainly I would say that there are rumors of that type, just confirms that this is an important console for next year, it will have physical media, we will play a role in it, our pre-owned business will also play a role, so we're excited about that, and of course we love Nintendo IP, so… it's all good news.
[source gamasutra.com, via dualshockers.com]