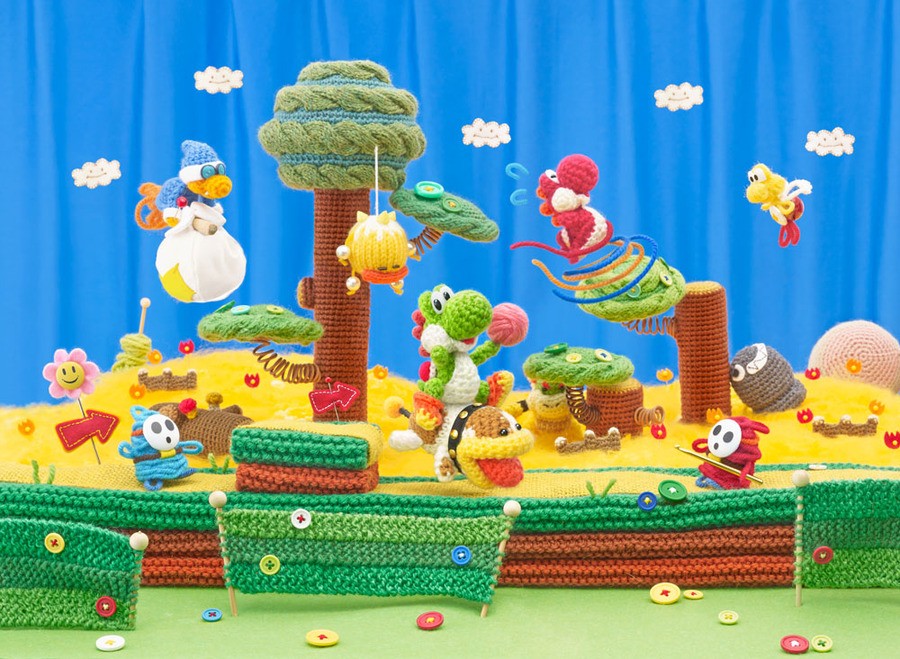 Though it's been out for a while in Europe, Yoshi's Woolly World is still sort of new over in North America. The adorable and colorful new entry in the Yoshi's Island series is certainly a worthwhile experience; we awarded it a 9/10, praising the visual design and creative gameplay. In order to learn a bit more about the game's development, Game Informer recently did an interview with Emi Watanabe and Takashi Tezuka – the Lead Designer and Producer, respectively – and many interesting tidbits were brought up.
One of the questions asked was why they chose to drop the divisive Baby Mario mechanic that has been present in most of the previous entries in the series. It seems the answer is that the team was focused wholly on the yarn aesthetic and maximizing its potential, so Baby Mario was omitted from the very start.
Tezuka: The concept of Yoshi's Woolly World was that we wanted to do a yarn take on the series, so we didn't have plans for Baby Mario from the start.
Another question asked was how the team came up with all the different designs for Yoshi. It seems that they were inspired by the designs of the levels themselves and began to think how they could apply that diversity to Yoshi. Initially, they considered giving the different versions special abilities, but this limited how many designs they could put in.
Watanabe: We actually started with just the standard, green Yoshi that is the main playable character, and as we developed the game and came up with all these gorgeous backgrounds, we decided that maybe we could play around a bit with Yoshi himself too. With knitted scarfs and sweaters and things like that, you can have a bunch of different colors mixed in there. We played a bit around with him and made a bunch of unique designs and when we asked around for feedback, people were really divided on what they liked and had their ideas of what we should make. So we decided to throw them all in and put in a bunch of different kinds of designs.
Tezuka: And for me, just changing Yoshi's designs, like the pattern, it was really fun and it made me really happy. At first, we also considered having abilities to go with some of these patterns, but I found that just the aesthetic itself was so fun and pleasurable. So rather than limiting the number of designs based on different abilities we could think of, we decided to focus on kind of the visual aspect and the joy that the colors and things brought.
For the full interview, read here.
What do you think? Did you appreciate Baby Mario's absence? How did you like Yoshi's Woolly World? Share your thoughts in the comments below.
[source gameinformer.com]