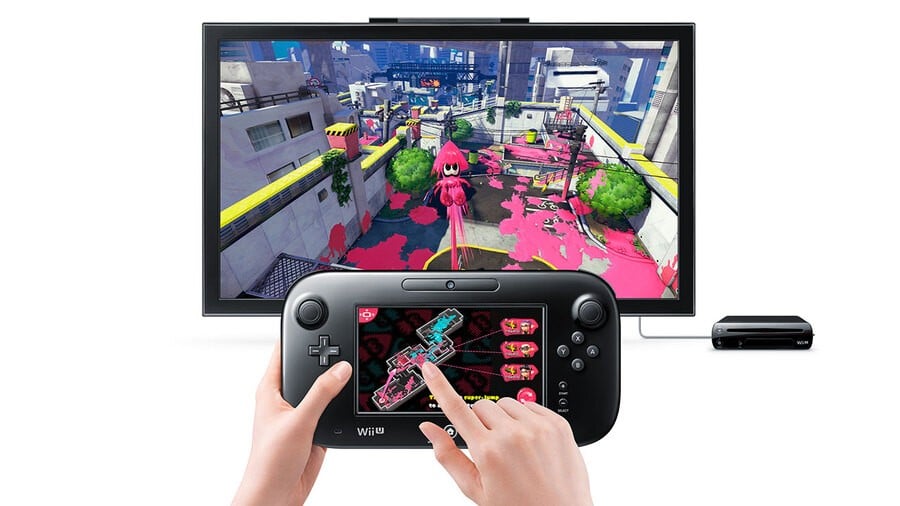 In the last generation of home consoles the Wii was an innovative and fun budget option in the market, while the more powerful HD systems - PS3 and Xbox 360 - came with a premium price tag. As the generation wore on prices naturally dropped and bundles grew in number, but the basic market reality was that the Wii was more of an impulse luxury buy, hitting price points that had the affect of claiming the 'value' position. It worked well, with the so-called 'casual' market being drawn in by the concept and reasonable price of entry, and plenty of gamers also owning the Wii alongside at least one of its rivals from Sony and Microsoft.
The Wii U has had multiple aspects that have caused it to struggle, but one we've mentioned in the past is that - initially due to the cost of GamePad manufacturing - it was released at too high a price. In a technological world where consumers want exciting products and a perceivable correlation between tech specs and cost, the Wii U didn't quite convince. The broader concept of the system was an issue in some respects, and that's been discussed plenty in just under three years since its release, and when that was combined with fairly modest graphical prowess it seemed like an expensive system. There was logic to the system's design and release strategy, let's be entirely fair and acknowledge that, but it didn't pay off.
That happens. That's life. Yet what continues to frustrate me - yes, we're going first person and branding this an editorial - is that Nintendo hasn't replicated a strategy that was proven to work when a system struggles. In Fall 2011 it accepted losses on hardware (for a year or so before manufacturing became more efficient) and slashed the price of the 3DS. It was a hefty price cut and necessitated an apology to early adopters in the form of 20 retro games, but combined well with major releases in Holiday 2011 to kickstart a revival for the platform. It's barely looked back since as its library has developed strongly, hardware has been iterated and it's passed 50 million units in a very challenging market.
Yet with Wii U Nintendo has stayed away from the same bold strategy. It did formally drop the Wii U price in August 2013 - the problem? It was a $50 price cut, with the standard unit still costing $299.99 in the US and being pricier than its predecessor was at launch. Let's not forget that even at launch the Wii offered a far cheaper option than PS3 and even the budget Xbox 360. Strategically the aim with Wii U was clearly to undercut the PS4 (the cheaper at launch of the 'new' systems in 2013) by $100, a reasonable move, but as mentioned above multiple factors meant that it didn't hit the mark with the general public.
The trouble is that, since then, the Wii U has based its retail efforts exclusively on bundles, and heading into this Holiday season it's looking difficult for Nintendo's system. Let's take the US market - easier than in Europe where prices are more erratic - and assess the value offerings. Somewhat amazingly, considering Nintendo's previous success in targeting families and being the most affordable gaming option, recent price cuts on PS4 and Xbox One have made Microsoft and Sony's consoles highly affordable options.
The following prices are taken from GameStop - as it's a go-to retailer for many, despite a sometimes poor reputation with enthusiasts - with all of these being new (not refurbished) systems:
Wii U with Mario Kart 8 + DLC - $299.99
Wii U with Super Mario 3D World and Nintendo Land - $299.99
500GB PS4 with Uncharted: The Nathan Drake Collection - $349.99
500GB PS4 with Star Wars Battlefront - $349.99
500GB Xbox One with Gears of War Ultimate and NBA 2K16 - $349.99
1TB Xbox One with Gears of War Ultimate, Rare Replay and Ori & the Blind Forest - $399.99 (out on 27th October)
A key differential with the PS4 and Xbox One, of course, is that most buyers won't need an external hard drive early on (or ever, if they manage their games sensibly), whereas - depending on spending and gaming habits - that can add cost to a new Wii U.
The problems there are fairly obvious. With the Xbox One and PS4 having greater media focus, higher sales, predominant store placement and many more third party games, including stronger iterations - in terms of visuals, performance - of family friendly titles such as those in the toys-to-life market, there's a sense that they offer better value all around. It's true that the Wii U still fares fairly well in head-to-head sales for franchises such as LEGO and Skylanders, and that the library of the system has plenty of wonderful exclusives for all types of gamers; we know this as fans of the company, but the trouble is that these factors haven't paid off in the broader market in past years, even with a bigger price gap.
Throw in games delayed into 2016 and, beyond titles such as Xenoblade Chronicles X that cater to dedicated fans that are likely already in the Wii U gang, there's little in the way of new games to give the system a substantial push this Holiday season; we're not sure games like Mario Tennis: Ultra Smash sell systems on any meaningful level. The recent Mario Kart 8 + Splatoon bundle announcement in Europe shows that the focus will likely - out of necessity - be on promoting evergreen titles, and hopefully Super Mario Maker will have a role to play through sheer brand power.
As it stands though, overall, Nintendo doesn't even seem to be particularly worried about trying to improve the situation in a substantial way; that's disappointing, and we hope announcements will soon come to ease us of that concern.
Even though Nintendo is only targeting 3.4 million unit sales this year, the longer the Wii U remains a distant third in sales and focus at retail the more damaging it will be. It's true that Nintendo doesn't rely on loyalty from a previous generation when launch new hardware - look at the sales gap between GameCube and Wii - and that the NX platform will aim to start a new day without worrying about a large Wii U base to move over. Yet beyond that perspective there is nevertheless brand damage that comes with having such a poor seller on store shelves.
Here in the UK, for example, I see it all the time in retail stores which give minimal space and stock to the Wii U - and I can't blame them based on sales. To a general consumer in a store dominated by Xbox One and PS4 products the Wii U can seem like a bit-part player, and it's not even particularly affordable to buy. I've also been told by those that work in the sector that Nintendo's rather old-fashioned in approach and does little to help retailers, in the UK at least. While Sony and Microsoft evidently offer lowered market rates on games or bundles to pass onto consumers and help make discounts and promotions happen, Nintendo often keeps its prices locked and offers promotional materials like posters and stands instead. In the cut-throat world of retail, stores don't want posters, they want deals to help them sell stock.
All of this is bad for brand reputation, and as one indication of how poor product sales can affect Nintendo's broader reputation it now stands outside of the Interbrand Best Global Brand Top 100 for the first time. There simply isn't enough Nintendo buzz in the wider world; the 3DS is unable to do everything on its own.
I'm not suggesting for one moment that Nintendo slashing the Wii U price will bring it back into the 'console race' in a big way - it won't, that ship has sailed. What it can do is tempt more to take the plunge and get more units off shelves. Microsoft and Sony aren't exactly struggling with their systems but they're competing hard with each other, driving prices down and simply aiming to get into as many living rooms as they can. Nintendo, to be blunt, isn't doing enough.
With the 3DS Nintendo made a bold move with the 2011 price cut, and it was a gamble. I'm not even sure it's a gamble any more with the Wii U. A price cut would just be a means to help retailers shift stock, get more people playing current-gen Nintendo, and demonstrate to all - gamers and retailers - that the company at least wants to make the best of a bad situation. There are still at least a few major games to come in 2016, and even if that's a last hurrah they'd at least have a better chance if there was a late boost in Wii U numbers.
I hope that a price cut comes, and I hope Nintendo makes a bold push to shift some Wii U units this Holiday season. Make it a budget piece of technology, remind people that Nintendo is the fun and affordable option. If the current pricing is maintained I fear for a very tough Holiday, and I'm doubt Nintendo can lose much with the Wii U by throwing a little caution to the wind.
I hope the Wii U isn't simply going to be left to dawdle its way to the end of a shortened generation, with ageing stock slowly whittling down and ending with lifetime sales figures worthy only of being consigned to the dustbin. It's a wonderful system that deserves far better, and it should be given a chance to win over some late adopters. At current prices and market position, it's being left with little hope.