The worldwide Mario Kart community is huge, especially since the success of Mario Kart 8; yet let's not forget that the older versions are still heavily competitive. Super Mario Kart has Official World Championships held annually in France every August run by the French Federation of SMK team (http://www.ffsmk.org/). Nintendo of France have been a partner of the Super Mario Kart Championships since the beginning in 2002 and each year provide some top Nintendo consoles and games as prizes; several new 3DS's and amiibo up for grabs this year. There will be trophies and medals for the top winners of each mode and overall.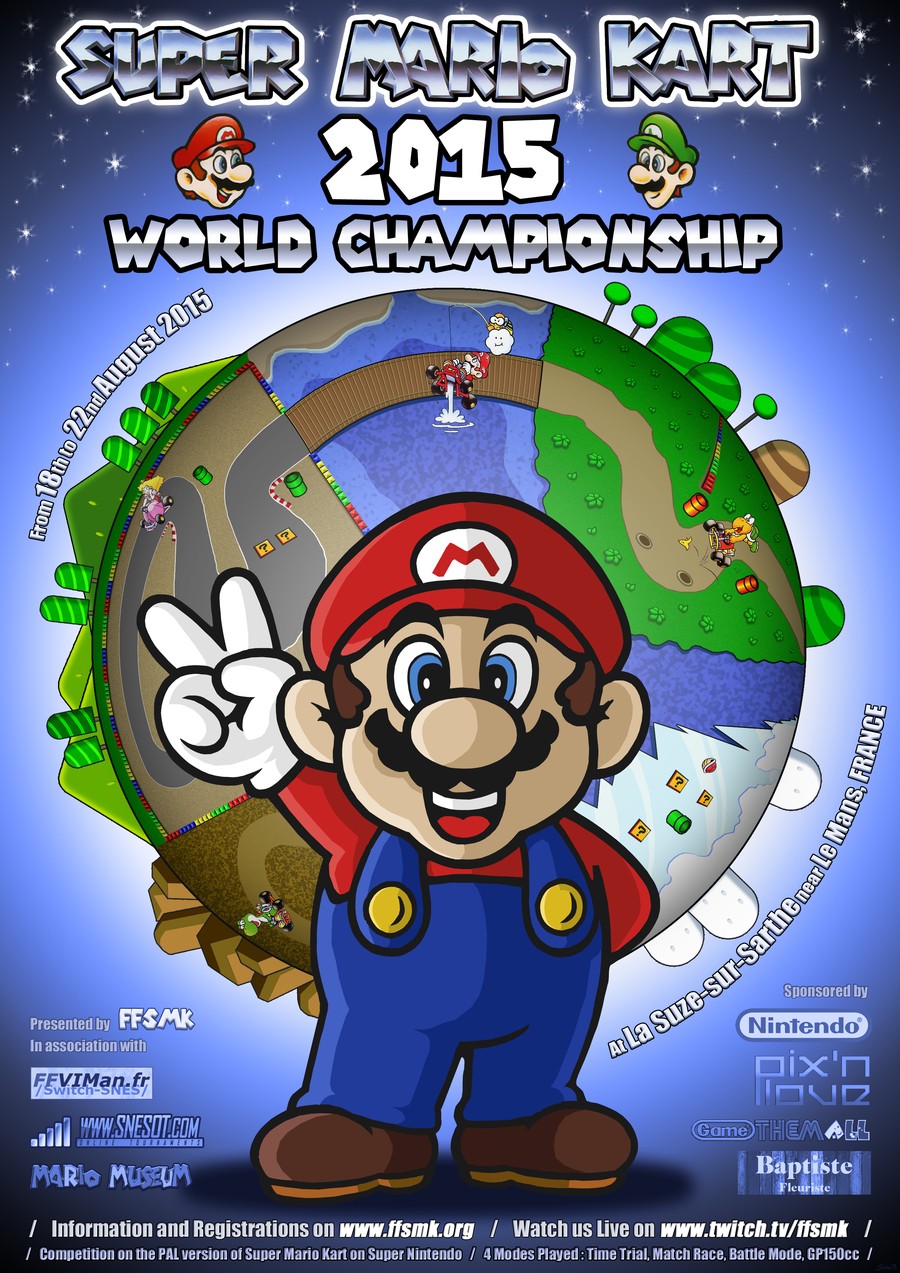 The event will once again be held at the village of La Suze-Sur-Sarthe, near Le Mans in France, between the 18th – 22nd August. The game will be played on the original European PAL SNES version consoles, and the hall will be set up with CRT TVs and consoles all around the perimeter, where the main tv will be projected on the main stage screen and also on Twitch TV for another year!
There are between 50-60 players from around the World visiting the event to compete this year. Multiplayer World Champion, Florent Lecoanet of France (now a member of Team Meltdown) has won the World title for five years including (2009 – 2011 and 2013, 2014), plus a European title and French title back in 2008 and 2007 respectively. Sami Cetin of the UK won the World title once back in 2012. Whilst Florent has been mostly unstoppable with his amazing consistency and high level of play, the most powerful contender is Julien Holmiere of France, who placed 3rd last year. He has shown an immense improvement of his Time Trial and racing level since last year, so he will be one to watch. Could he shoot for the title, or will Florent Lecoanet defend?
There are many more players who will challenge for the Top spots; as with any Mario Kart game, surprises can and will happen! There are Racing specialists, Time Trialers and Battle Mode tacticians… The Dutch team led by Karel van Duijvenboden will be returning, with gaming legend Patrick Wessels who is returning to competition after helping out with the admin in the previous years, and also Time Trial star Aron Langerak. A great welcome to the USA team, with Drew Blumfield who attends every year from California, and this time he is joined by some of their fastest Time Trialers, Joe Bernier and Dan Hoernemann plus another new contender visiting. Guilherme Arantes, one of the Brazilian Champions will be visiting for his 2nd time since 2009 to compete on Time Trial. Contenders from Algeria, Salim Araissia, and Switzerland, Cedric Leutwyler and Alex Hantson will also be showing their skills on all of the modes.
Sami Cetin will be travelling with 5 other contenders from Team UK including his niece Leyla Hasso, who is as of this year the 2nd fastest PAL Time Trial player in the UK and fastest female contender at the Championships. David Moll of North London, who is the UK's 2nd fastest NTSC player and one of the fastest Time Trialers in the UK; Anna Moon who is active in many kart games, and more recently Mario Kart 64 and Chris Clark from Hertfordshire who is a long time member of the community, he's a strong racer and battler. Conor Wood is also one of the UK's top racers and Battle Mode players and looks forward to the competition.
There are also contenders from the other Mario Kart games, and we will also have the Time Trial World Champion of Mario Kart 64 attending from Germany, Matthias Rustemeyer, as he also competes in Super Mario Kart SNES, and several players from Belgium including Sophie Jarmouni who played last year and long time member Geoffrey Ewbank. Numerous contenders from France are also taking part, all with high skills; special mentions go to the current Time Trial World Champion, Guillaume Leviach, top player Geoffrey Label who has won many medals in the past including Battle Mode World titles; Jeremie Clement, Anthony Pichard of Paris, Djibril Aatif, Pierre Coste and many more. This year will also welcome Spain's fastest multiplayer contender in Super Mario Kart, Daniel Lopez who will be attending and Lara Gonzelez Perez who is also competing.
The Tournament format will be the same as the previous year with a mode played each day; the group stages start at around lunchtime if you are in the UK or Europe, then the Top 16 knockout stages occur in the evening with the finals late in the night for each day. The only exception is the Time Trial competition which is shorter and will happen on the evening of the arrival day 18th August.
August 18th - Time Trial
Group Stage starts at 8:00 PM - CET
August 19th - Match Race
Group Stage starts at 1:00 PM - CET
August 20th - Battle Mode
Group Stage starts at 1:00 PM - CET
August 21st - Grand Prix 150cc
Group Stage starts at 1:00 PM - CET
August 22nd - Price Ceremony & Bonus Stream
Starts at 1:00 PM - CET
---
Some videos of last year's finals for a taster of what's to come:
Match Race Final – Florent Lecoanet vs Sami Cetin
Battle Mode Final – Julien Holmiere vs Florent Lecoanet
150cc Grand Prix Final – Sami Cetin vs Florent Lecoanet
---
Would you like to compete in the Super Mario Kart World Championships for one of the future editions? If yes, you can check on the official website for registration next year: www.ffsmk.org
The event is certainly growing despite the game's age and we hope to see these classic Championships continue for many years to come.
We hope you will enjoy watching the Super Mario Kart SNES World Championships; tune in to the Twitch channel between 18th to 22nd August 2015 to see the action unfold.