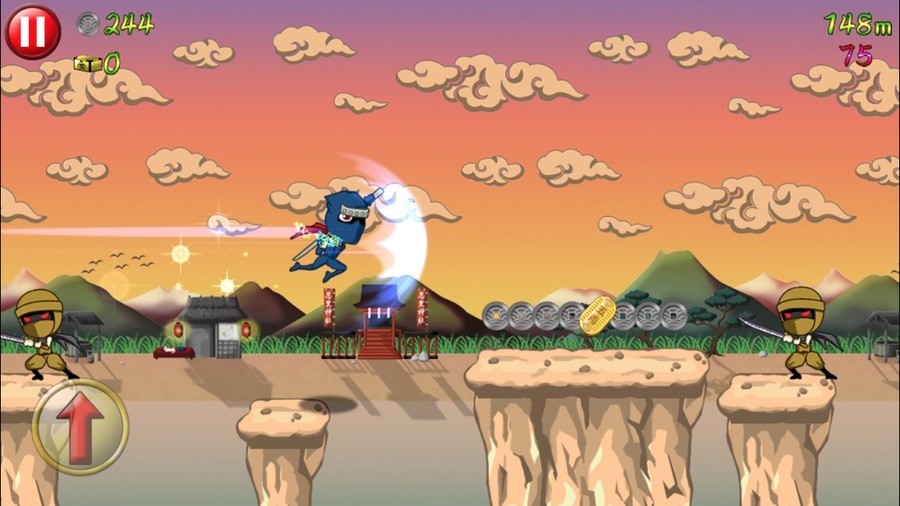 Natsume has just confirmed the titles it will be showing off at E3, and among them you'll spot a new name: Ninja Strike. Before you get your hopes up, it's not some exciting simulation of what it must have been like in ancient Japan when the Shogun's best assassins decided to down tools over low pay - instead, it's a rather basic-looking action title which sees you running through levels collecting treasures and taking out bad guys.
No screens or footage from the Wii U edition have been published so far, but it's fair to assume that it will be based on the smartphone version of the game, which Natsume previously published on the App Store and Google Play market. The mobile version is free to play and features in-app purchases, so presumably Natsume will have to tinker with the gameplay somewhat in the Wii U edition.
Here's the PR:
Run, fly, and slash enemies to get the stolen treasures back! Be sure to check out this high-speed, action-packed, side-scrolling title in Natsume's Ninja series! Whether you go with strength or triple jumping, there is a ninja for you! Choose from 5 different ninjas, each with their own special characteristics. You'll face much more than just run-of-the-mill henchmen! Use your hard-earned coins to level up a variety of skills that will help you get further and make you tougher! Pick the skills that best fit your playing style! How far can you go?
Natsume has also confirmed that it will be showing off Harvest Moon: Seeds of Memories (Wii U), Gotcha Racing (3DS) and Brave Tank Hero (3DS and Wii U) - but we already knew about those.
Check out some gameplay from the smartphone version (the main image above is also taken from this edition) and let us know what you think by posting a stealthy comment.