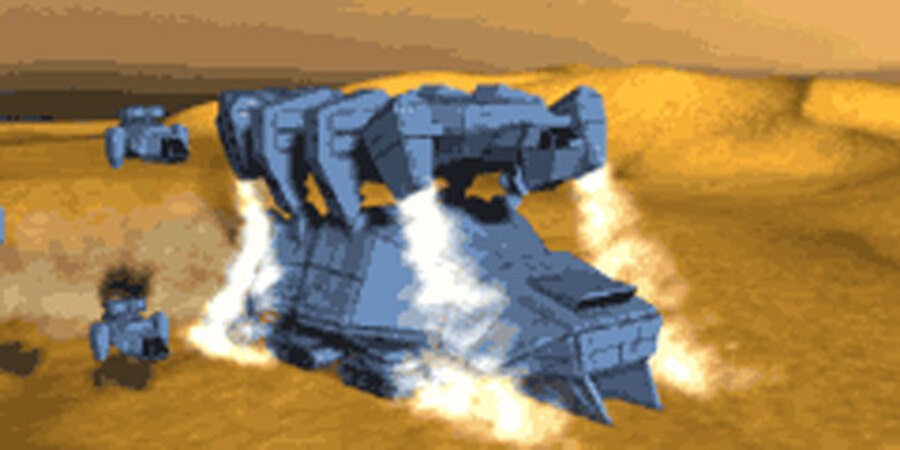 Frank Herbert's epic fantasy series Dune has inspired some amazing video games - including Dune II: Battle for Arrakis - and should have delivered another riveting experience in the shape of Game Boy Advance shooter Frank Herbert's Dune: Ornithopter Assault.
Developed by Soft Brigade on behalf of French publisher Cryo Interactive, the game was cancelled in 2002 despite being almost finished. The reason was Cryo's financial troubles - the company went bust that very year.
The resourceful chaps at Unseen64 have uncovered some info on the canned title, including screens and this info from the (now offline) official site:
Trained by Gurney Alleck, the most efficient and honoured officer of the House of Atreides, you are going to become a specialist in piloting and fighting ornithopters. Involved in all-out war for the spice, you must surpass all of your flying skill to survive the fall of the House of Atreides and help Paul and the Fremen in their fight for Arrakis.

+ Spectacular 3D Universe on Advanced Game Boy, seen from the cockpit of the ornithopter.

+ More than 20 different missions with various objectives simple recounting, escort duties, guarding, destroying troops and buildings, capturing vehicles, collecting spice and water, etc.

+ 5 solo and multiple player modes (using 2 cable linked Advanced Game Boy) with various levels of difficulty solo mission, campaign, joint campaign and deathmatch.

+ The first adaptation of Dune, the most famous of all science fiction universes, on hand held console.
While the game never saw a retail release, a ROM has been leaked which can be played via an emulator. You can view it in action below - as you can see, the game is technically quite impressive.
Would you have liked to have gotten your hands on this title back in 2002? Sound off in the comments.
[source unseen64.net]