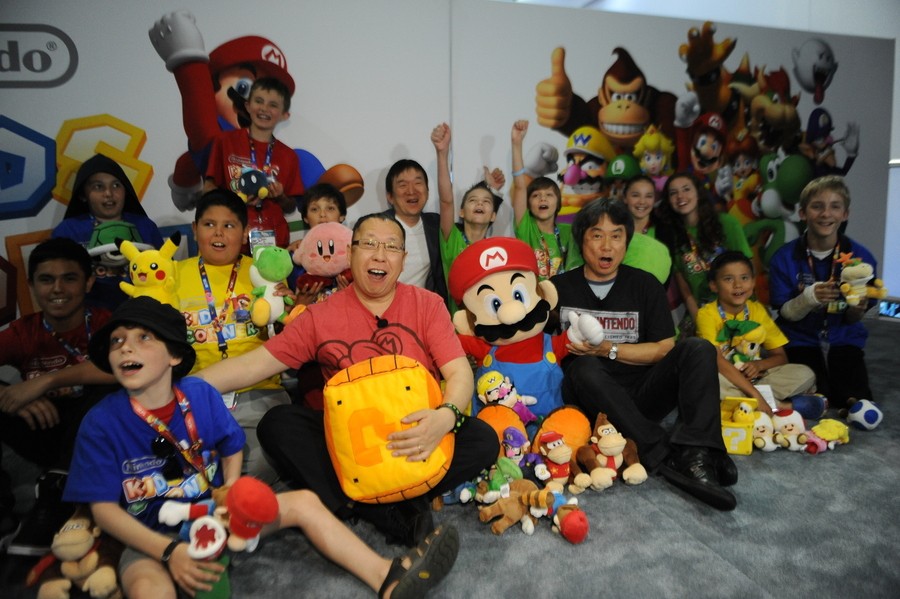 There was a period, in the latter half of the last generation of systems, when it seemed as if Sony and Microsoft were making a major play for the young gamer's market — Microsoft pushed for advertising presence on major multi-platform franchises, in particular, while Sony tried new ideas with its range of Wonderbook releases. Both brands are still vying — to some degree — for children's attention, of course, though Sony's Knack on PS4 was heavily criticised by some, while we're yet to see what Microsoft will do with its recent acquisition of Mojang; the suggestion with the latter is that Minecraft will continue on multiple platforms. Yet it's Nintendo, undeniably, that continues to do its utmost to excite and capture the imaginations of young gamers.
The issue over Minecraft can't be ignored, of course, but it's telling that at EGX last month — the biggest gaming convention of its kind in the UK — there were two key stands that consistently attracted families of parents and young gamers: the Minecraft area, of course, but also the Nintendo booth. Everywhere you looked there were families trying and enjoying Nintendo's various demos, with the majority able to attract young eyes through the power of branding and charming aesthetics.
To take Nintendo's booth in London as an example, 'mature' or adult-orientated games — Hyrule Warriors and Bayonetta 2 — were off to one side and next to each other, with Indie download games then further on. The larger front end of the booth, however, had a host of bright, colourful experiences such as Splatoon, Yoshi's Woolly World and Kirby & The Rainbow Curse. All are immediately attractive on the eye, and then an enormous screen would show off the cartoon violence of Super Smash Bros. for Wii U for good measure.
That's just one example, of course, but what's undeniable is Nintendo's clear strategy to win over young gamers. During this year's E3 Shigeru Miyamoto and other senior Nintendo figures held a session introducing a group of children to upcoming games, and Nintendo of America also announced what became the rather attractive play.nintendo.com site (and an accompanying 'parents' section), which not only promotes key brands but also has a variety of articles — such as the eponymous '5 things' variety — that introduce IPs and characters to those unfamiliar. When discussing this portal prior to its launch — and referencing the E3 event outlined above — Nintendo of America's Reggie Fils-Aime was clear on why it's a priority for the company.
It's critical for us to have kids grow into and aspire to play Nintendo content. I think about how I introduced my kids to Mario and to The Legend of Zelda. We have to find ways to do that today. We're doing it in a variety of different ways. We had about 10 kids here yesterday, unique kids — kids who write for Time for Kids, kids who have their own YouTube channels. We had them interacting with Mr. Miyamoto and playing our games. They had a fabulous time. We think that type of activity, and having the kids themselves broadcast out what they found appealing, is critically important.
It's right that Nintendo's acknowledging the importance of this area, as the passing years bring a pressing reality to the forefront; winning over the youngest gamers is integral to long term success. Many Nintendo fans today will have been devotees since the late '80s or '90s, other may have joined in the early noughties or — perhaps — in the Wii / DS generation. Yet with increasingly tough competition and Nintendo's circumstances of relying on unique releases instead of many big budget multi-platform titles, securing the next generation of gamers is a fundamental and vital task. The audience in this 3DS and Wii U era is — so far and likely to remain the case — well below the generation before, so the brand battle is on.
For Nintendo, of course, rivals come in many shapes and sizes. Beyond the Minecraft example there are increasing numbers of children familiar with and often glued to tablet or smartphone screens; when you hand a touch screen device to a relatively young child, it can be extraordinary to see how familiar and natural it is to them. This trend is arguably a threat in the portable and home console space, as the priorities and forms of entertainment evolve in young minds. If a child is used to a tablet and can play their favourite games on that device, will they be desperate for a 3DS or Wii U? Perhaps not in the sense they would have been in generations past, when gaming systems were the only major show in town.
Still, it's important not to get too apocalyptic; realism and optimism don't need to be mutually exclusive from each other. Nintendo's made a success of the 3DS on its own terms, not matching its predecessor in sales but certainly doing far better than some projected in 2011; despite all the challenges, it's sold tens of millions of units. The Wii U's targets will also be well down on the Wii, but Nintendo's efforts show it's not giving up on the system yet.
What we're seeing, too, is a strategy to keep long-term fans relatively happy — any Nintendo system owner knows that whimsy and charm are high on the agenda — while continuing to push products that attract young eyes. We've already mentioned how Nintendo's games lure the focus of young consumers, and amiibo is the company's belated move to also hit the toy market so successfully utilised by Disney and Activision with Infinity and Skylanders. There's a lot of content that can excite many reading these words but also, by its very nature, families — after all, Nintendo is still a 'safe' option for parents buying consoles.
How to make the most of the assets Nintendo has? Marketing will be key, which has seen lows in the past few years but has arguably improved in recent months. Presence at retail will also be huge, as Nintendo convinces stores stung by low sales of the Wii U — particularly — to take a punt on amiibo and the big Holiday games. Actually getting the word out is also a must; consumers that don't browse Nintendo-focused media need to know what games are coming, understand amiibo and want them. It's a big challenge, but professionals that know far more about the practicalities than us are no doubt working overtime to make it happen.
Nintendo still has brand power, and can still deliver content that speaks to older gamers and also the youngest consumer that can hold a GamePad or 2DS. In the face of powerful, omnipotent challengers on smart devices and rival systems, it's a fight that Nintendo needs to take on. As is the case with every hardware generation for Nintendo, converting the youngest into fans of Mario and company is a top priority.
---
Do you agree that Nintendo is successfully focusing on and targeting young gamers, and if so is it the right approach? Let us know what you think in the comments below.