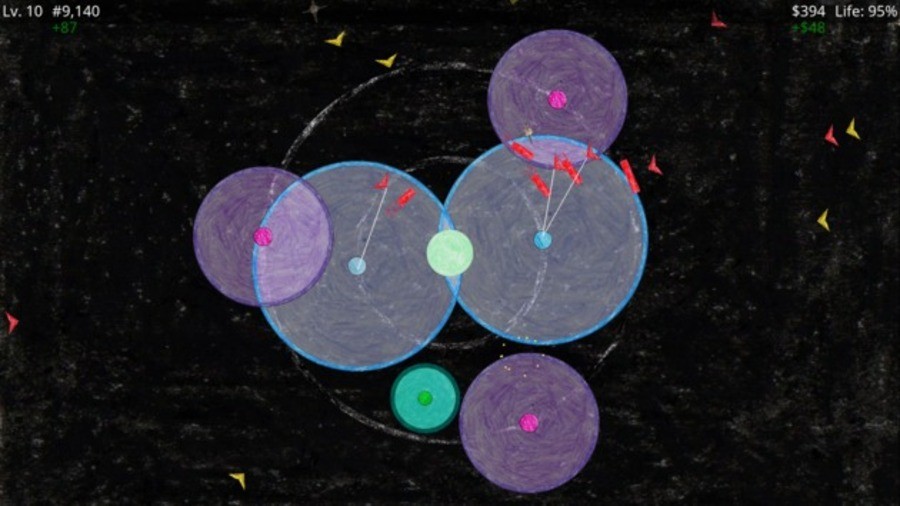 Wii U owners familiar with the 2D tower defence title ZaciSa's Last Stand — released last month on the eShop — will be pleased to hear the latest patch adds extra meat to the game, bringing many improvements such as refined balance – helping ensure the experience remains challenging – and a plethora of new content to keep the action fresh, including two new maps. To top it off, the game is also on-sale for half-price until the 28th of August.
The first new map Twin Souls, features two small bases continually circling each other, and if either is destroyed, the disrupted process balance will cause the remaining base to stop moving, and its ring to slow down. Due to enemy speed, this map will also feature the largest sum of starting money at $1500. The second map Asteroid Mining Station 2 features four bases for the player to protect, with the choice to protect them all, or save one and sacrifice the rest. The starting money for this map comes in at $800, and brings the grand total of maps to eight. In addition to this are new background graphics for the map Nebula Ka'tlTa, with an option to also turn off background animation.
Aside from the new maps and a visual makeover to Nebula, monetary changes have been made to several existing maps increasing the overall starting amount by at least $50, and enabling players to use more bot types and strategies. Further balance improvements include reducing the cost of the Drone from $300 to $200 and increasing its abilities, and adjusting the price of the Bot Helper from $100 to $50 with an increase in its Max Hit. Other adjustments include more details on the "How To Play" screen, including a few name changes to upgrades, and a separate makeover to the upgrade screen. The map zoom on the Wii U GamePad now also allows players to see the entire battlefield, and use the stylus to drag the on-screen map.
And last but certainly not least, the always welcomed bug fixes. Fighting game breaking bugs and various other issues that were previously hindering the experience. For a full run down of the update visit ZeNfA Productions.
If you're still not sure what ZaciSa's Last Stand On The Wii U is about, read our review. And for those that do, let us know if Patch 1.01 has bettered the game.