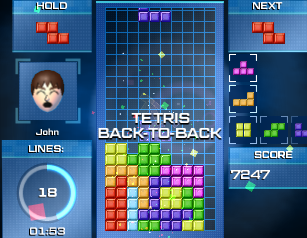 There was, unsurprisingly, irritation when it looked like Ubisoft would be bringing Tetris Ultimate to PS4 and Xbox One but not a Nintendo system — it later emerged during E3 that a version is actually coming to 3DS this Autumn / Fall. The company has 'announced' this version somewhat belatedly today, but has at least confirmed an exclusive set of Challenge modes for the 3DS entry, which looks all set to also include some decent online social and leaderboard features.
Along with the five modes also present on other systems — Marathon, Endless, Ultra, Sprint and Battle — there'll be a set of four Challenge modes. The details below are from the title's fact sheet.
[quote]
Master — The Tetriminos drop instantly and appear at the bottom.
Rotation Lock — The orientation of the Tetriminos are random and you cannot rotate them.
Escalation — As the game levels up, you'll have to clear more lines
Invisible — The Tetriminos become invisible as they drop to the bottom.
Local multiplayer for up to four players is included, but you can also track and watch replays of performances by friends; naturally you can record your own rounds, too. That'll apparently happen through a 'social feed', and there'll also be online leaderboards; if you're particularly keen you can play by Championship Rules to try and prove yourself the best player in the world. That sounds like a mode Steve Wozniak will enjoy.
Are you looking forward to dropping some blocks in this one?