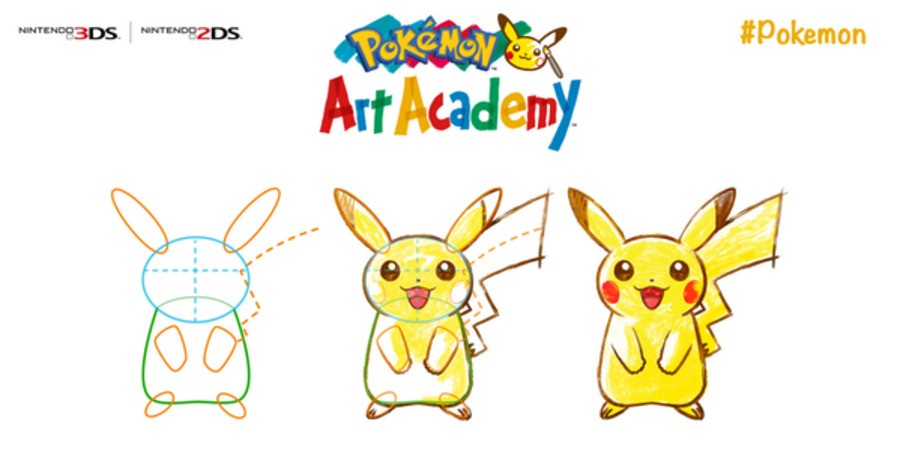 Update:
Nintendo of America has now issued its own press release confirming this title for the region, but has only provided a release window of "this fall".
Original article:
Not long ago it was confirmed that Pokémon Art Academy is arriving in Japan on 19th June as a retail title on 3DS. We speculated that a release in the West would be inevitable and, sure enough, Nintendo of Europe has now confirmed that this one will hit stores and the eShop in the region on 4th July.
This continues the popular Art Academy brand, of course, this time including a number of tools, 40 lessons and plenty of Pokémon references and features to shake up the experience. The following is a description from Nintendo's press release.
Every artist needs tools, and the Touch Screen toolbox once again houses a bright range of pencils, pastels and paint. There are also art materials brand new to the series, such as Markers that make block colours with clean sharp edges, and Airbrushes that allow for a fine graduation of colour. In addition, the new Outline Pen leaves a smooth line that cannot be coloured over – perfect for cartoon drawings with slick borders. Finally, players need not worry about making mistakes when experimenting, as the new Undo feature allows the removal of several previously made steps from a masterpiece-in-progress.
Pokémon Art Academy boasts 40 lessons in which players can encounter favourite Pokémon from throughout the series – even including those from the recent Pokémon X and Pokémon Y games – such as Pikachu, Oshawott, Charizard, Torchic, Fletchling, Fennekin and many more! Students can progress through four different levels of lesson, beginning with first drawings in Starter, discovering new skills during Novice and Apprentice, and culminating with mastering a new talent in Graduate courses. They will first learn how to draw colourful Pokémon profiles, then build up Pokémon out of simple shapes like a cartoonist. Later lessons introduce colouring techniques such shading, shadow and depth that bring drawings to life. For the first time in the Art Academy series, it's even possible to add a finishing touch by placing completed artwork against a selection of backgrounds for dramatic effect.

As players hone their skills, they can try out Free Paint mode, where Pokémon can be created in any style using the full range of tools. Over 100 reference pictures of Pokémon are included for inspiration, while images taken with Nintendo 3DS Camera can also be imported into the game. For those who want to keep their artistic juices flowing, there's the new Quick Sketch mode where players can jump into short, simple drawings and practice producing Pokémon sketches quickly – perfect when out and about, or as daily practice.
All accomplishments can be saved into an album, as a truly personal collection of character cards featuring your artwork as the illustration, together with your signature. Share masterpieces locally with other Pokémon Art Academy players, or post them to Miiverse to show the world your greatest artistic triumphs. And while you're there, you can always ask for help with techniques from the friendly Miiverse community of art and Pokémon fans.
There seems to be a decent amount of content to satisfy 'mon and Art Academy fans, while Miiverse sharing is likely to be far more convenient than the local-only or SD card export options in past portable efforts.
You can check out the Japanese trailer below — let us know whether you're interested in picking this up. We expect a North American release to be confirmed in the near future, but we'll keep you posted.