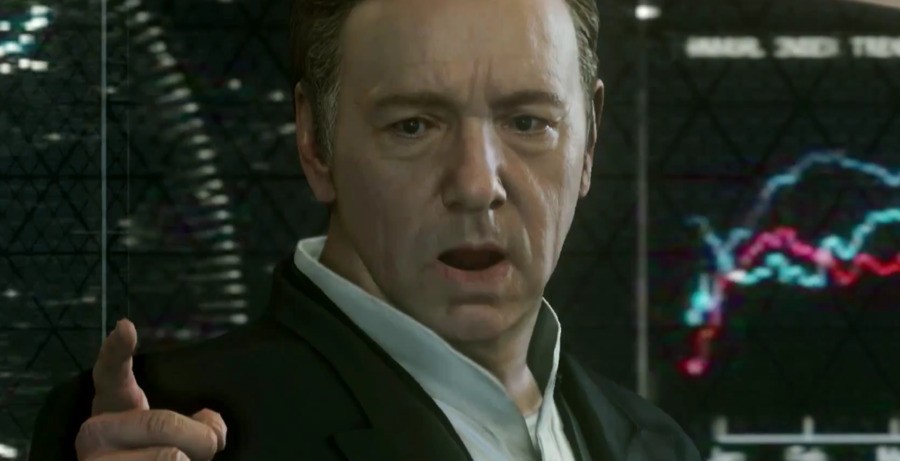 Activision has shown off the reveal trailer for the latest entry in its massively popular Call of Duty series, and this time you'll be playing with even more futuristic toys.
The footage for Call of Duty: Advanced Warfare shows exo-suits, hoverbikes and special gloves which allow the wearer to scale tall buildings, Spider-Man style. However, taking center stage is famed Hollywood actor Kevin Spacey, who provides vocal duties and has allowed his likeness to be used in the game as the head of a private military organisation. In terms of story and setting it's all a bit Metal Gear Solid if you ask us, but that's no bad thing.
The other big news is that neither Infinity Ward or Treyarch are handling this new title — Activision-owned Sledgehammer Games is taking the controls for the first time in the history of the series. Sledgehammer previously worked with Infinity Ward on Call of Duty: Modern Warfare 3.
As the trailer so proudly states, the footage shown is taken from the Xbox One version of the game. However, unlike Batman: Arkham Knight, it would seem that Advanced Warfare won't be skipping current-gen consoles — former Transformers developer High Moon Studios is apparently responsible for covering those formats, but it's not known for sure if this will be a port of the next-gen offering or an entirely new release:
https://twitter.com/supererogatory/statuses/462110585040412672
If the Xbox 360 and PS3 are indeed getting this new title, then that means there's a reasonable chance that the Wii U will also be invited to the party. The past two Call of Duty games — Black Ops II and Ghosts — have both made their way to Nintendo's machine.
Call of Duty: Advanced Warfare launches on November 4th this year.