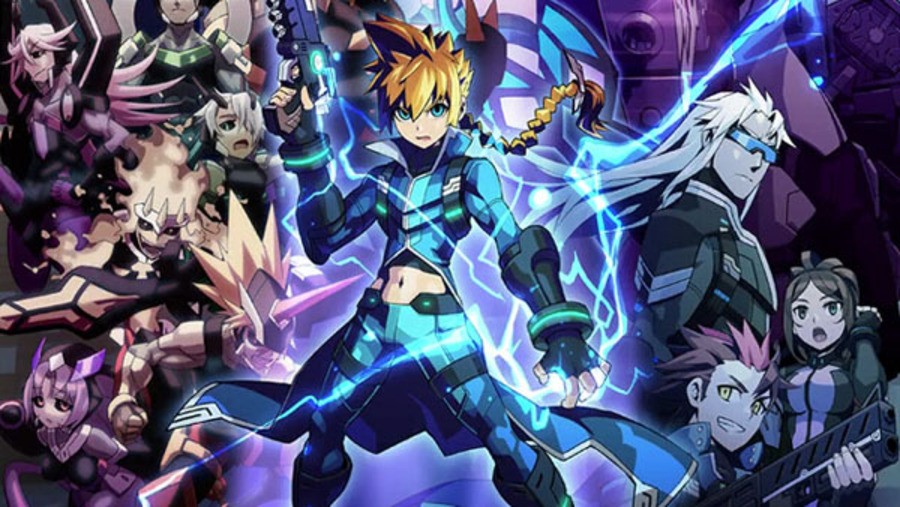 If you're a fan of Mega Man franchise creator Keiji Inafune, you'll probably be aware of the fact that he's currently busy with the upcoming Wii U and 3DS eShop title, Mighty no. 9.
Despite this, it appears Mr Inafune still has time for other projects. He's working with Japanese developer Inti Creates on a new side-scrolling action game for the 3DS eShop entitled Azure Striker Gunvolt.
In addition to its involvement with Mighty No. 9, Inti Creates' body of work also includes Mega Man 9, 10 and also WayForward's crowd-funded project, Shantae: Half-Genie Hero for the Wii U. This is clearly a very talented studio.
To accompany their latest announcement, Keiji and Inti Creates have released a first-look trailer showing off the game's hero – Gunvolt — who uses a range of electrifying abilities to zap the life out of a cast of villains.
For those who are still a bit confused as to what's going on, here's a full rundown of the story in text:
In the near future, a new type of psychic power has emerged. A powerful conglomerate, the Sumeragi Group, has brought peace and order to the world. But through its cruel subjugation of those possessing these powers.

A psychic boy named Gunvolt has joined a rebel force to strike back. His goal is to free the world from Sumeragi's control. Gunvolt's ability is lightning. He can fire lightning rods at his enemies and zap them.

One day, Gunvolt is ordered to kill virtual pop star Lumen. But he learns that Lumen is the avatar of Joule, a psychic girl. He hesitates to kill her, and this changes his destiny.

He faces psychic opponents. Melac creates wormholes for unpredictable attacks. Daytona strikes with explosions and powerful leap attacks. As Gunvolt fights, his true powers slowly begin to awaken.
Azure Striker Gunvolt will be released in Japan this summer — exclusively on the 3DS eShop – and was originally announced at the BitSummit indie games conference in Kyoto. There's no word on a western release, but we'd imagine it's highly likely.
[source siliconera.com, via gematsu.com]