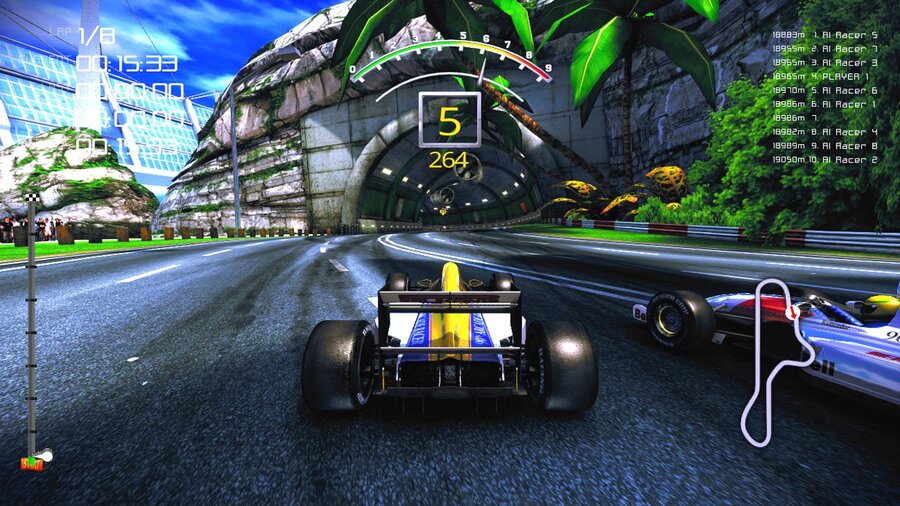 Back in early 2013 '90s Arcade Racer was confirmed for the Wii U eShop, with an initial crowdfunding campaign making way for a publishing deal with Nicalis. Back then developer Antonis Pelekanos told us that it was a love letter to titles such as Daytona USA, and that he was targeting a release by the end of the year. As it's now 2014 that time has clearly passed, but Nicalis has provided a blog update on progress so far.
This update focuses on the progress of the Wii U version in comparison to the PC build, with clarification that the use of the Unity engine has "made our part of getting [it] running on Wii U much easier than expected". The post goes on to admit that some details have been lost in translation from PC, but nevertheless talks up the performance of the title on Nintendo's home console.
Without getting into minutia that we're probably not allowed to share in great detail, some things that worked on PC couldn't be ported exactly Wii U without having affecting how the game performs on the Nintendo console–and probably other consoles, too. However, we're very happy with the results. Fidelity, image quality and a smooth framerate are our priorities. Detractors note, Wii U is proving very capable of running the game at 60fps at 720p with 4xMSAA and FXAA resulting in a crystal clear image. It's simply beautiful.

On the programming side these past few weeks our lead programmer has been busy working on the AI and creating the type of competition we've discussed in the past–focusing on a fun arcade experience. Our goal is to be able to race against 30 cars in each race. If we hit that number we'll be quite happy.
30 car races certainly sound appealing, and fans of Sega's classic arcade racing titles are sure to be hopeful that the 60 frames-per-second at 720p will satisfy rose-tinted memories. No solid release date is given in the update, but the target is mid-2014.
Below is the trailer released last year. Are you looking forward to this one?
[source blog.nicalis.com]