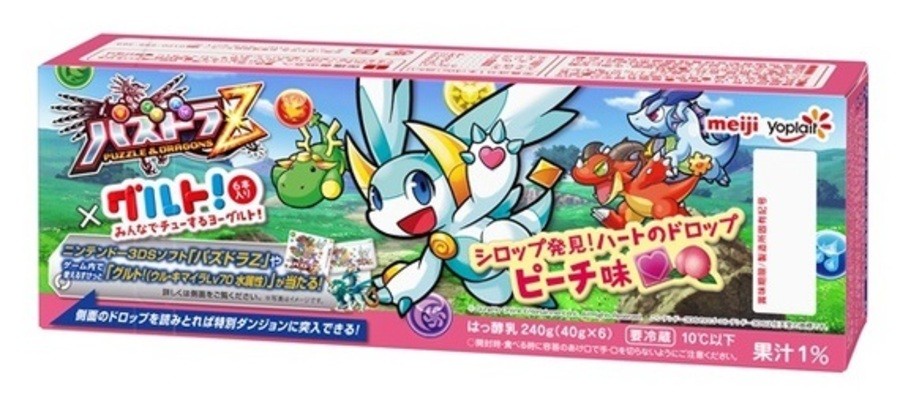 You may have seen our recent coverage on the 3DS sensation Puzzle & Dragons Z here at Nintendo Life, a game which hopefully see the light of day in the West at some point this year. What you haven't seen is a delicious new way to unlock some bonus content for the game — and we do mean delicious.
After crossovers with everything from Batman to Angry Birds, the smash hit puzzler is now aiming to invade the untapped market of dairy products with an incentive for buying their own flavour of Yoplait yogurt. The wonderfully named Meiji Yoplait Gurt! Syrup Discovery! Heart Drop Peach Flavour will come with a drop code that unlocks a brand new dungeon for anyone who already owns the game.
Not only that, but if you collect two barcodes then you can enter into a contest to win further prizes, including a copy of the game itself, a themed 3DS LL and (this is real) a super rare yogurt chimera.
'Gurt', as he is called, is a level 70 water-type monster who will come to the assistance of only 1,000 very lucky entrants. Puzzle fans and avid collectors are encouraged to get eating if you want a complete collection, though it's still not possible to say if we'll see a chance to nab the beast as DLC in one way or another over in the West.
Japan will also be able to visit 7-Eleven stores to unlock yet another new dungeon, this time filled with tasty snacks and fast food. Two new dragons named King Seven and King Eleven will also be on offer through the month of January, so there's quite a bit of culinary content to be had.
Do you hope to see some of this distributed to the West when the game releases? Let us know if you're feeling hungry for puzzles in the comment section below.
[source siliconera.com]