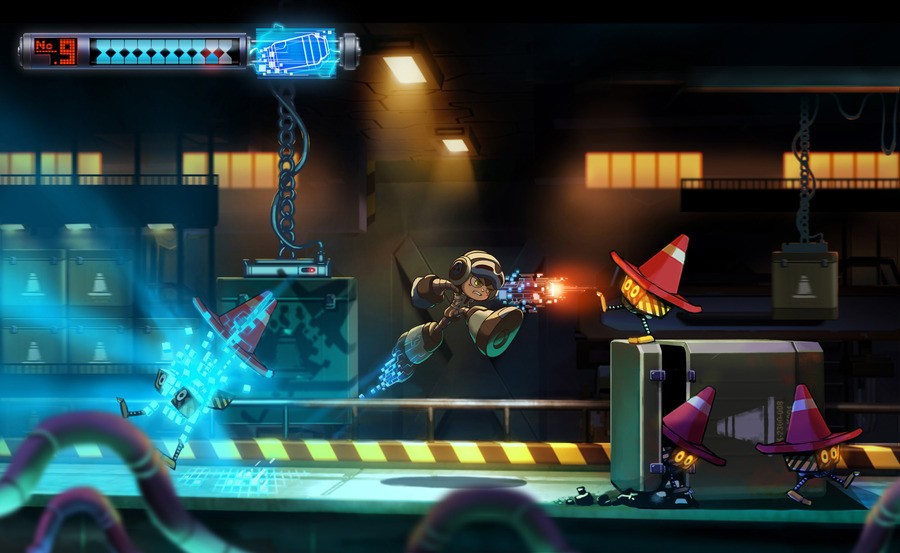 Mighty No. 9, the action-platformer from Keiji Inafune's Comcept studio — with a heavy Mega Man influence — has caused quite a stir since it launched its Kickstarter campaign. Its initial target was broken quickly, and a follow up stretch goal was soon hit to confirm a Wii U release.
With just four days remaining for the campaign, a new stretch goal has now been confirmed for both the 3DS and PS Vita. Its target is $3.5 million, though at the time of writing it's received a little over $2,600,000 with four days remaining — quite a way to go yet. The studio, if this is funded, will team up with Abstraction Games for those portable versions.
We spent the last few weeks running the numbers and talking with various companies to make certain we could not only deliver great handheld versions of Mighty No. 9, but do it for a price that we could set with confidence. Luckily, we found a great potential partner in Abstraction Games — the team that recently brought Hotline Miami to PS platforms. If we can hit our stretch goal, they are all set to dive in and handle porting Mighty No. 9 to these handhelds!
Would you like to see Mighty No. 9 on the 3DS eShop, and do you think it has a chance of hitting that target?
[source kickstarter.com]