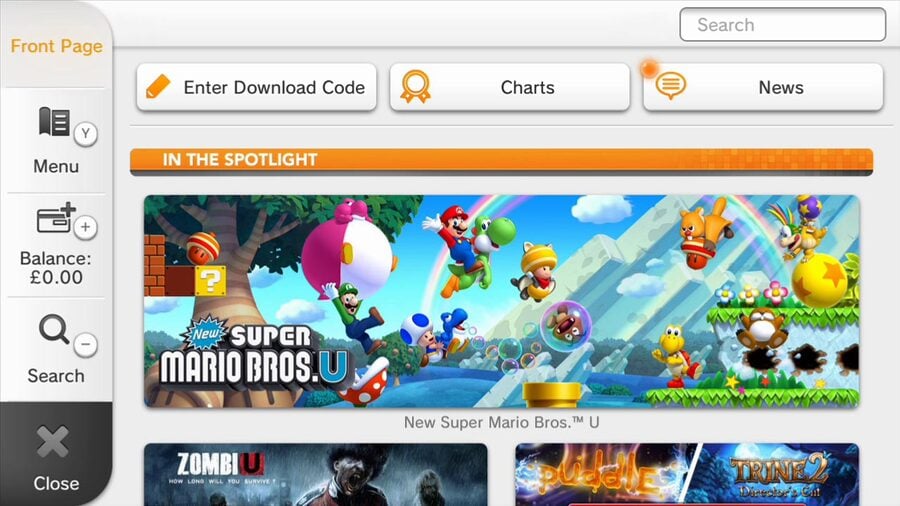 In recent months, whenever Nintendo's financial figures and sales have been making the news, a common thread has been an emphasis on the continuing growth of the company's digital revenues. What began with encouraging but flawed platforms on the Wii and DSi has progressed to more rounded, impressive offerings with the Wii U and 3DS eShops.
Of course, revenue from download sales is on the rise, helped in no small part by the presence of full retail games on both current stores. Gamasutra has taken the opportunity, then, to collate Nintendo's financial data since September 2007, charting the revenue trends since.
The first graph, below, shows Nintendo's annualized (trailing twelve-month) digital revenue rate, reflecting how performance has fluctuated over the past generation. In terms of the Wii / DSi years, the peak came around March 2011, with the 12-month revenue at that point being $129 million. A decline in the Wii and DSi markets was held up by the newly-arrived 3DS eShop, but there's a very obvious spike from September 2012, which follows the August 2012 release of the first retail download on 3DS, New Super Mario Bros. 2. The subsequent arrival of many retail downloads on 3DS — and on Wii U since launch — seems to have contributed to a steady period of sustained growth; a respectable flow of download-only games also plays an important part, of course.
As it stands, Nintendo's digital revenue over the past two months is $225 million, a big leap over the Wii and DSi's peak. The graph below, meanwhile, shows that the contribution of download sales to Nintendo overall software revenue has also increased dramatically to 9.2%. However, it's a bigger share of a smaller overall amount, as software revenue of ¥700 billion in 2008 (when Wii and the DS family were flying high) has now reportedly dropped to ¥242 billion in the 12 months up to June 2013.
These are positive trends for download sales, certainly, as Nintendo is seeing the benefit of introducing retail downloads, while greater flexibility in the eShops with discounts and promotions is also welcome. Compared to some, such as EA and Activision, these numbers are modest, but the upward trajectory bodes well.
[source gamasutra.com]