Can't wait to find out more about Wii U? Nintendo president Satoru Iwata will bring you brand new information about the upcoming console right here tonight.
We've got the embedded video below so you can watch it here, plus we'll be doing live text updates throughout the show too so you won't miss a thing.
Remember: this is for new information about the Wii U console only. We will not see any Wii U games tonight — they're coming Tuesday.
Live Text - Updates will load here automatically, no need to refresh the page.
00:11
That's us done for the night, everybody. We had a whole lot of fun and hope you did too. See you on Tuesday for the real deal!
23:30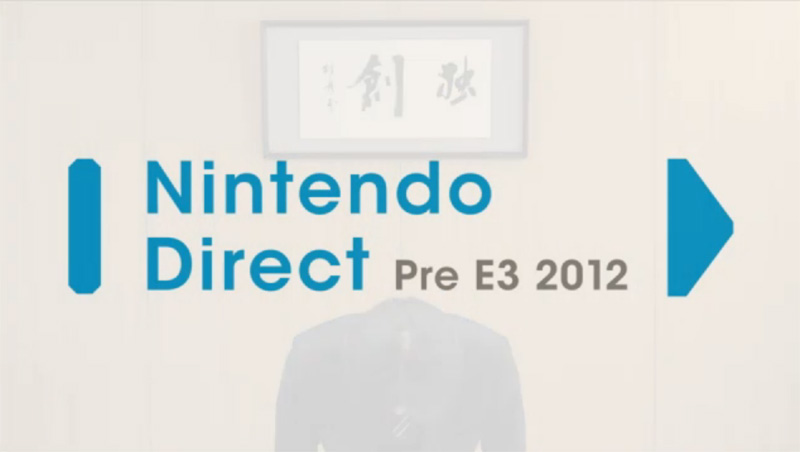 23:29
Iwata is gone now. We want your thoughts! What did you make of it?
23:29
Iwata will tweet from @NintendoAmerica using the hashtag #IwataSays
23:28
Nintendo has plenty of news about Nintendo 3DS during other upcoming opportunities - not much to hear at E3 then?
23:28
Iwata: "We have a busy week ahead" - no way!
23:28
"Even with nobody else in the room, you won't feel alone"
23:27
Wii U's concept is "together, better"
Even when you're playing by yourself, the Miiverse will connect you with other players around the world and your family
23:27
"More smiles, more laughs and more empathy" possible through Wii U GamePad
23:26
Browser will let you close a curtain on the TV so your browsing is personal, then you push to the TV and the curtains open with a fanfare! Oh Nintendo, only you.
23:25
Wii U will let you share your GamePad browsing with the TV. If you want to.
Keep it clean.
23:24
Miiverse is designed for Wii U, 3DS and future Nintendo devices
23:24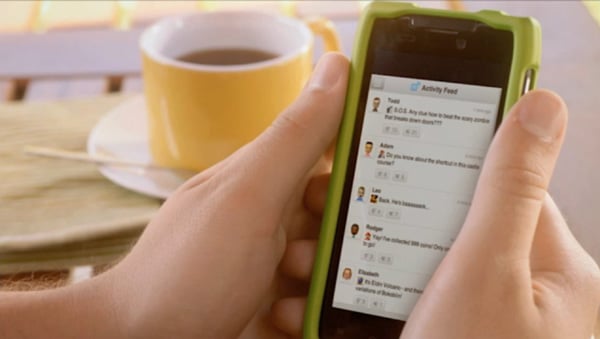 23:23
Miiverse will "eventually be possible" away from the Wii U - via mobile, web
Wants to offer it immediately at launch but later Miiverse will be available from 3DS, PC or web-enabled device.
23:23
Wii U's Miiverse means even single player games will feel connected online
23:22
The Mario screenshot mentions a flying squirrel. New suit perhaps?
23:22
"The Wii U GamePad is a social window"
Connecting players across time and space
23:22
23:22
So in Mario, if you keep dying then messages from your friends might pop up to give hints and tips. Eat your heart out, Demon's Souls!
23:21
Holy moses, that was a little bit exciting.
23:21
Miiverse works with ALL Wii U games
23:21
You can also post gameplay screenshots and share created game content online
23:20
"You can add emoticons and facial expressions to help communicate your emotions"
23:20
Messaging between users at last!
You can use hand-written notes and doodles too. Like PictoChat but online.
23:20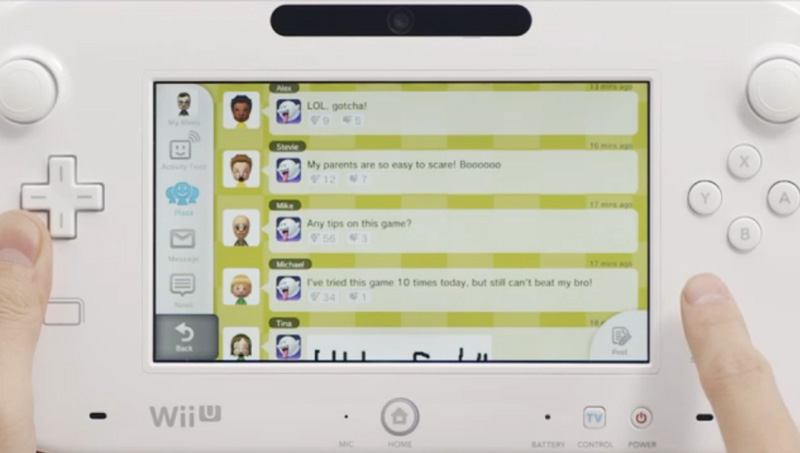 23:19
Iwata will now talk about Miiverse and its online functions.
23:19
Power on the Wii U and you'll see the Miiverse Plaza
But it can be activated during games too - multitasking like on 3DS.
23:18
Iwata is talking about the "Miiverse"
It's a Mii Universe. We want to live there.
23:18
Have Nintendo finally understood online?
23:18
It's a new way of discovering games too - popular games will appear on your Wii U GamePad as players discuss them.
23:17
Not just your friends, but other players online
They'll talk about what they're playing, how far they've got and general social network stuff.
23:17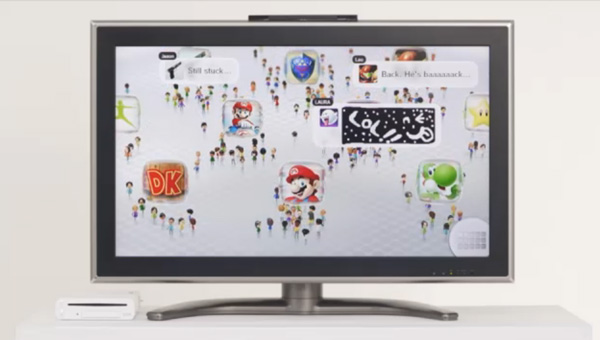 23:16
Looks like users will gather around games and talk about what they're playing
23:16
Iwata is now talking about Mii characters - it's the Wii U menu
23:16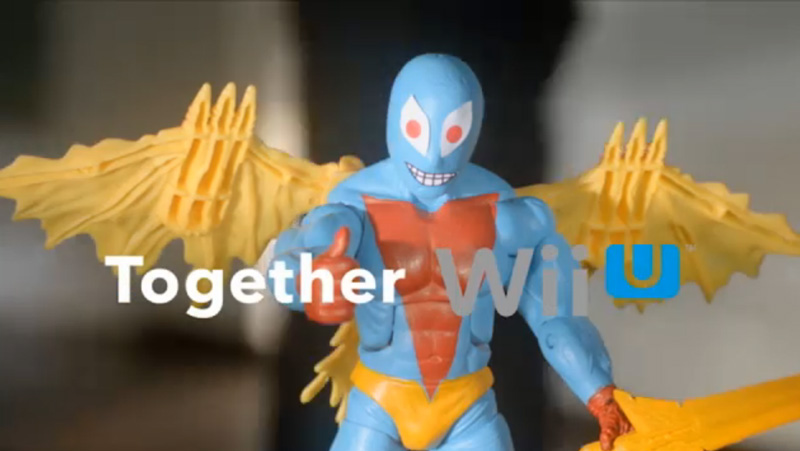 23:15
Black Wii U console shown too, looks the same as last year
23:15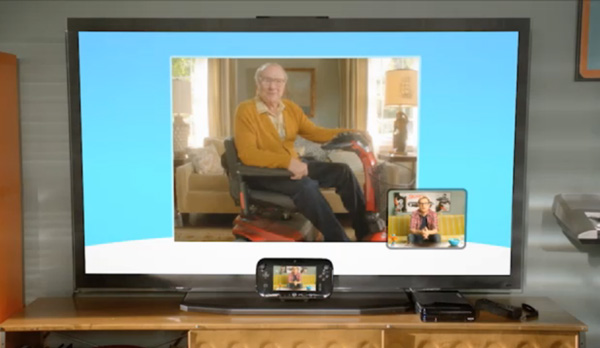 23:14
Also you can do video calls with people who aren't on your friends list by the looks of things
23:14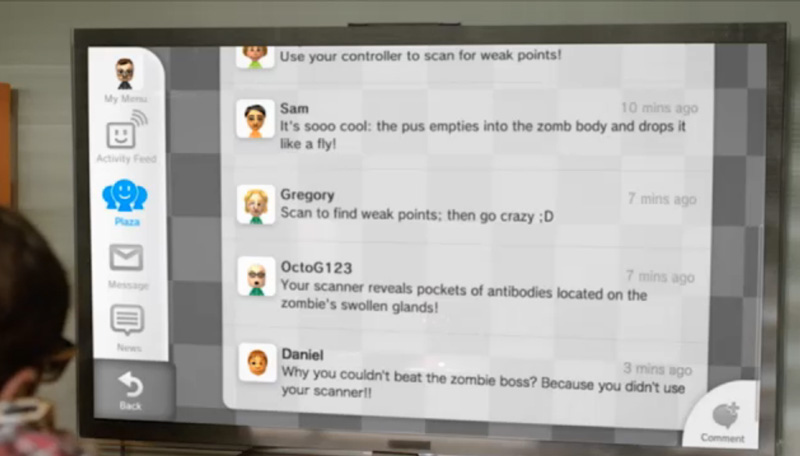 23:13
So if you need help in a game you can post a message online and other players can help out
23:12
Showing online connectivity - can post SOS online
23:11
Black Wii U controller shown!
23:11
Iwata is now talking about online connectivity. He's going to show us something...
23:11
Iwata: "Wii U does what we did before, only better"
23:10
Check out the brand new Wii U Pro Controller!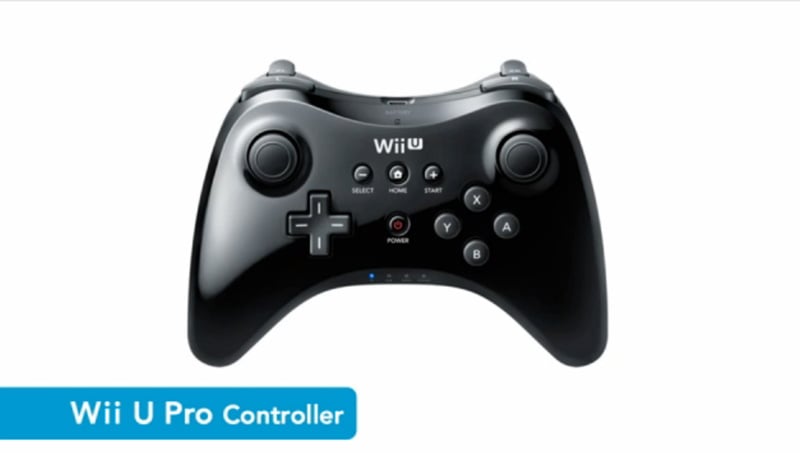 23:10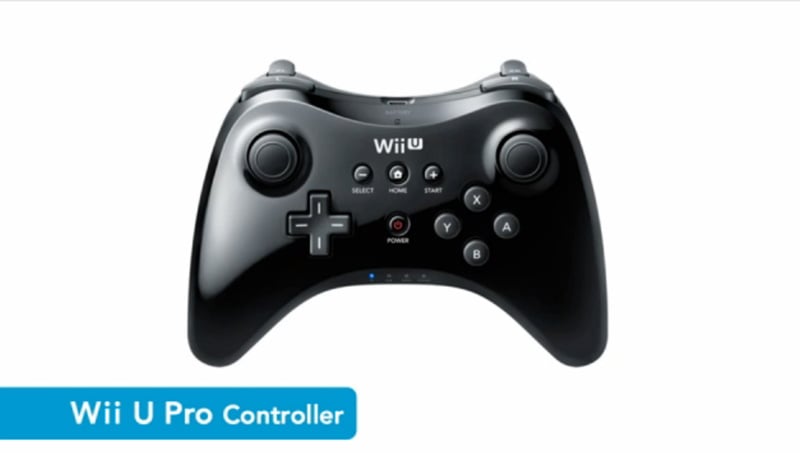 23:09
Wow, new look Wii U Pro controller - looks like the 360 pad
23:09
Wii U will support all previous Wii controllers - that's Wii Remote too
23:09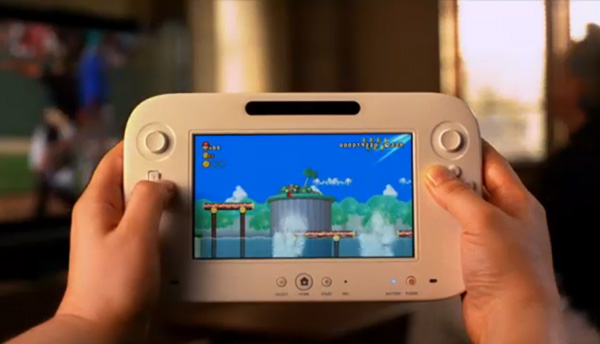 23:09
Iwata is talking about using the GamePad screen when you're "deeply immersed in a game for many hours"
23:08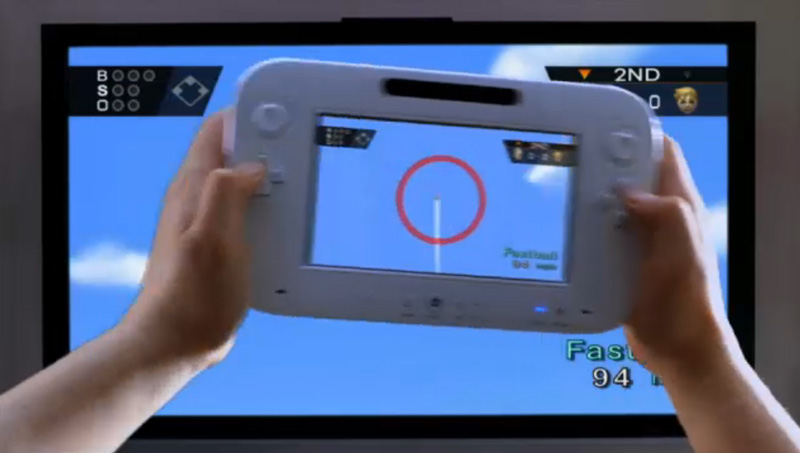 23:08
What do you make of these new features - NFC sensor, proper sticks, infra red remote capability?
23:07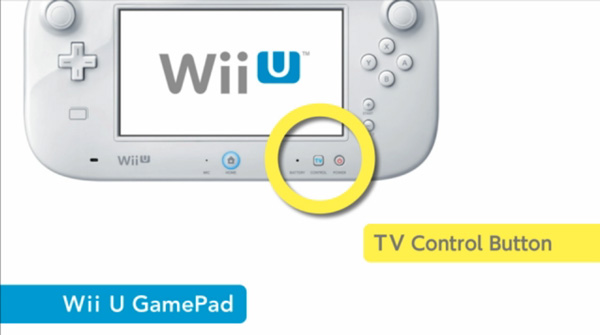 23:06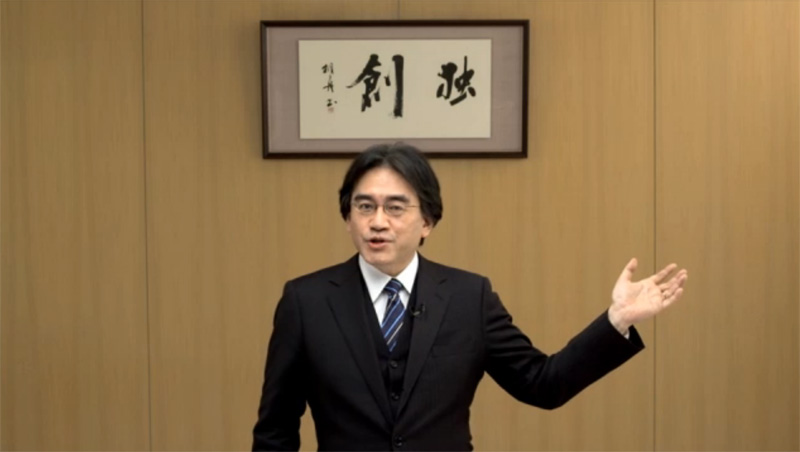 23:05
GamePad can be a fully independent infra red TV remote
23:05
The white block below the D-Pad is the NFC function
23:04
The Wii U GamePad also has a slightly redesigned back
23:04
Circle Pad more appropriate for portable devices, so now we have proper analogue sticks. Rejoice. They also click in!
23:03
The Wii U final controller has proper thumb sticks!
23:03
The name is a reference to the original NES controller name - a unilateral name.
23:03
What do you think to the name Wii U GamePad?
23:02
The Wii U controller is now called the Wii U GamePad
23:02
Iwata is talking about the living room and people being "alone together" - new technologies like phones, tablets, laptops etc. stopping people from actually talking to each other.
23:01
This presentation will focus on Wii U's concept
Lots of games to see on Tuesday, though.
23:00
Nintendo's E3 conference will focus on Wii U games
23:00
Iwata think we'll say to ourselves, "well, that is unique" this week at E3 - "hopefully you'll think 'unique' in a good way"!
23:00
"Creating something unique" are the words that have guided Nintendo over the years. No surprise there!
22:59
This time, Iwata is at Nintendo HQ in the 7th floor conference room.
22:58
One minute to go!
Get comfortable!
22:54
5 minutes left until Iwata talks about Wii U
(laughs)
22:51
Tomorrow Ubisoft will show off its Wii U games
Is Nintendo hosting this just so Ubi doesn't get to reveal anything juicy?
22:42
15 minutes to go until Nintendo Direct starts. Time to grab snacks and hit the head if you need to!
22:34
Our predictions: Mike Mason (assistant editor)
I reckon we'll get an official reveal of the re-designed controller and a shiny new console shell. I'm hoping for a sneak peek of the OS, too...
22:27
Our predictions: James Newton (editor)
I think we'll see a new-look console, a controller with proper thumbsticks on and maybe even a new colour!
22:23
We're playing some Mario Tennis Open to pass the time...
It's quite good, isn't it? Who's your favourite character?
22:04
So it's safe to say the Wii U name is staying...
How do you feel about this? Has the name grown on you since E3 2011, or would you rather have a new name?
21:59
One hour and counting! Keep up with all the announcements at Nintendo Life
Because we're nice to you.
21:56
Tonight's broadcast is 30 minutes long
What do you think Iwata will have to say about Wii U?
21:52
We won't find out about any new games today, but we will find out new Wii U information. What could it be?
21:40
Who's ready to find out more about Wii U?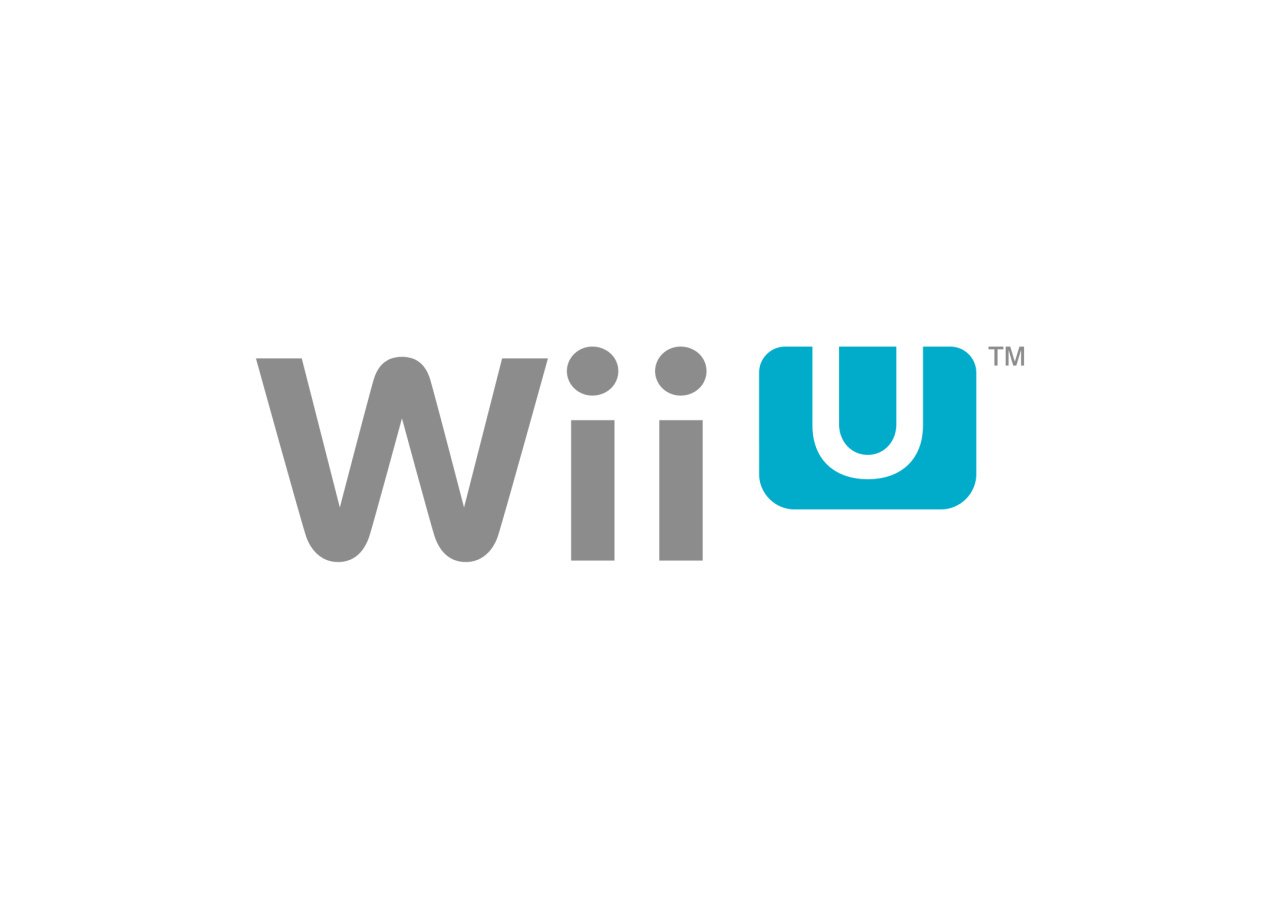 21:39
Tap tap tap... is this thing on?
Who's ready for some Live Text?
Don't forget that E3 'proper' starts on Tuesday with the Nintendo Press Conference 9am Pacific / 12 midday Eastern / 5pm UK / 6pm Central European Time / Wednesday 6th June, 2am Australian Eastern Standard Time. Where to Watch: http://e3.nintendo.com, Facebook, on MTV2 and Spike TV.