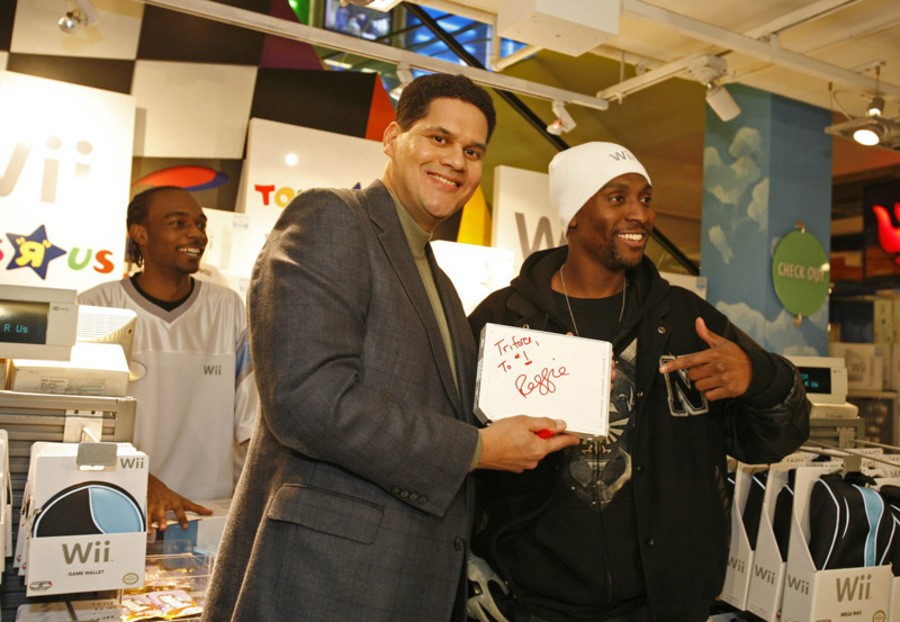 One of the biggest console launches ever has now completed its first leg, the Wii console is out and the majority of American readers will probably already have one, sadly us Europeans and Australians will have to wait alittle while longer.
Reggie did Nintendo proud at the New York launch event, he even managed to sign the first ever Wii console that was sold to Isaiah "Tri-force" Johnson from the Bronx. Huge crowds attended the launch event which was held outside of Toys "R" Us Times Square. The event started at 8pm with the console going on sale at midnight, many gamers queued throughout the night waiting for their console. It's rumored that the store had over 7,000 units, the biggest single allotment of Wii's in one store.
There are loads and loads more photos of the launch event over on Engadget, check them out.
Nintendo laid on alot of extras for the gamers, including a "SegWii", which was a Segway transported with a Wii + LCD TV slapped on the front! Gamers were playing Wii in the streets of New York whilst they waited in line. You might be jealous of most people, but of course the smashmystuff.com crew were around somewhere and as promised, smashed their Wii. Idiots
Our US reviewer, IcyStorm, has already gotten his hands on his Wii console however being in the UK myself, my Wii won't arrive until Wednesday this week. We'll start to post our initial reactions and get cracking on some reviews so you'll be able to make an informed judgment when Dec 8th finally rolls around.
Now we've got Wii we'll be up for answering any questions you UK-ers might have about the system and/or importing issues. Just give us a message via the contact us page.
YouTube Success
Nintendo have also announced today that their videos posted on popular video website YouTube have been viewed over 800,000 times in just 36 hours.
A Nintendo television commercial for its new Wii™ video game system has become one of YouTube.com's most-watched videos, having been viewed more than 800,000 times just 36 hours after the commercials were posted. The video has received 39 YouTube honors and is already the 14th "most linked" video in YouTube history.
We've started to see the first TV adverts appearing on UK screens, so this is probably the start of the European marketing campaign, let us know if you spot anything else.