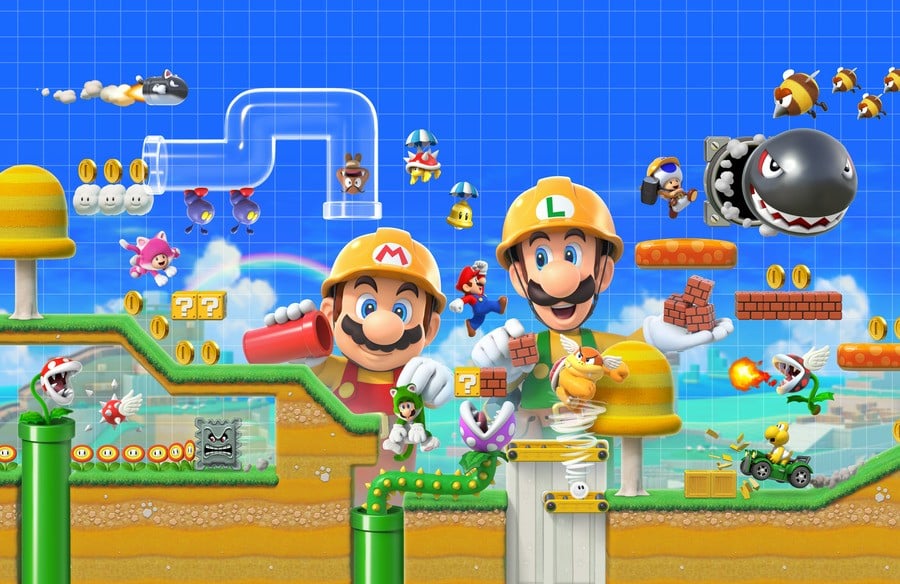 Can you believe it's June already? Where is the time going? It's only gonna be flippin' E3 soon! Anyway, another month means more lovely stuff to buy, which is presumably why you clicked this link.
May saw the release of the lovely Team Sonic Racing, the fiendish Resident Evil Origins Collection and the slightly underwhelming Assassin's Creed III Remastered... but what's next for Switch, you may be wondering as your hard-earned money burns a hole in your pocket. We've helpfully compiled a list of all the good stuff coming out at retail in June and July, so feast your eyes and get all those pennies together – you're going to need them!
Just like buses, you wait for one kart racer and then two come along at once, it seems! If you're after a more retro-fueled experience than Team Sonic Racing offers, Crash Team Racing Nitro-Fueled just might be the answer when the Bandicoot once again comes to Switch after his debut in Crash Bandicoot N. Sane Trilogy last year. A remake of Naughty Dog's PlayStation original, this looks set to fire up your nostalgia when it races onto Switch on Friday 21st June.
Not too much longer to wait now, the anticipation is killing us. Fans of the original Super Mario Maker on Wii U will be well-served here and there's a plethora of additions to that brilliant foundation, including multiplayer and the Super Mario 3D World skin - gotta love that Cat Mario! From what we can tell Super Mario Maker 2 is shaping up to be an essential purchase for the Switch with oodles of new level creation possibilities, including SLOPES!
If you need a new Nintendo Switch Online subscription soon, we'd recommend picking up the bundle where you can get an extra 12 month subscription for only $10 extra with Super Mario Maker 2.
Avengers: Endgame may have come and gone, but Marvel Ultimate Alliance 3: The Black Order is something to keep Marvel fans occupied until the next MCU film comes along (although considering the frequency of the films, there's probably a couple scheduled for release before 19th July anyway). The sequel to - you guessed it - Marvel Ultimate Alliance 2, this is a Nintendo-published exclusive and we're jazzed to see the action roleplaying series come to Switch courtesy of Team Ninja.
Seeing Wolfenstein II: The New Colossus on Switch was a wonderful surprise, so we're excited to see this spin-off/side-story coming to the console at the end of the month. You take on the role of one of B.J. Blazkowicz's daughters in this new story that sees them heading to Paris, the City of Light, in search of their old man. It's set in the 1980s and is shaping up to be one hell of a ride.
You can choose between the standard or deluxe versions, with the latter including a Buddy Pass and the Cyborg Skin Pack. Tinkety tonk old fruit, and down with the Nazis.
After the hack and slash antics of musou crossover Fire Emblem Warriors, it's once again time to strap on your SRPG thinking cap and get ready for Fire Emblem: Three Houses. Channelling a little bit of Harry Potter and a little bit of Game of Thrones, Three Houses sees you join a school as a teacher to instruct students of one of three noble houses from the kingdom of Fódlan. With the turn-based tactics that the series is famous for, plus a peppering of new systems and surprises, this one is looking to be an essential purchase whether you're a fan of permadeath or not.
More Awesome Nintendo Switch Games
Aside from the highlighted games above, there are lots more Switch retail games which might take your fancy in June and beyond.
Awesome Accessories For Your Switch
We saw a whole slew of interesting accessories released for the Switch in the past few months, but more are on the way. Here are some tantalising accessories coming up in June and beyond, which we found for your consideration.
---
So that's it for June and July - did we miss anything? Let us know with a comment and also tell us if you've pre-ordered any of these goodies!