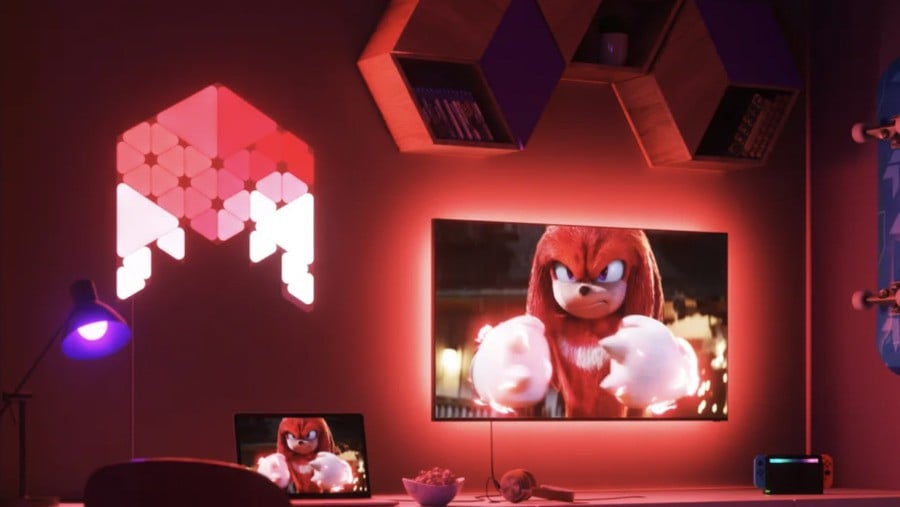 Sonic The Hedgehog 2, the silver screen sequel to 2020's Sonic The Hedgehog, arrives in cinemas on 1st April 2022 in the UK. Celebrating its big release, LED lighting company Nanoleaf has launched a brand new, limited edition set of its signature lights that lets fans decorate their rooms with some quirky Sonic-inspired designs.
The special set includes 32 Nanoleaf light panels in total (four large triangles and 28 mini triangles) and can be cleverly rearranged to look like Sonic, Tails or Knuckles. Opening a box of these can feel pretty overwhelming at first, but it's all relatively easy to set up with double-sided mounting tape included – you can even download instructions on how to arrange each character's design.
We've been lucky enough to go hands on with the new set ahead of its launch and are happy to report that the product's quality is as high as you'd be expecting for its lofty £299.99 asking price – you can actually buy sets of Nanoleaf triangles separately, but the Sonic bundle offers far greater value for money, giving you plenty more panels for your buck.
Once you've opened everything up and got the panels safely attached to the wall, you can use a free app to control the colours on each panel's display. The app has built-in colours for Sonic, Tails and Knuckles ready to go, but if you wanted to rearrange the panels you receive into your own custom design, you could technically opt to go with whatever colours and shapes you like. Here's how the three Sonic designs look:
You can get your hands on this limited edition set from GAME in the UK if you're interested. Alternatively, plenty of Nanoleaf's standard releases are also available on Amazon UK / Amazon US or via its official site.
Thanks to Nanoleaf for supplying the unit used for this article.