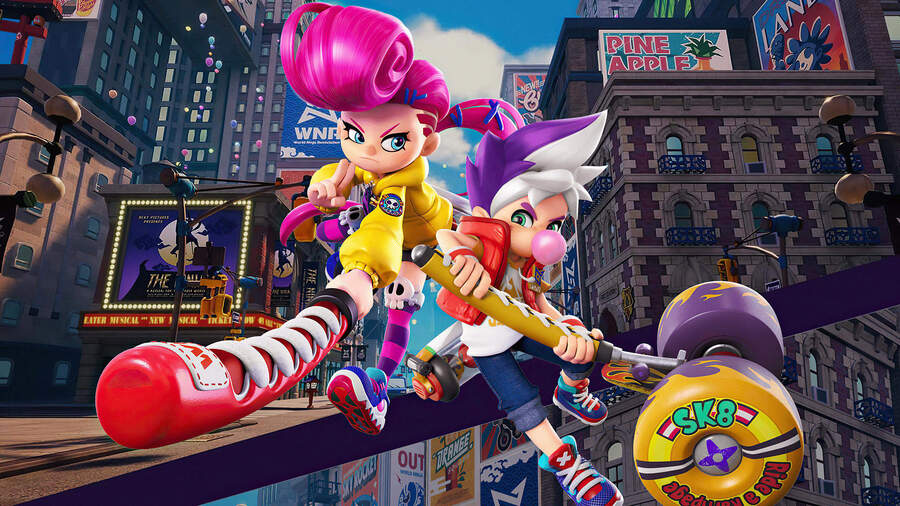 Ninjala has received a new update which takes the game to Version 2.1.
The update includes battle balance refinements, new event-specific rules, new matching and UI features, bug fixes, and more, all of which can be seen in the full patch notes posted below. The update went live today, 2nd October in Europe, and yesterday in North America.
Ninjala - Version 2.1 Update

Gum Weapon Parameter Adjustments
The Ninjala development team is dedicated to ensuring that players can enjoy a wide variety of battling styles. After careful observation of winning percentages by gum weapon and weapon popularity, we have implemented a host of balance adjustments.
In addition to revising hitstop to improve the overall tempo of battle, we've made adjustments to the "SK8 Hammer" and "Sushi Axe" weapons, which have demonstrated a disproportionately high usage and victory rate.
We hope these refinements will allow players to better enjoy the diversity that Ninjala battles offer.

The strength of back attacks has been reduced
The purpose of this adjustment is to slow the speed at which drones can be destroyed.
We have determined that using Gum Grenade followed by a back attack has allowed Sushi Axe wielders to destroy drones with excessive speed right from the beginning of battles, giving them an unfair advantage particularly in Battle Royale matches.
By reducing the strength of back attacks, it will no longer be possible to destroy drones with a medium weapon simply by the combination of Gum Grenade and a back attack.
As the relative strength compared to other gum weapons balances out in the later stages when most players have big weapons, we have set the damage so that it will still be possible to destroy drones in the traditional way with a big weapon.
Their explosive strength as big weapons and benefits in team battles are still intact, so we hope players will continue to enjoy the destruction power of the SK8 Hammer and Sushi Axe.
■ All Gum Weapons
- Hitstop duration has been shortened to improve overall game tempo

Feature Additions and Adjustments
■ Addition of event-specific rules
- The new Featured Battle mode offering special limited-time battle rules has been added.

■ Matching Improvements
- It is now possible to select whether to set the matching range to Global or Regional. The countries that correspond to each region of Ninjala are as follows:

- Asia/Oceania: Japan, South Korea, Hong Kong, Australia, New Zealand
- North America: United States, Canada, Mexico
- Europe: Germany, Spain, France, Italy, Austria, Portugal, Russia, Switzerland, Ireland, United Kingdom, Hungary, Czech Republic, Poland, Republic of Slovakia, Finland, Sweden, Norway, Denmark, Greece, Croatia, Bulgaria, Republic of Romania , Cyprus, Lithuania, Luxemburg, Malta, Republic of Slovenia, Estonia, Latvia.

* Players residing in countries other than the above will be assigned to one of the existing regions, and will still be able to play the game.
 - It is now possible to cancel matching searches
 - Connection will no longer be cut off if you press the Home button during matching.

■ UI Improvements
- The "Try On" feature has been added to the specialty shop.

■ Resolution of Known Issues
- Various adjustments and bug fixes have been implemented to ensure a smooth and enjoyable gameplay experience.

* Updating to Ver 2.1 is mandatory for all players.
* To download the update, sufficient free space is required in your console's internal storage or an installed microSD card.
* All information is accurate as of the time of posting.
Have you been enjoying Ninjala? Managed to resist the ludicrously-priced Sonic the Hedgehog skins? Let us know in the comments below.
[source ninjalathegame.com, via perfectly-nintendo.com, gonintendo.com]