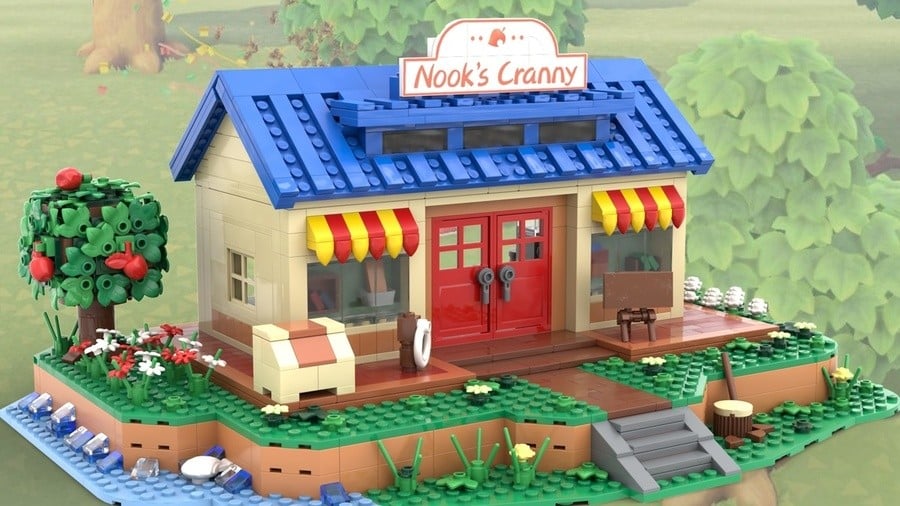 A fan-made LEGO set based on Animal Crossing's Nook's Cranny shop is being officially reviewed by the company as part of its LEGO Ideas campaign.
As you may be aware, the LEGO Ideas website allows fans to submit their very own designs for approval. If a design gets 10,000 votes from the community, it's automatically put forward for review by LEGO and can end up being a real product found on store shelves–the designer can enjoy 1% of the royalties, too.
The Nook's Cranny design, inspired by the store's appearance in Animal Crossing: New Horizons on Switch, is one of a whopping 35 Ideas that have made it through for review. Both the inside and outside are fully kitted out, and there's even a Villager Minifigure sporting the classic 'number 1' t-shirt.
"As a fan of Animal Crossing, I have wanted to do a build from the game," says the design's creator, Micro_Model_Maker. "I have seen a lot of house builds from the game so I have decided to do Nook's Cranny to shake things up a bit. The build features an interior; I tried to get it as close to the game as possible but due to size I have had to move some things around, however I believe it captures the spirit".
The creator also wants to include Timmy and Tommy Minifigures, but didn't have the parts needed. They say that new moulds might be required to pull that off.
As it happens, plenty of video game designs are making it through LEGO Ideas this year. A few months ago, sets based on The Legend of Zelda, Sonic, and Untitled Goose Game also passed the test and are currently under review.
We'd love to see these hit the market, but it's important to remember that reaching this stage doesn't guarantee success. LEGO and Nintendo may well have a pretty great relationship these days, but sets like this would still need to be approved by the Big N, too.
Would you snap one of these up given the chance? Let us know in the comments.
[source ideas.lego.com]