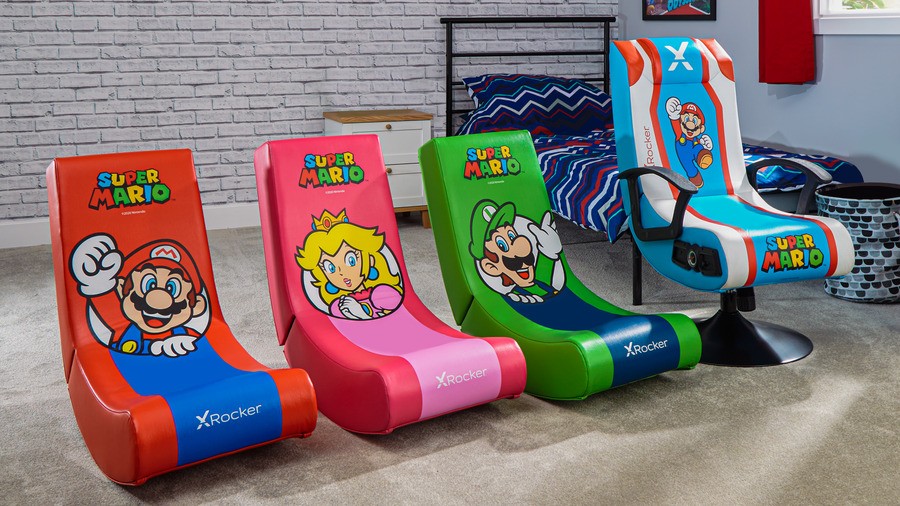 As we all know, serious gamers need serious gaming kit to show how serious they are about gaming, and there are plenty of peripheral accessories--some essential, others not-so-much--for gamers looking to branch out from the bare essentials. We've always fancied a session in one of those comfy-looking gaming chairs with plenty of cushioning for our lean, mean lockdown physique (ahem), but most of the ones we've seen look far too dour and serious for our tastes.
Thankfully, gaming accessory specialists X Rocker have a new line of Nintendo-branded chairs on the way thanks to a partnership deal with Nintendo of Europe and, as you can see, they're sure to brighten up even the dingiest gaming den with a splash of colour.
The upcoming line includes a variety of cheeky options and appears to be coming to Europe only at the time of writing. The smaller, foldable 'X Rocker Video Rocker' is designed for younger gamers and features "iconic character designs including Mario, Luigi, Princess Peach, Yoshi and Bowser". Of course, if you're a serious gamer (or over the age of 11), the '2.1 Stereo Audio Gaming Chair' might be more to your liking, with its inbuilt speakers, armrests and pedestal design.
We could describe them for you, but it's probably better to let the pictures do the talking, so sit back in your totally casual and boring standard chair and take a look at what you could be reclining in from the 1st August, provided you can track them down at the appropriate retailer (as detailed in the PR blurb below)...
The Super Mario Character collections will be launching initially with The Spotlight Collection (exclusive to Argos in the UK), The Jump Collection (Exclusive to Smyths Toys in the UK & EU), The Joy Collection (Available through distribution via Exertis) and the All-Star Collection arriving soon to the UK and EU.
For gamers looking to power-up their audio experience, Nintendo fans can also look forward to the lauch of X Rocker's new 2.1 Stereo Audio Gaming Chair featuring Super Mario. Initially launching as three unique designs and available at Argos, Smyths Toys and Exertis, junior gamers and Mario fans will be spoilt for choice.
Will you be resting your lower back on the faces of any Mushroom Kingdom residents once August arrives? Could your gaming room do with brightening up? Are these chairs really comfy for 8-hour Witcher 3 sessions or binge-watching Peaky Blinders? Let us know by reclining back into the comments section.