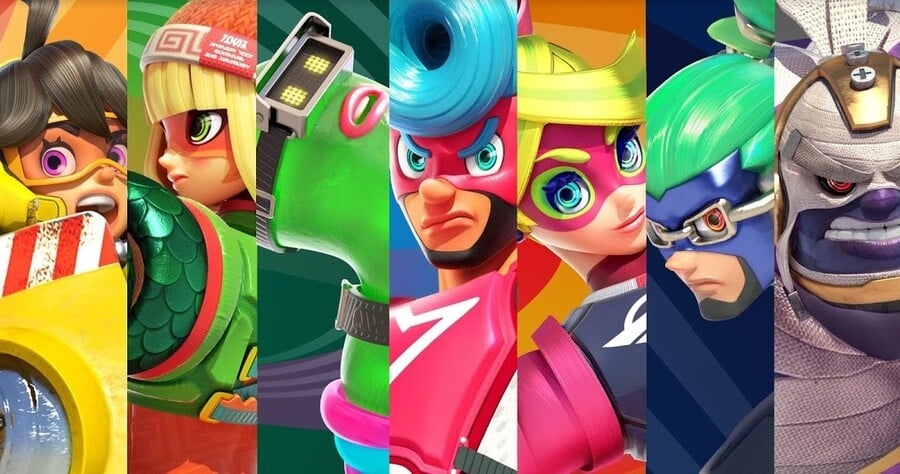 Nintendo confirmed back in March that the next fighter joining Super Smash Bros. Ultimate will be from the company's other colourful Switch fighting game ARMS. The IP--which recently celebrated its third anniversary--may not have taken off like, say, Splatoon, but we've got a soft spot for the limb-y scrapper's energy and sense of humour, and in all honesty we're just relived we're not getting another sword fighter.
ARMS launched back in 2017 with 10 playable fighters and that roster grew to 15 over time. Below we've listed them all followed by a brief bio from the (now-defunct) official ARMS website to give your memory a jolt if it's been a while since you brawled with Spring Man, Ribbon Girl and company. At the bottom of the page you'll find a poll to vote for the fighter you think should be the first to come in Smash Bros.' Fighters Pass Vol. 2.
All will be revealed very soon, but in the meantime take a look at the ARMS roster and tell us which one you'd most like to see get that prestigious Smash invitation.
Spring Man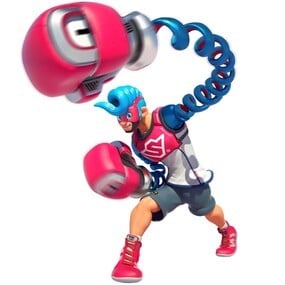 With arms made of springs, no wonder they call him "the bouncer"! At first glance it's hard to take this guy seriously, but in the ARMS game, he always takes center stage. He can perma-charge in a pinch, and that indomitable spirit is gonna take him right to the top!
Ribbon Girl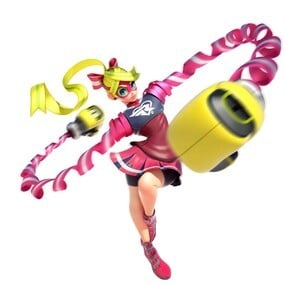 Hailing from Ribbonics Records, it's 'the airess'! She can jump over and over without touching the ground, like she's dancing on air! If she wins the Grand Prix, she's promised her fans a championship concert in the ring!
Ninjara
Currently training at Ninja College, or as it's officially named, Rasen Ninjutsu University. The ninjutsu techniques of this 'student of stealth' allow him to disappear into thin air and make fools of his opponents! The ARMS Grand Prix doubles as his senior project, and that challenge is the one thing he won't hide from.
Master Mummy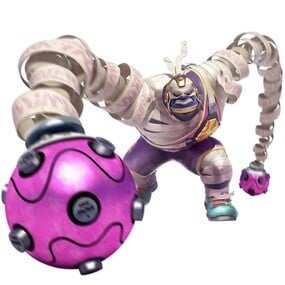 Wrapped up in mystery and bandages, it's 'the grim creeper'! With an uncharacteristically buff body for a mummy, this heavyweight shrugs off punches like nothing. All we know about this guy is that one day he woke up at the Mausoleum and now he's entering the Grand Prix! There's a story there...
Min Min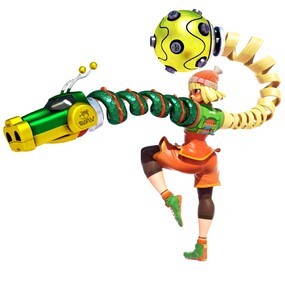 A member of ramen royalty, she hails from the famed Mintendo Noodle House! Her spicy kicks are known to knock down her opponents' attacks. Can her fiery personality bring the championship belt home to her family's restaurant?!
Mechanica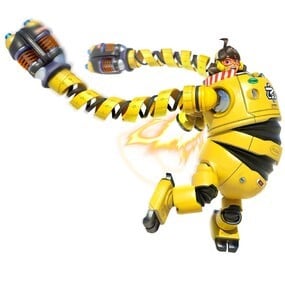 This youthful ARMS superfan honed her engineering genius working at the local scrapyard. She wasn't born with stretchy ARMS, so what choice did she have but to build a fighting suit herself? When she rides it into battle, she can even hover in midair! Can she soar to the top of the ARMS Grand Prix she's always loved?!
Twintelle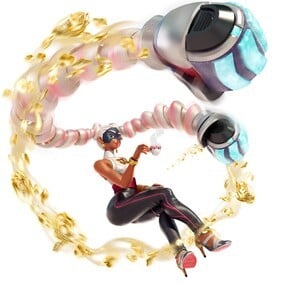 The mega celeb, star of the silver screen tries her hand...er, hair at the ARMS Grand Prix. Not content with her acting awards and accolades, she's gonna use those stretchy silver locks to take the ARMS title! Oh, and while she's charging up, her actress aura can slow down incoming ARMS!
Byte & Barq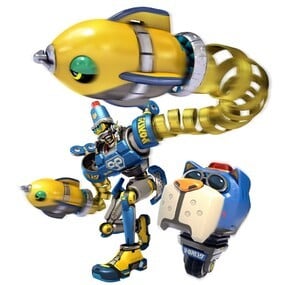 The duo of police-robot Byte and dog-robot Barq makes for an intimidating beach-patrol team. In the heat of battle, Byte is known to take a big leap off Barq and rain down punches on opponents! But if they win the ARMS Grand Prix, who's gonna patrol Buster Beach?!
Kid Cobra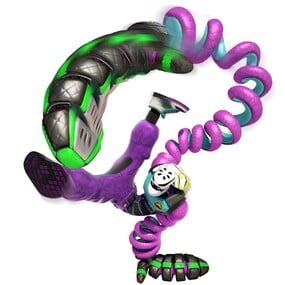 A top snakeboarder turned ARMS fighter, this kid lives for the streets! All that boarding has really strengthened his legs, giving him a super-quick dash after charging up. He entered the Grand Prix to get more hits on his snakeboarding vids, but his natural instincts might just carry him all the way to the top!
Helix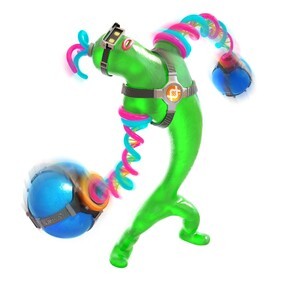 An experiment by ARMS Laboratories, the leaders in ARMS research! In addition to his arms, his whole body is stretchy—and his signature ARMS are just as weird. He's secretly entered the Grand Prix to prove the merit of the lab's latest research!
Max Brass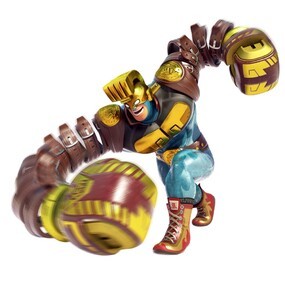 Head of the ARMS League, the organizing body of the ARMS Grand Prix! You'd never guess his age once he charges and pumps up that beefy body to maximum buffness. As reigning champ, he awaits new challengers in the championship round of the Grand Prix!
Lola Pop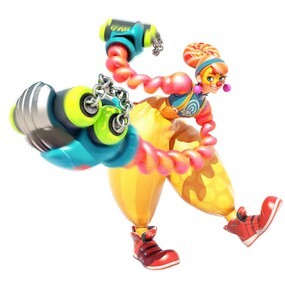 This sweet-dreamin' clown has traveled the world as a street performer. With her well-honed clowning skills, she's developed crowd-pleasing maneuvers that confuse and confound opponents! She hopes to one day open a circus of her very own, and the prize money from winning the Grand Prix could make those dreams come true!
Misango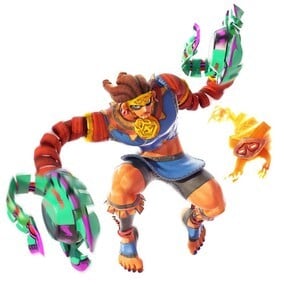 Misango is a skilled fighter who is fiercely devoted to his homeland, and the power of the Misanga. During a fight, he channels that power with the help of the little woven sprite that hovers at his side. His reasons for competing in the Grand Prix are simple—to prove that the Misangan fighting technique is superior to all others...and to win!
Springtron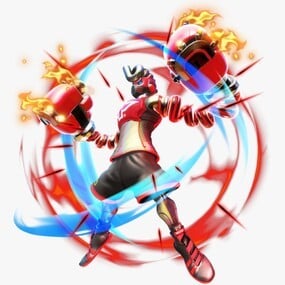 A lean, mean fighting machine designed and built by ARMS Labs! His metal body is inspired by the popular fighter Spring Man, and he's packed with the latest advances in fighting technology. With the goal of improving ARMS Labs's image by flexing their scientific muscle, he's finally been allowed to step out of the shadows and officially enter the Grand Prix!
Dr. Coyle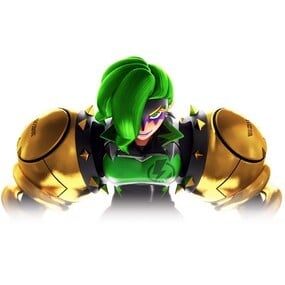 She's the director of ARMS Laboratories, and a certified genius. Fascinated with ARMS since she was a young girl, Dr. Coyle decided early on to devote her entire life to ARMS research. Her plans for this research are not necessarily nefarious... She simply wants to be the most powerful ARMS fighter of all time...even if that means subjecting herself to her own experiments. But all her pain and hard work will be worth it if she wins the ARMS Grand Prix!
Thanks for voting. You can check out the current full Super Smash Bros. Ultimate roster in our gallery, or take a look at the fighters from other franchises you'd most like to see come to Smash in our poll on that very subject.
If your preferred ARMS fighter is different from the one you think Nintendo will pick, go out on a limb and let us know your prediction below.