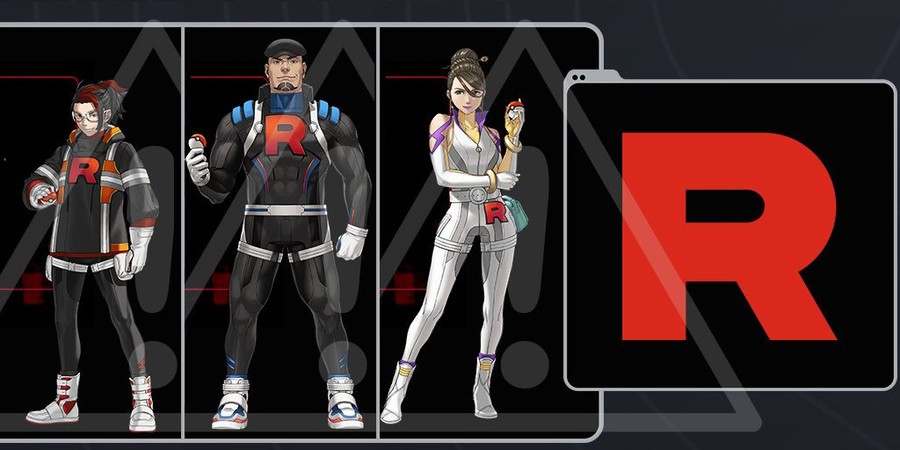 There's never a dull moment in Pokémon GO. Squeezing itself in before Pokémon chatter turns to Sword and Shield's release next week, and hot on the heels of the Halloween and 'Colossal Discovery' events, Niantic have put live another new event. This time, it's the turn of the game's Team GO Rocket battles to take centre stage – defeat grunts and track the leaders of this shadowy organisation with our guide to the new mechanics and the newly available special research quest 'Looming in the Shadows'.
What's Happening?
The next step of Team GO Rocket's invasion has begun – after several months of Team GO Rocket occupations of PokéStops worldwide, the evil team's leaders have finally appeared for you to fight. Look out for the following:
Team GO Rocket Grunts can now drop 'Mysterious Components' once defeated
Collect 6 'Mysterious Components' to create a 'Rocket Radar' that will locate one of the leaders of Team GO Rocket – Arlo, Cliff and Sierra
New Special Research available – 'Looming in the Shadows' (see our Walkthrough below)

Follow the Special Research questline and you'll receive a Super Rocket Radar capable of locating famed Pokémon evil team leader (and part-time Gym owner) Giovanni

Once Giovanni is defeated, you will have the opportunity to capture 'a Legendary Shadow Pokémon' - Articuno, Zapdos or Moltres, one per month

To expand on the last point - Giovanni Special Research will apparently be a monthly event. November's research gets you Articuno

The list of Shadow Pokémon that Team GO Rocket Grunts may hold has expanded (Sandshrew, Bellspout, Magnemite, Porygon and Wobbuffet)
Increased spawns for Pokémon associated with Team Rocket (such as Ekans, Meowth and Koffing) as well as similar themed Raids will run until 1pm PST on Thursday November 1
This follows several weeks of teases from Niantic in which the game's social channels and websites have featured story snippets involving Professor Willow and Team Leaders Blanche, Candela and Spark tracking down details of Team GO Rocket's leadership. This culminated in the appearance of 'mysterious component' drops in a small number of cities (London in the UK, Atlanta, Austin and San Francisco in the US) on 6 November before a global rollout on 7 November.
What are Mysterious Components and How Do I Find Them?
Theorised by Professor Willow to be the devices that help Team GO Rocket grunts to take over PokéStops, these purple-screened 'mysterious components' can now be dropped by any grunts you fight at infected PokéStops – the darkened stops that shake as if 'glitched out' on the Pokémon GO map (find out more in our guide to infected PokéStops).
How to Find Team GO Rocket Leaders Using Rocket Radars
Collect six mysterious components, and you will be prompted to turn them into a 'Mysterious Device'/Rocket Radar – a machine capable of locating a Team GO Rocket leader.
Once constructed, the Rocket Radar will then be added to the upper right of your map screen (see left image above)
Tap the Rocket Radar icon and you will access a new new map view (middle image, above)

On this new map view, you will be able to see Pokéstops occupied by a Team GO Rocket leader, indicated by a red 'R'.
This map lacks PokéStop/Gym icons or other landmarks - challenging you to work out the street layout for yourself

On the normal game map, the PokéStop you're searching for will appear to be normal - when you walk close enough, the PokéStop will turn Black and the leader occupying the Pokéstop will appear (right image, above)
In the event that there are no leaders near your current location, the game will prompt you to search elsewhere/at another time
Note that you can only hold one Rocket Radar at a time, and will not collect more Mysterious Components until you have beaten the leader. The radar is not consumed until this point - you are free to re-challenge the leader as many times as necessary, or indeed, go in search of another leader.
The Super Rocket Radar works on the same principles - however, the real Giovanni won't be found at every one of the radar locations detected (you will encounter a decoy grunt instead).
Team GO Rocket Leader Guide
Once you have located a Rocket Leader's base, you will have the opportunity to battle them for some nice rewards. Battles play out similar to those for regular grunts, with the exception that the leaders will have Protect Shields at their disposal that they actually use – as with your own Protect Shields, you will do no damage to the leader when they use them.
Because of this, we recommend front-loading your team with a Pokémon that has a charged attack that is available relatively quickly.
Rewards
Beating any Team GO Rocket leader will reward you with the following:
1,000 Stardust
An encounter with the leader's Signature Shadow Pokémon (see trainer bios below) – this shadow Pokémon can be shiny
Any two of the following:

Max Potion
Max Revive
Revive
Sinnoh Stone
Unova Stone
GO Rocket Leader Arlo
Arlo is an ambitious trainer and ex-member of Team Valor – once a close friend of Candela, he resented her elevation to leader of Team Valor and appears to have found the vehicle for his revenge in Giovanni's Team GO Rocket.
Signature Pokémon: Scyther
Second Pokémon: Gyarados, Magnezone or Crobat
Third Pokémon: Charizard, Dragonite or Scizor
GO Rocket Leader Cliff
The first leader of Team GO Rocket that Professor Willow encountered, Cliff is a muscular, straightforward and intimidating trainer who professes great loyalty to Team GO Rocket and Giovanni.
Signature Pokémon: Meowth
Second Pokémon: Sandslash, Snorlax or Flygon
Third Pokémon: Tyranitar, Torterra or Infernape
GO Rocket Leader Sierra
A highly experienced trainer who refuses to suffer fools, the formidable Sierra clashed with Team Instinct leader Spark in the events recalled by Willow in his report.
Signature Pokémon: Sneasel
Second Pokémon: Hypno, Lapras or Sableye
Third Pokémon: Alakazam, Houndoom or Gardevoir
GO Rocket Boss Giovanni
The original evil team leader returns with a team that calls back to his original first generation appearance and the legendary Pokémon in that game - watch out for Pokémon stats with Combat Power even greater than the leaders he commands.
First Pokémon: Persian
Second Pokémon: Dugtrio, Rhydon or Hippowdon
Third Pokémon: Articuno (November)
How to Complete the Team GO Rocket Special Research Quest - 'Looming in the Shadows' Walkthrough
Step 1/6
Quest

Reward

Spin 10 PokéStops

500 XP

Defeat 3 Team GO Rocket Grunts

500 XP

Catch 1 Shadow Pokémon

500 XP

Rewards: 500 Stardust, 10x Poké Balls, 10x Razz Berries
If you've been playing Pokémon GO at any point since July, there'll be nothing to phase you in this step – just walk around for a bit, spin some PokéStops and look our for at least three darkened/glitched PokéStops. Once defeated, catch their Shadow Pokémon – easy stuff, but for a guide to the basics of beating Grunts at infected PokéStops in order to catch and purify Shadow Pokémon, click here.
Note that Step 2/6 involves purifying Shadow Pokémon – leave any you catch in step 1/6 unpurified until then.
Step 2/6
Quest

Reward

Spin a PokéStop 5 days in a row

750 XP

Purify 15 Shadow Pokémon

750 XP

Win 5 raids

750 XP

Rewards: 1,000 Stardust, 3x Super Potions, 3x Revives
Step two ramps things up a tiny bit – you'll need to play for five days in a row, spinning a PokéStop each day. You'll also have to win 5 raids (any level) and purify 15 shadow Pokémon – which means finding 15 infected PokéStops, assuming you don't already have unpurified shadow Pokémon in your collection.
Step 3/6
Quest

Reward

Use 6 super-effective Charged Attacks in Gym battles

1,000 XP

Win 3 Great League Trainer Battles against another Trainer

1,000 XP

Defeat 6 Team GO Rocket Grunts

1,000 XP

Rewards: 1,500 Stardust, 15x Great Balls, 5x Pinap Berries
Step 3 of the quest gets you ready for the leader battles ahead. It'll remind you that you have to defeat six grunts and receive six mysterious components to build a rocket radar. It'll also reinforce the importance of building a balanced team and using super-effective charged attacks with its PVP and gym battle requirements.
Step 4/6
Quest

Reward

Defeat Team GO Rocket Leader Arlo

1,250 XP
(Shadow Scyther Capture Chance)

Defeat Team GO Rocket Leader Cliff

1,250 XP
(Shadow Meowth Capture Chance)

Defeat Team GO Rocket Leader Sierra

1,250 XP
(Shadow Sneasel Capture Chance)

Rewards: 2,000 Stardust, 1x Super Rocket Radar, 3x Golden Razz Berries
It's now officially time to go after the Team GO Rocket leaders - though considering you will have had to play at least five days worth of Pokémon GO before this point, you may have already encountered one or more already. You'll of course need to collect 18 mysterious components and build three rocket radars (though you won't start collecting components again until after each leader win). See 'How to Find Team GO Rocket Leaders Using Rocket Radars' above.
Note that the shadow Pokémon capture chances occur via the process of fighting and defeating each leader, rather than being awarded via the special research menu (so it is completely possible to fail to capture the Pokémon).
A word of caution: Because Special Research quests are not awarded retroactively (except for one-and-done things such as Pokédex progress), leaders you manage to fight when working on earlier steps will not be counted in this step. Players reading ahead may want to leave fighting the leaders until they get to this point - though the process of gathering six components isn't especially difficult.
Step 5/6
Quest

Reward

Find the Team GO Rocket Boss

2,500 Stardust

Battle the Team GO Rocket Boss

1,500 XP

Defeat the Team GO Rocket Boss

3x Silver Pinap Berries
(Shadow Articuno Capture Chance)

Rewards: 3,000 Stardust, 1x Fast TM, 1x Charge TM
The Super Rocket Radar you earn in Step 4/6 allows you to locate Giovanni - however, a number of PokéStops in your area will actually be manned by decoy Grunts - you'll have to try a few different Stops to find your man.
As above, the shadow legendary bird capture chances are in the process of fighting the Team GO Rocket Boss (Giovanni), rather than a reward in the special research menu.
Step 6/6
Quest

Reward

Auto-completed quest

2,000 XP

Auto-completed quest

2,000 XP

Auto-completed quest

2,000 XP

Rewards: 3x Max Revives, 20x Ultra Ball, 3x Rare Candy
The hard work is already done at this point - provided you have enough strength left to tap and collect the rewards, you won't need any further assistance here!