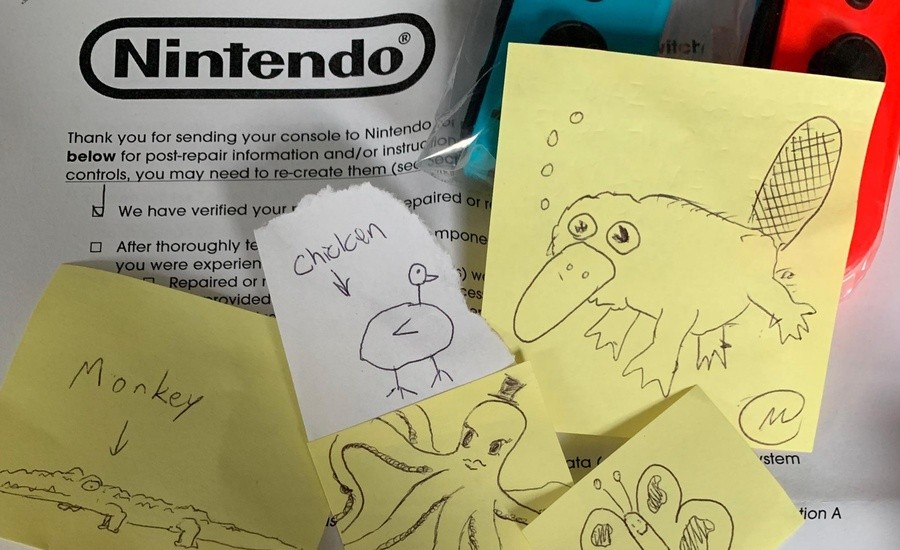 As part of today's Very Important Video Game News Coverage™, we present to you one of the best stories we've seen relating to Nintendo's support department.
Now, this story isn't so wonderful because Nintendo did a particularly excellent job repairing or replacing a dodgy Joy-Con, but because one employee has supposedly gone out of their way to fulfil a truly brilliant request.
Reddit user hprumbbor has won over the hearts of the site's Nintendo Switch community with the following post. In it, and in the comments that followed, they mention that they'd sent a set of Joy-Con in for repair after one began to drift and the other had connection issues. Alongside the Joy-Con, hprumbbor requested that Nintendo Support should reply by drawing their favourite animals, because why not?
If the whole situation is to be believed, the Nintendo Support employee absolutely came through. We particularly love the monkey that is in no way, shape or form a monkey.
If you look closely, you'll notice that the Joy-Con issue had also been resolved. Top service all round then, really.
We dread to think how many strange requests the Nintendo Support team will receive for the next few weeks.