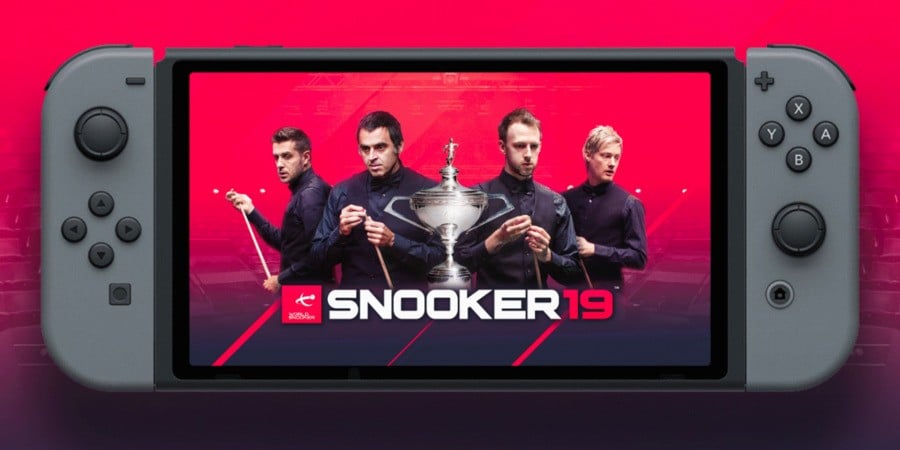 Ripstone Games has confirmed that it will publish Lab42's Snooker 19 on the Nintendo Switch eShop on August 23rd, with a price of £29.99 / €34.99 / $34.99. Pre-orders for the physical version of the game are also open now.
Snooker 19 showcases 128 of the world's top snooker players, including the likes of Ronnie O'Sullivan, Judd Trump, Mark Selby and Ding Junhui. Promising to be "the most in-depth simulation of snooker ever seen", Snooker 19 will also feature famous venues such as The Crucible and Alexandra Palace, and boasts a full suite of major tournaments to take part in across its single-player, online or local play modes.
If you're a sucker for authenticity, then you'll be pleased to learn that Snooker 19 features "full TV-style presentation" and "meticulously created" player models, created using 3D facial scanning technology. "Snooker 19 sets a new visual standard for the snooker video game," says Ripstone, allowing players to "soak up its atmosphere while the advanced physics and AI engines ensure the action remains tense, thrilling, and most importantly, true to real-life".
Lab42's Justin Forrest, who served as Game Director on Snooker 19, had this to say:
With access to all the pro players, arenas and official tournaments, it's a dream to be bringing the most authentic snooker game to date to Nintendo Switch; a platform that myself and the team here at Lab42 absolutely love.
Hollie Pattison, Product Manager at publisher Ripstone, added:
The Nintendo Switch version of Snooker 19 is the perfect mix of authenticity and convenience; bringing together an impeccable true to life snooker experience with the ability to play when or wherever you like. Officially licensed by World Snooker and featuring an array of play styles including an in-depth career mode, local multiplayer matches supporting two Joy-Con controllers and online tournaments; Snooker 19 is the perfect fit for Nintendo Switch.
Thanks to the kind people at both Ripstone and Lab42, we've able to offer this exclusive video which features a developer commentary. Grab your popcorn and enjoy.