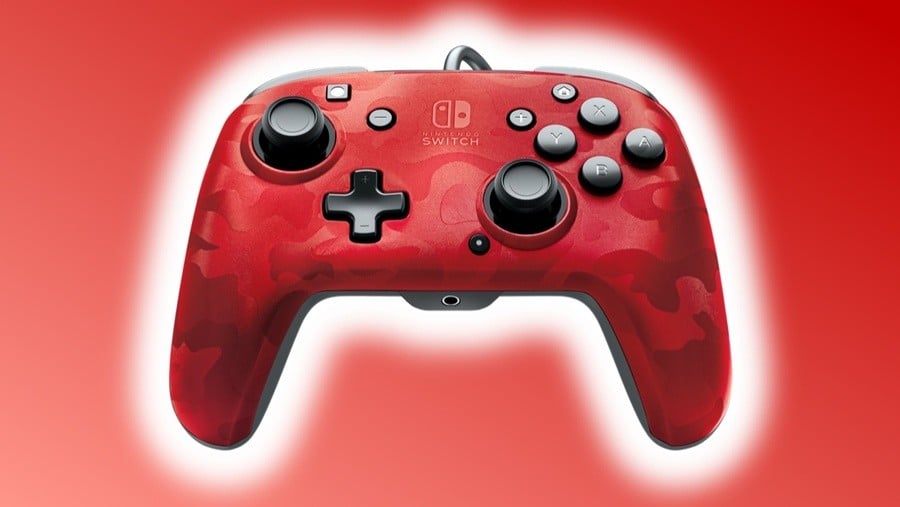 There are many ways in which Nintendo has absolutely hit it out of the ballpark with Switch, but there are a couple of areas which could undeniably use a little more attention. Even the staunchest Nintendo devotees would be hard-pressed to defend the company's convoluted voice chat solution, and it's led to some studios taking matters into their own hands - most notably Epic with its little battle royale indie hit... we forget the name.
Using Vivox, an in-game voice chat standard, Epic circumvented Nintendo's app and made voice chat much easier, although you needed an awfully long cable to access the console's headphone jack if you were playing and chatting on the TV. Enter the Faceoff Deluxe+ Audio Wired Controller, an officially licensed pad which lets you plug your headset into its underside.
First revealed at the beginning of April, this beauty launches on 22nd July and should be a godsend for Switch owning Fortnite (that's it!) fans who prefer to play in docked mode. With a familiar layout and a D-pad which looks similar to the one found on an Xbox One pad, the controller comes in four flavours and features interchangeable faceplates, so you can decide if you're in a blue camo, purple camo, red camo or black camo mood. It seems you're fresh out of luck if you're not a fan of camo, though.
Obviously, this won't change the situation for Splatoon 2 voice chat, but with Vivox support on the way for Hi-Rez Studios' Smite and Paladins (and, we would assume, Realm Royale), fans of those games would do well to avail themselves of the Faceoff Deluxe+, its 10-foot long USB cable and that wonderfully standard audio jack hiding in its rear.
We've collected some pre-order links below if you fancy trying it out.
Do you use voice chat on Switch? Reckon the Faceoff Deluxe+ is worth the money? Let us know below.