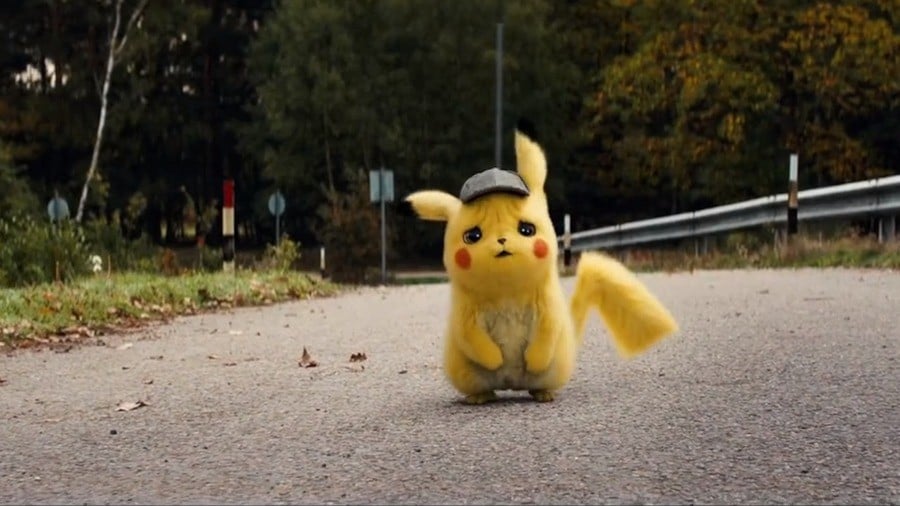 The Pokémon Detective Pikachu movie releases in cinemas worldwide next Friday, just one week from today. We've been feeling pretty optimistic about this one - the trailers have seemed surprisingly promising throughout the build-up to the film's release - but now it's time to see what the critics think.
Yes, select media have now had the opportunity to check out the full film and have posted early reviews online. We're pretty shocked to see that views are rather mixed; at the time of writing, the film has a Metascore of 50 out of 100 - you can't get much more average than that. On Rotten Tomatoes, it's currently sitting at a much better 74%, however.
We've included a few snippets of reviews for you below (with links to all of the full reviews provided).
---
IGN, Joshua Yehl [8.0/10]:
"Smith's character gives the story an emotional weight and Reynolds delivers an endearing comedic performance that's closer to his subversive Deadpool schtick than you'd expect. While video game movies haven't had the best track record, this movie is by and far the best example of how to do one right." Read full review
The Guardian, Steve Rose [3/5]:
"Without Reynolds this would be pretty run-of-the-mill; with him it's a perfectly acceptable family movie. Given the history, that's a giant leap for Pokémon-kind." Read full review
The Verge, Julia Alexander:
"Detective Pikachu is a fever dream — a product of night time car rides with a Game Boy, staring up at the street lamps that pass you by, painting the darkened sky with wild imaginations of what a world full of Pokémon might feel like. Detective Pikachu is a silly, almost hallucinogenic ride." Read full review
ScreenCrush, Matt Singer [5/10]:
"Beneath the predictable story, Detective Pikachu isn't about much, and if you need Wikipedia to explain who Mewtwo is, most of the jokes will go right over your head. The whole thing is a bit too childish for adults, and a bit too convoluted for kids. It absolutely deserves an Oscar nomination for Best Visual Effects however, even if the subject matter makes me think it's unlikely to receive one." Read full review
Variety, Peter Debruge:
Though consistent with the game (with a few extra but obvious twists thrown in for good measure), the story of "Detective Pikachu" doesn't allow nearly enough Pokémon-related action, while the quality of the computer animation (by Moving Picture Co. and Framestore) falls far short of the basic level of competency audiences have come to expect from effects movies. Read full review
Empire, Olly Richards [3/5]:
"It's impossible to overstate how much this film owes to Ryan Reynolds. Even if you don't understand Pikachu's world, everyone can understand a great joke superbly delivered." Read full review
The Associated Press, Mark Kennedy:
"Live-action feature film adaptations of video games have proved a dicey proposition in the past. For every 'Mortal Kombat' there's a 'Prince of Persia.' This one just feels like a venal money grab from a mega corporation. You've played Pokémon Go, right? Call this one Pokémon Don't Go." Read full review
---
We wouldn't be too disheartened, though. Interestingly, comparing the reviews from major film industry press outlets to those from video game backgrounds shows a common trend, and this gets extended even further when taking into account the views of online personalities and influencers who have already seen the film.
Sites such as Polygon and Eurogamer had fairly mixed-to-positive reviews on the whole, but both highlighted the joys of the Pokémon themselves and the world around them. The more film-centric sites, who we'd assume don't have quite the same knowledge of the Pokémon franchise, have commonly argued that the acting of Ryan Reynolds is the saving grace here, with the Pokémon not being particularly special.
Pokémon fansite Serebii scored the film 4/5, saying that it "really plays the line a lot between hardcore Pokémon fan references and things for the uninitiated, but it never goes over the line one way or the other and keeps a perfect balance".
Perhaps this suggests that the film is great for fans of the series, while being simply 'OK' for those who don't know the Pokémon world and not so great for those who have no interest in it at all - which would make sense, after all.
We'll have our very own review of the film right here on Nintendo Life next week, so make sure to keep an eye out for that if you'd like to read our verdict. Until then, why not let us know if you plan to see the film with a comment below?