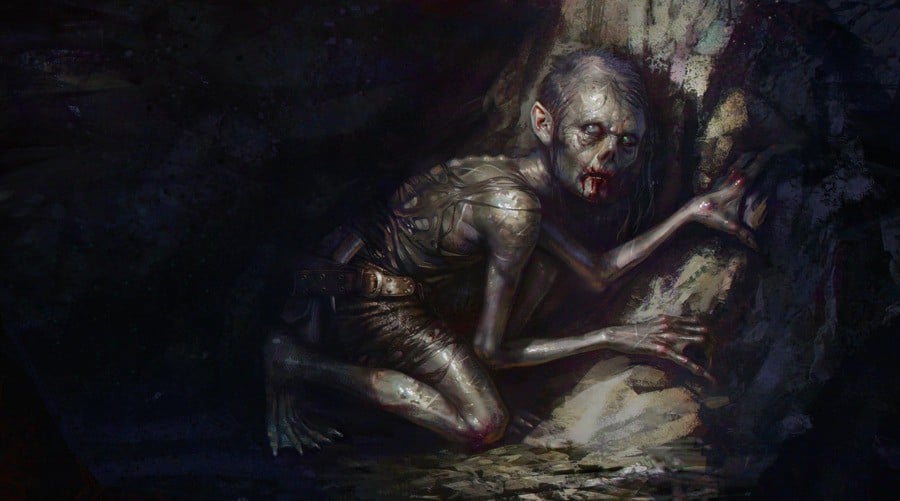 We're getting a new Lord of the Rings game, and it's one that will focus on perhaps the most interesting character across all of Tolkien's works: Gollum.
Twisted and tortured by his desire for The One Ring, Gollum is a key figure in both The Hobbit and its sequel, and would make a great central character for any game. That's clearly what publisher Daedalic Entertainment thinks, as it is creating a point-and-click adventure with The Artist Formerly Known As Sméagol in the lead role.
Created with the assistance of Middle-earth Enterprises, The Lord of the Rings: Gollum will take place between the events of The Hobbit and The Lord of the Rings. After being tricked out of ownership of The One Ring to Bilbo Baggins in The Hobbit, Gollum is torn apart by rage and is eventually captured by a resurgent Sauron, who tortures Gollum to discover the powerful trinket's latest whereabouts – setting in motion the events of The Lord of the Rings. Given the large space of time between both books, there's plenty of ground to cover in the game, much of which was never fully fleshed-out by Tolkien himself.
Daedalic CEO Carsten Fichtelmann had this to say:
We tell Gollum's story from a perspective never seen before, in any storytelling medium, all the while staying true to the legendary books of J.R.R. Tolkien. At a time when the games industry is undergoing structural changes and seeing new business models evolve, we are excited to realize a huge new production based on a story that has stayed fresh and relevant for more than 60 years.
The Lord of the Rings: Gollum is seen as the first in a new wave of officially-licenced games based on Tolkien's epic high fantasy world, and will launch on 2021 on "all relevant console platforms at that time". We'd imagine that includes Switch, but we obviously can't be sure at this moment in time. There's also little to report on the game itself, which is understandable given how far away it is.
What we do know is that this won't be based on Peter Jackson's acclaimed movie series, so don't expect familiar faces (or indeed voices) to appear – we'll have an all-new cast with different designs, and the world of Middle-earth will no doubt look a lot different, too.
[source pushsquare.com]