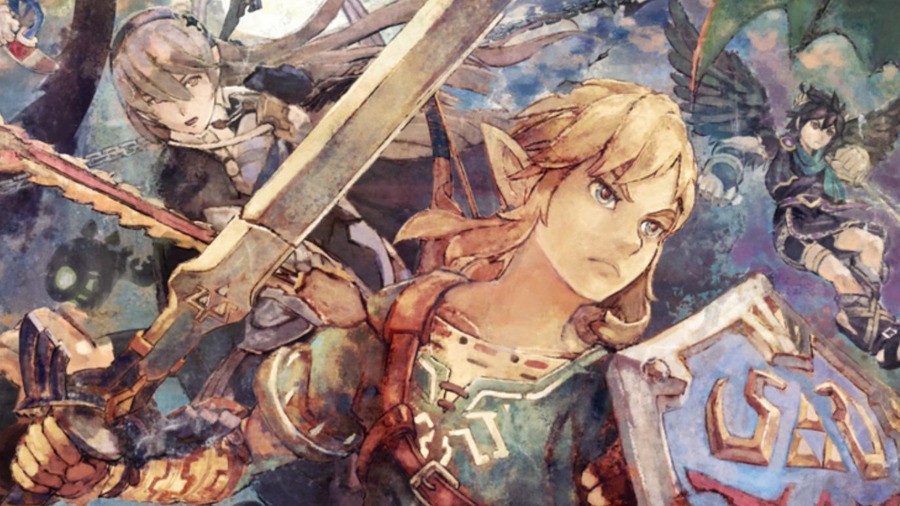 In our eyes, one of the best things about the build-up to Super Smash Bros. Ultimate's release was the beautiful mural, constantly evolving as more and more characters were announced. Not only was it a joy to look at, but it really gave a sense of just how big the game was going to be and watching new characters squeeze in every few weeks was a blast.
This idea was also used in-game, with the Classic Mode seeing players take on a series of challenges to fight their way to the end of another mural design. Just as majestic as the first, this mural features all of the fighters in epic poses, right up until the coveted 9.9 intensity mark at the very end but, strangely, we haven't really heard all that much about its creation. That is, until now, because series director Masahiro Sakurai has answered a fan question on the very topic in a recent issue of Famitsu.
The fan's question asks about the people who made it, noting how impressed they were by it in the process. Here's Sakurai's response (translated by the folks at Nintendo Everything):
"Thank you very much! A few members of the staff worked on it, offering up a stylistic caricature while maintaining the integrity of the design, all the while fine-tuning their work. In addition to getting an OK from me, though, we had to go through and get the OK from each IP's original publisher, so it took a lot more time and effort than just having to draw it."
The logistics of creating each Smash Bros. game has always sounded like a bit of a nightmare, having to get approval from various publishers along the way, but this shows just how tricky the process must be. Working with third parties goes well beyond them agreeing to have a character featured; each individual piece of artwork seemingly needs to be approved, too.
Still, we thoroughly enjoyed discovering more and more of the mural as we played so we're glad the work was put in. Have you managed to clear Classic Mode at the 9.9 intensity? Let us know below.
[source nintendoeverything.com, via famitsu.com]