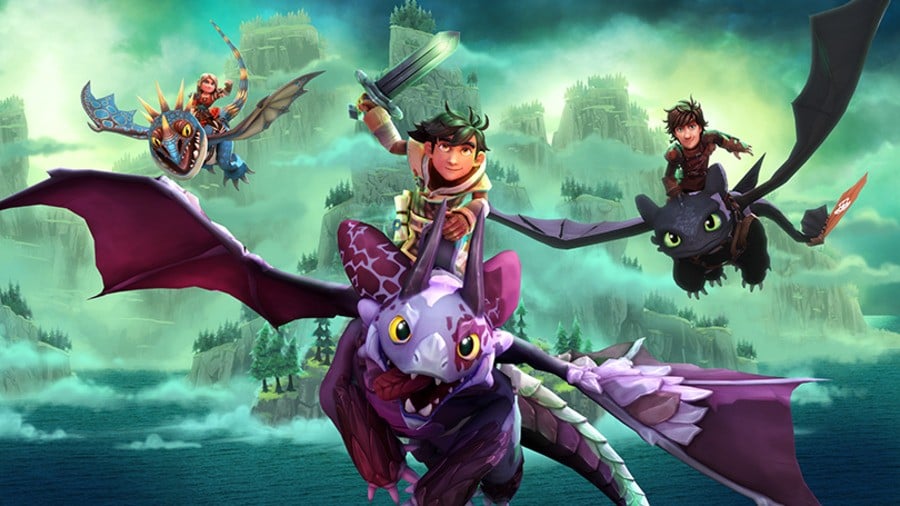 Outright Games has revealed that DreamWorks Dragons Dawn of New Riders is headed to Nintendo Switch. The game is set to introduce a new story in DreamWorks' popular Dragons series - a TV show based on the popular 2010 film How To Train Your Dragon.
The game will see players join the new heroic duo, Scribbler and Patch, in an epic battle to save dragons and defeat a new villain, Eir, who is controlling dragons to carry out her evil plans. You'll clash against fierce enemies, explore new and familiar locations, and interact with favourite characters from the series in an action-adventure setting.
Terry Malham, CEO of Outright Games, has said the following:
"The first feature film How to Train Your Dragon debuted eight years ago and has since sparked a beloved franchise that has captivated audiences around the world, inspiring additional films, television shows and more. DreamWorks Dragons Dawn of New Riders gives us a wonderful opportunity to be a part of Dragons history by partnering with Universal to create an original story introducing two new, very special characters. We look forward to unveiling more details soon!"
We're yet to be treated to any footage of the game, but here's a selection of screenshots and a feature list for you to check out:
Features:
A NEW, AUTHENTIC ADVENTURE: Help Scribbler recover lost memories and forge a friendship with Patch, his unique hybrid dragon
EPIC BATTLES: Unlock powerful abilities and take on fearsome foes
EXPLORE VAST NEW LOCATIONS: Fly to familiar locations, as well as new locations, including Havenholme, Valka's Mountain and Blood Briar Island
SOLVE PUZZLES: Swap between Scribbler and his dragon Patch to conquer obstacles
The game is expected to launch in February 2019 in both Europe and North America on Nintendo Switch, aiming to coincide with the release of the new movie How To Train Your Dragon: The Hidden World.
Are you a Dragons fan? Are you intrigued by a new game for the franchise? Let us know with a comment below.