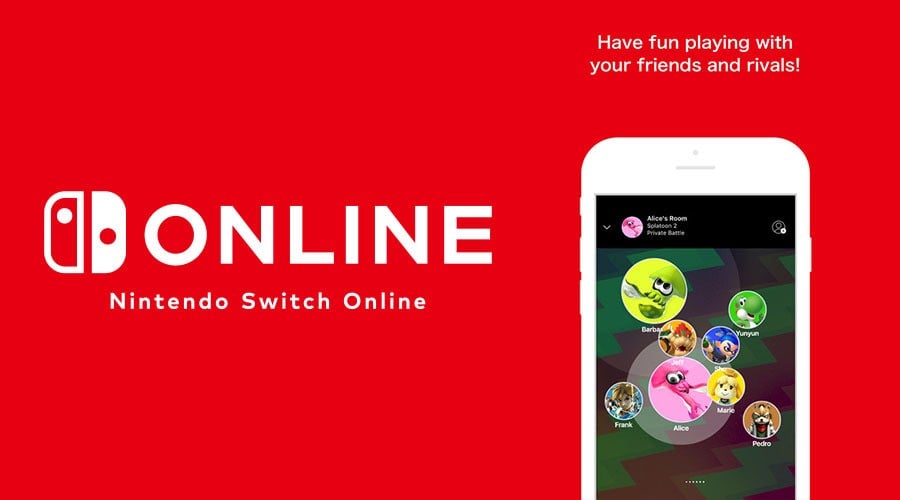 Now that Nintendo Switch Online has officially launched, you've got to make a real decision if you want to continue playing online multiplayer in games like Splatoon 2, Mario Kart 8 Deluxe, and ARMS. That service is no longer available for free, and requires a Nintendo Switch Online membership.
Of course, you get a little more than just online multiplayer. Much like PS+ and Xbox Live Gold, the service also comes with 'free' games, special offers, and other fancy little extras like cloud saves. So it might be that online multiplayer isn't important to you, but playing Balloon Fight is. No judgement.
Whether you've bought Nintendo Switch Online or not, we thought we'd round up a few things that you can easily miss amongst all the Nintendo Switch Online excitement. It has a nifty few features that you have to actually dig in the internet to discover, and we're going to go into more detail about each of them below.
Try It For Free
You could argue that we've been trying Nintendo Switch Online for free since the launch of the Switch itself, but the new free trial lets you try the extras without paying a penny. That includes cloud saving, NES games, and online multiplayer.
To get your hands on the free trial, simply visit the eShop after updating your system, scroll down to 'Nintendo Switch Online', and choose the option for a free trial. That's it, you're good to go.
It's worth bearing in mind though that this will set up an automatic renewal for the monthly membership, so you might want to cancel that if you're unsure or you want to opt for another membership type, like perhaps...
Get It Cheaper Using A Family Group
If you sign up for a Family Membership, rather than an Individual Membership, you can get Nintendo Switch Online for as little as $5 per year. That involves rounding up eight Nintendo Account holders under a single family group banner.
There aren't many restrictions either – it doesn't matter where the Nintendo Account holders are globally or anything like that. We've written a guide on how to do so right here, so if you're sold on this plan (why wouldn't you be?) follow the instructions by following the link above.
Play Your Games On A Friend's Switch
Here's probably the biggest open secret: you can now play your purchased games on another Nintendo Switch console. There are caveats though. For example, you can only play your games on a single Switch unit at any given time, ruling out playing multiplayer on two separate consoles under the same account.
Here's a few things you need to know in bullet point form:
The first time you use your Nintendo Account to connect to the eShop, that Nintendo Switch console will be activated as your primary console.
Following that, you can link your Nintendo Account to another Switch console, though it will have different functionality.
You can visit the eShop on this secondary console and download your purchases then play them on that system.
You do have to have an active internet connection to play them though. If the connection goes down, the game will pause after a certain amount of time, and you won't be able to continue playing until the internet is back up.
Other Nintendo Accounts linked to that system can't play your downloadable content.
That is, in a nutshell, how it works. Go give it a try.
Get Some Free Gear In Splatoon 2
This is only for those with an annual membership. If you choose to sign up with that option, you'll receive a download code in an email that you can use to get yourself some free branded gear in Splatoon 2.
The primary account holder for a Family Group will receive eight codes that they can pass on to family members, so keep pestering them until they cough up the goods.
Play Classic NES Games Online With A Friend
I think everyone knows that Nintendo Switch Online comes laden with 'free' NES games, but did you know that you can play certain titles against (or with) a friend online? It's easy to miss that in all of the excitement.
But when you boot up the app on your Switch, you'll receive an option to play online with friends, or to play on your lonesome in single player. If you choose the former option, you can easily play with a friend in a bunch of different titles. Awesome stuff.
Play NES Games With Actual NES Controllers
Again, Nintendo hasn't been super clear with this, but official wireless NES controllers are on their way, allowing you to play NES games as originally intended.
However, you can only purchase these if you are an active Nintendo Switch Online member, and even then it's not entirely clear how to get them.
Fortunately, we're here to help you do just that. Visit the official Nintendo site and login to your Nintendo Account to pre-purchase the NES controllers. You get a bundle of two of them for $60, and they'll arrive at your doorstop in December.
It's important to note that you can only get a single set of NES controllers per Nintendo Account, and only then if you're an active Nintendo Switch Online member.
Right now, pre-purchasing is limited to North America. Hopefully that will open up to more regions soon.
Chat With Your Friends And Access Extra Game Content With The Nintendo Switch Online App
Last, but certainly not least, you can use the Nintendo Switch Online App to voice chat with your friends in a bunch of different games. Up to this point, it's been limited, with only Splatoon 2 getting any real use out of it, but that's changed with the official launch.
Now you can use it for:
NES games
Mario Kart 8 Deluxe
ARMS
Splatoon 2
Mario Tennis Aces
It's highly likely that this list will grow over time too, so keep an eye on the app for a bunch more games.
Have you bought Nintendo Switch Online yet? Found any neat features that you think we should know about? Let us know all about it in the comments section below.