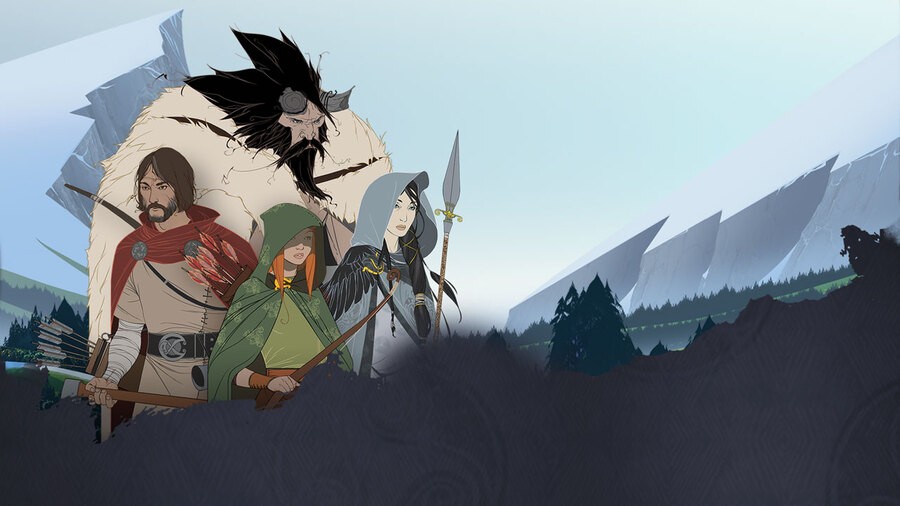 In celebration of the physical Switch release of The Banner Saga Trilogy, which includes all three entries of the series in one edition, we recently spoke to Stoic Studio's Co-Owner and Creative Director Arnie Jorgensen, and Head of Production and Game Operations Andy Johnson, about the design choices during the development of the series. We also found the time to discuss what it's like to publish a retail game on the Nintendo Switch, so make sure to read on to find out more.
---
Nintendo Life: Could you tell us how Stoic Studio was formed and how exactly The Banner Saga games played a part?

Arnie Jorgensen: Alex Thomas, John Watson and I were all working at Bioware here in Austin when a little-known device called the 'iPad' came out. There was this totally amazing game called SuperBrothers: Sword & Sworcery that I picked up and absolutely loved and moreover, it was done by a small team. Well, I'd been working in large team development for 13 years now and was itching for a change. I'd always loved Alex's writing so I approached him to see if we could do a children's book for the iPad, he was up for it and thus was Dinoboy born! The book actually got to #11 on the bestseller list, but it didn't make remotely enough money for us to do it full time.
So we reached out to my good friend John Watson and asked if he wanted to make a small game, thus was The Banner Saga born! We quit our jobs, pooled all of our savings and set off to make this game. The basic design was for it to be a very small game to be developed by three people, but when we made a lot more money in our Kickstarter than we'd expected the size of the game ballooned to what is now in the players' hands.
Is it true you chose to focus on Vikings to avoid 'overdone' and 'cliché' fantasy tropes?

Jorgensen: Yes and no? I don't think we made that decision consciously, I think we just thought Vikings were cool and no one seems to use them in games. Funny, as now they've become a staple for entertainment in our culture. I like to think we did them BEFORE they were cool.
Was the first entry in the saga originally intended to be the fixed template for the entire series, or did you always plan to build upon the original game's concepts in the second and third entries?

Jorgensen: The story in the game was always the plan, but before our Kickstarter, a friend told us that he didn't think we could make such a large game in one effort, so we should break it up into a trilogy. The Kickstarter was just for the first game in the series. Looking back, I'm very satisfied with the whole thing as we finished the trilogy just as we'd planned it from the beginning. We set out to do a thing and though it took six years to complete, the thing is done. That's a great feeling.
What does it mean to the development team to be able to bring the franchise together in one physical edition and release it on the Nintendo Switch?

Jorgensen: The team, and by this I mean the entire team, LOVES the Nintendo Switch. I haven't bought a console since the Gamecube and I bought the Nintendo Switch. I think it's a perfect pairing for our game as people can take it on the plane or bus or wherever.
When Saga1 came out on the Nintendo Switch I downloaded it before my kids woke up and when they walked into the living room, there it was on the TV! I walked into the kitchen with a smile on my face to get coffee and when I returned two minutes later they were enjoying The Legend of Zelda: Breath of the Wild.
Were there any challenges Stoic had to overcome in order to release a physical version of the game on Nintendo's latest system?

Andy Johnson: Nintendo and our publishers, GearBox and Versus Evil, were all extremely supportive in helping bring the Banner Saga Trilogy edition to release, but there were of course still challenges - this is game development after all.
It's the first time we have truly pulled the entire Banner Saga series into a single release, under the same application. Banner Saga works off of a shared code base so to avoid duplication, which would have increased the size of the game over the cartridge storage limits, so we had to be selective over what we kept, what was removed and from where. Once this had been done, and each game within the application was pointed where needed, we then had to extensively test to ensure no unexpected issues occurred.
What was it like publishing a physical game on a Nintendo platform? Were there any noticeable differences or added pressures compared to other platforms during this process?

Johnson: One of the less sexy aspects of game development, and an area where I focus a lot of my time, is the scheduling. A digital release requires a submission period after our development side testing, where Nintendo reviews the game to ensure it's firing against all of their internal systems correctly and is of a high quality for their platform. This protects players from seeing non-functioning games on the Nintendo Switch.
A physical release requires the same development testing and Nintendo submission period as a digital release, in addition to that it takes time to create the actual cartridges and then ship them to the stores.
We completed work on this physical release months before the release date; during this time we've been working hard to polishing all Banner Saga games on the Nintendo Switch. This extra work can be seen in the patch that accompanies the release of the Banner Saga Trilogy.
Out of each entry in the saga, which one presented the most challenges during development and why?

Jorgensen: Thinking about it now I'd have to say the original game was the hardest to get out the door, but The Banner Saga 3 threw us off the most. Saga 1 was largely done by three of us and the crunch was massive and long. Alex Thomas actually quit Stoic to go do his own thing after we launched, like, it was that tough. He came back to write Banner Saga 3 and will tell you that that launch was 110x easier than Saga 1. That being said, he missed the first seven months of work in Banner Saga 3 that we ended up throwing away. We'd never lost that much work before but it just wasn't quite going the direction we'd planned for it to go. I reached out to Alex to see if he was interested to finish what we'd started and he jumped at it. From that point on it all flowed really well. We think of Banner Saga as a game that will be around for decades, losing seven months of development is a small price to pay for a game that we are now content with.
What was it like working with Gearbox Publishing?

Johnson: Gearbox Publishing were truly great to work with! They let us focus on the development work involved with bringing three games under one umbrella and supported us with any publishing specific questions we had along the way. It's always nice to work with teams that respond quickly to questions, so we can keep moving on the development side.
Why does the physical release require an internet connection and micro SD card?

Johnson: As I hinted at earlier, Stoic kept working on polish and Nintendo Switch fixes after we submitted the Trilogy edition to Nintendo. The fixes and game polish are in the day one patch, along with some larger Banner Saga 3 assets, all required to run the game. So without an internet connection players will miss out on the polish and additional fixes, and Banner Saga 3 will remain locked.
The Micro SD card is for the same reason - to install assets from the patch.
Will this version come with any extra bonuses, and was this ever considered prior to the hardcopy release?

Johnson: We wanted to showcase the cover-art for each of the Banner Saga games. Only in the Trilogy edition will players be treated to a custom presented title screen. We knew we needed a title screen a level above the game title screens, so the function of this was known but the design was not finalized until later.
Segregation was prominent throughout the story, highlighting various themes including loss of life and racial discrimination - is there any particular reason why The Banner Saga's universe chose to focus on this?

Jorgensen: There are those that think we were speaking directly to what's going on in the world and trying to make statements about it; perhaps this is true on some unconscious level. But the main story was laid out back in 2012 and we didn't know what was coming down the road back then. I think the themes you ask about are timeless though and we all struggle with them.
We tried not to lead the player into any particular direction with how they answer the questions posed in the game; we let them choose their own direction. Some people actually thought Rugga made sense and some hated him. Some thought it was a bad idea to let the dredge into Arberrang and some thought it was the right thing to do. The game will play out differently based on your choices, but we don't say one is better than the other. The game should play out like a good book, where if something goes wrong it only serves to make the story stronger. You don't try to 'win' a book, you simply enjoy the ride.
What exactly inspired the art style in the game and what convinced the team this would be the most convincing way to illustrate the entire saga?

Jorgensen: I've always loved the art style of Sleeping Beauty which was art directed by Eyvind Earle. When I was a kid I imagined walking through that world and living in it. I showed some images from the movie to Alex and John and they both said "Oh, yeah cool! Let's do that." The decision was made in about three seconds and off we went! Of course, picking a style and then actually rendering it yourself are two different things, it turns out we picked a style that is extremely time-consuming.
Getting the characters correct took longer to decide on. I tried some versions where they were fully rendered, then cel-shaded but with shadows and a few other things as well. But I kept coming back to the simple cel-shaded look with no shadows because they looked more like an old-school animated film.
Was the composer Austin Wintory given the creative freedom to do what he thought was best for the game's soundtrack?

Jorgensen: Austin was almost completely autonomous. He did what he did and we didn't push him in any direction. The guy is a dream to work with, in that he takes zero time to direct and gives 110 percent on everything he does. I've never met someone as driven as Austin, he obviously loves what he does.
Did the ongoing success of the Switch make it an easier decision to release a physical version of The Banner Saga, or was it always in the pipeline from the beginning?

Johnson: As Arnie says, the Nintendo Switch is a perfect system for these games, and releasing The Banner Saga and The Banner Saga 2 one month apart, leading up to the release of Banner Saga 3 was a great run that we're stoked we could hit for players.
The option to do the Trilogy edition with Gearbox came up as we were working on these releases and we jumped at it. The Banner Saga is one game split into three due to the size, but it's a single story split into three chapters which we've wanted to combine into a single game for a long time.
What are the chances of us seeing more stories set within The Banner Saga universe in the near future?

Jorgensen: We're currently almost done with the Survival Mode for Saga 3, which is a mode where you can play through all the battles in the game and see how far you can get. There is perma-death in battle, some different turn order stuff and other fun things for players who enjoy the combat in the game. After that, we'll be working on Eternal Arena which is for players who want to set up their own battles, rules, heroes to fight them with and enemies to crush. This is a mode that the community has been asking about for a long time and they got it as a stretch goal during the Kickstarter. If people continue to enjoy and support the game and world then we will look for ways to keep bringing it to them.
What's next for Stoic?

Jorgensen: A large, brand new game world for players to explore. We're really, really excited about it.
---
We'd like to thank both Arnie and Andy for their time. Have you enjoyed your experience with The Banner Saga Trilogy? Are you excited for more? Let us know with a comment below.