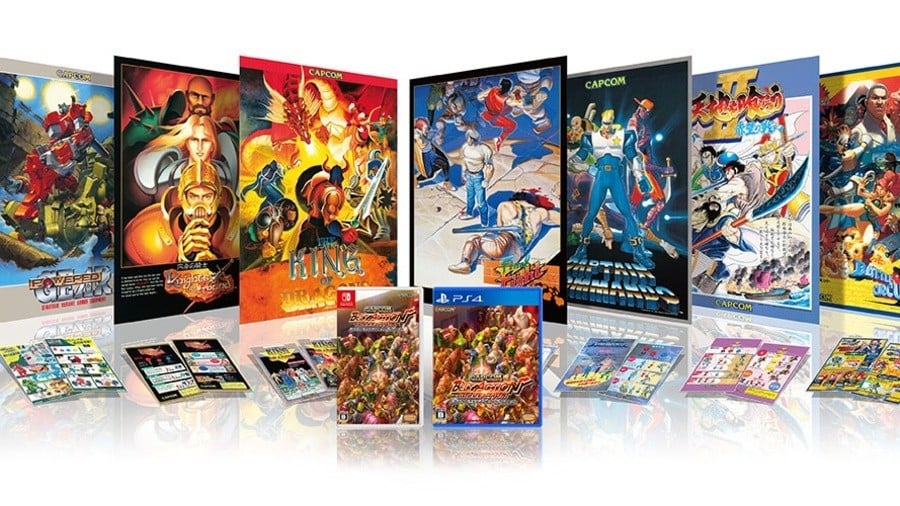 One of the bigger surprises during the recent Nintendo Direct was Capcom Beat' Em Up Bundle. Featuring a selection of the most famous side-scrolling fighters from the company, this scrumptious looking bundle will be available from the eShop tomorrow, but Japanese fans can get their hands on a ridiculous amount of extras, too.
They'll have to wait slightly - as the game actually launches in Japan on 6th December - but we're sure the wait will be worth it. As well as the standalone physical release, Japanese buyers can pick up a 'Collectors Box', an 'e-Capcom Limited Box', or an 'e-Capcom Limited Complete Box', all featuring more goodies than you can waggle a Joy-Con at.
Priced at ¥3,300, ¥5,800, ¥11,300, and ¥13,800 respectively, these bundles act like tiers, with more and more stuff being added for each one. There are posters, reissues of instruction cards from classic cabinets, 5 CDs, a 64-page artbook, sticker sheets, and even a small manga magazine. You can see the largest and smallest bundles below.
If you want to check them out for yourself, you can find all of these bundles on Capcom's official site. We take no responsibility for you accidentally going on an import spending spree as result!
Will you be grabbing a copy of the game from the eShop tomorrow? Share your excitement with us down below.
[source e-capcom.com]