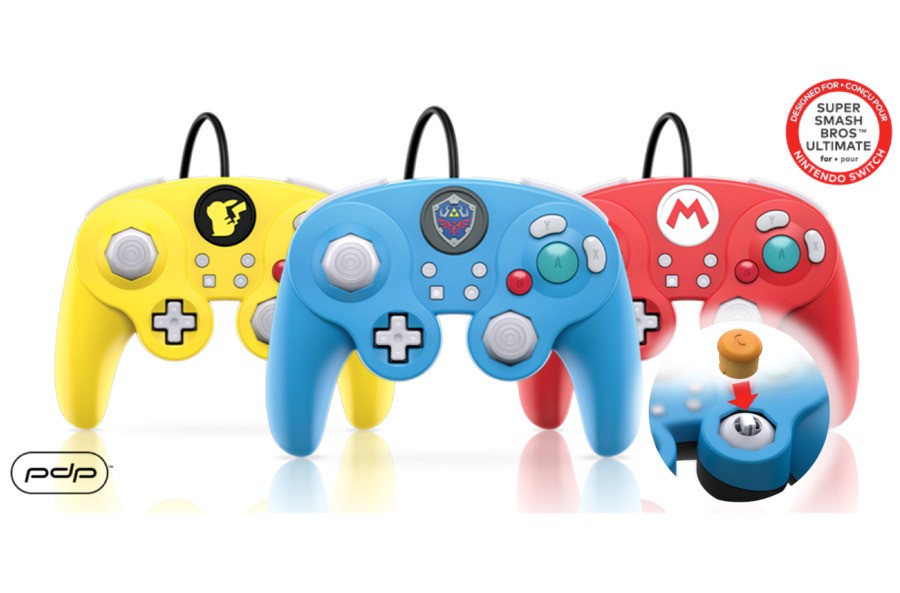 Video game accessory maker PDP is gearing up for the release of a brand new set of Pro Controllers for the Switch, inspired by the classic GameCube controller design.
Designed with the upcoming Super Smash Bros. Ultimate in mind, these controllers aim to give you the edge in the game by making you feel right at home - throwing you headfirst into a state of GameCube-induced nostalgia. The controllers will no doubt suit those who are still entirely enamoured with Super Smash Bros. Melee the most, especially thanks to one neat little feature in particular.
Each design comes with the option for right stick customisation, allowing you to choose between the full-size stick usually found on the left-hand side of the controller, or the famous yellow 'C' stick from the original controller design. Both sticks are completely detachable, allowing you to switch between the two types depending on your preferred setup.
The controllers will be available to pre-order from PDP's website in the coming months and are scheduled to release in time for the holiday season - presumably at a similar time to Super Smash Bros. Ultimate's launch date of 7th December.
Do you like these designs? Will you be keeping an eye out for these when they arrive later this year? Let us know your thoughts down below.
[source pdp.com]