Today is Friday, July 21st. It's horrendously hot and humid in Japan. It's the height of summer and the start of the school holidays in many parts of Tokyo. It's also the day that Splatoon 2 is out. As if the shortage of Nintendo Switch consoles wasn't bad enough, Nintendo's newest smash-hit IP launches. The carnival continues.
You've seen the news stories showing massive queues for Switch consoles, and reports of lotteries being held in order to purchase a system. How much of this is true, however? We decided to find out...
Stop 1: The Suburbs
Not a great start. There are signs up at this store saying no new stock and they don't know when they will get more. Let's head to Toys R Us, that should be a safe bet, right?
Gulp. We get there five minutes after the queue was closed. We estimate around 400 to 500 people present. At least they were under cover - you're usually made to wait outside in the parking lot.
We spoke to a nice young lady who had queued up for two hours in the hope of getting a console. She'd already bought Splatoon 2, Zelda and a Splatoon Pro Controller without knowing if she'd won. Many people queue up just to get the game and accessories that probably don't yet have the system.
The ratio per store seems to be 1-20; this store had 20 confirmed consoles.
Stop 2: The City
Oh look, a designated kiosk selling Splatoon 2.
Instead of tickets, retailer Bic Camera has wrist bands. 50 Splatoon 2 bundles were available today, and it looks like 2000 wrist bands handed out. We spoke to a staff member, and she said 'a lot more' standard systems will be available over the weekend.
An older gentleman was a lucky one - he said his grandkids were really keen, and he had nothing better to do.
Some places are clear about the stock situation, stating when they will hold lotteries.
The flagship store Yodabashi Camera in Akihabara is a little more blunt, but at least there's plenty of Splatoon 2 merchandise to purchase.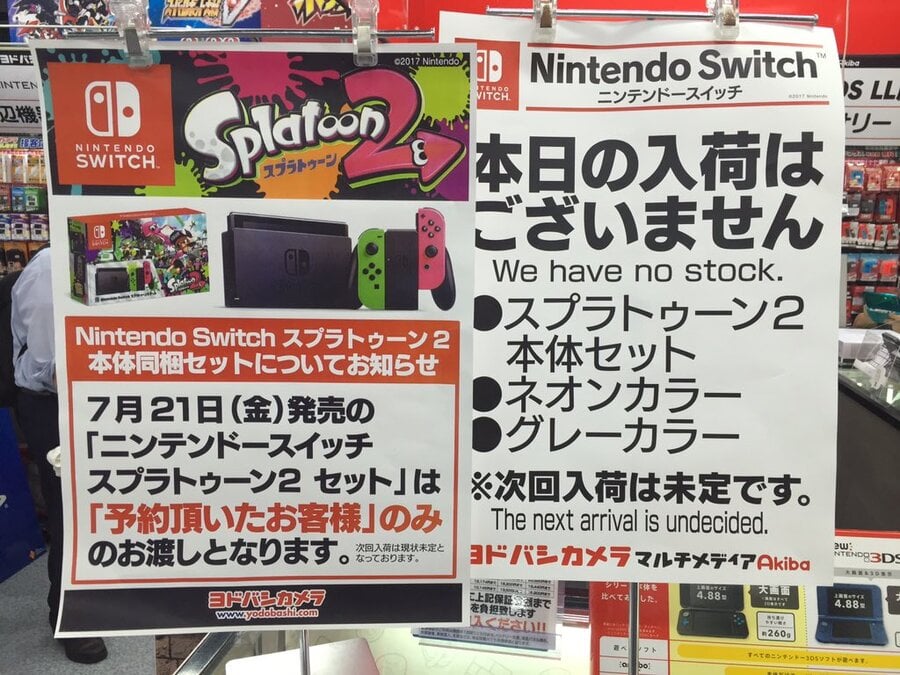 Back to the suburbs, the nice young lady who was waiting for the lottery to be drawn tweets me - she won!
In other news, Tower Records is holding a collaboration with Splatoon 2 until the end of July - it has even divided some of its records into two sections, Splatfest-style, so you can choose!
All in all, we left it too late, and with Monster Hunter XX coming in August, Pokkén Tournament in September and Super Mario Odyssey in October, finding a Switch in Japan isn't going to get any easier, unless Nintendo can really ramp up production, as is promised.
If you're still hunting for a Switch in your part of the world, let us know by posting a comment below. Happy hunting!