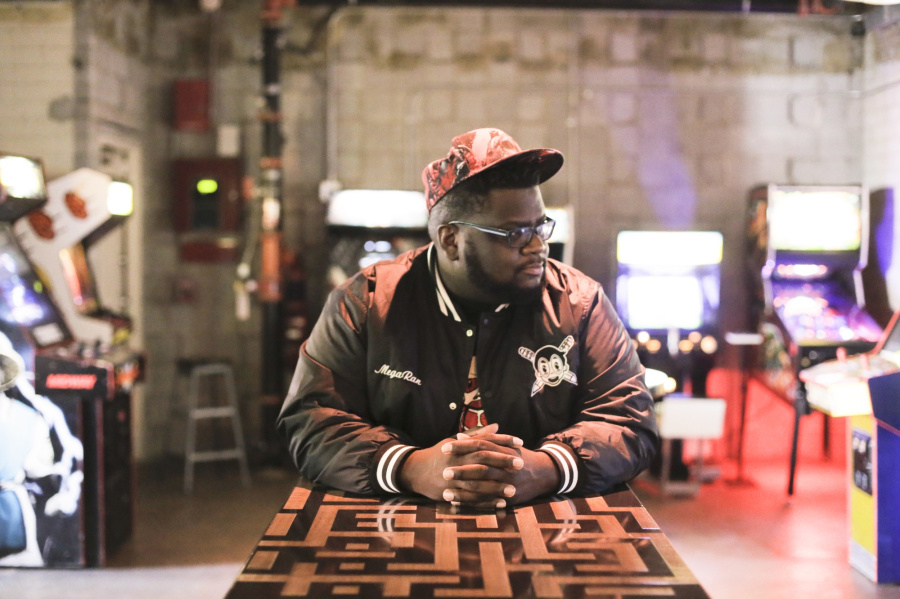 North American hip-hop artist Random, AKA Mega Ran, is well known on the music scene thanks to his cutting edge retro-styled beats. Since the creation of his alter-ego Mega Ran, this former teacher has become one of the premier artists in hip-hop's nerdcore genre, released multiple albums, secured a licensing deal with Capcom and toured the world doing what he loves. Not bad for a guy who started out sampling video games for his own personal enjoyment.
As no stranger to readers of Nintendo Life, we caught up with him again ahead of his UK tour to find out what's happening.
---
What amazing things have happened in the world of Mega Ran since the last time we spoke?
Wow! So much. My last full-length album "RNDM" released to some great marks; it's been my best selling project, has landed some radio play, made the 2016 Grammy Awards shortlist, and took me all over the world. Since then I've developed a bit of a mild obsession with professional wrestling, so I've done a few projects about that, and I've started a Patreon, where my songs about video games will mostly reside. Our new single "Church" came of those sessions.
Most recently we dropped "Notorious RAN: Ready To Live,", a tribute album based on the work of The Notorious B.I.G. Included on that is "10 Gamer Commandments," one of my faves.
How would you describe your show to someone who is unacquainted with your work?
Well, if you took classic retro video games, and then kind of stretched them out like yarn, then wrapped that around a boombox, it might be something like that, haha. I mix gaming with hip hop and call it "chip-hop." I rap, tell stories, we all laugh and maybe even get a little emotional. It's a fun, interactive good time.
What kind of reaction do you get in the UK? Do Brits tend to react differently to aspects of your show compared to other places which you have toured?
I feel like we're really building something solid in the UK. This is my 6th trip across the pond and each one gets better and more special. I feel like the Brits appreciate the show on a whole different level, maybe due to the distance factor, they tend to treat it like it's a super special occasion, because it is! I only get to the UK once a year, if that, so it's a very special moment. I love to see kids who will hop along and join us at multiple tour stops, assist us with setup or teardown; They definitely get more involved in the moment much more than some others. I'm very proud to call a lot of the folks who attend shows my friends and family.
What's new in your UK tour this year?
This year I'll be accompanied by some of my favorite people: Producer/DJ K-Murdock, Richie Branson and my good friend Eric of NERDS Clothing, who will be debuting some exclusive merch threads just for the tour.
Gear-wise, I'm biting the bullet and bringing my modded Famicom on the tour, which I use to trigger some sounds. It's a lot of fun and adds a new dimension of interactivity to the same old rap show. It's a risk because of the all the traveling and the possibility of damage that could occur to such a fragile, 30 year old piece of hardware, but you know....nothing ventured, nothing gained.
What venues and dates will you be playing in the UK?
Glad you asked!
May 10 Manc @ The Castle
May 11 London @ Surya (w/Professor Elemental)
May 12 Brighton @ Yellow Book Bar (w/Professor Elemental)
May 13 Leicester @ Soundhouse
May 14 Cambridge @ Museum of Computing History
May 16 Preston @ Ships and Giggles
May 17 Shrewsbury @ The Hive
May 18 Glasgow @ Nice N Sleazy
May 19 - Nottingham @ National Videogame Museum
May 20 - London @ Four Quarters Bar
May 21 - Newcastle @ Kommunity ncl (w/BType)
Given all the travelling you do when touring, how do you find the Nintendo Switch fits into your life?
The Switch is PERFECT for folks like me who move around a lot. I've played it significantly more on the go then on the TV... but being able to hook it up at hotels and resume my game is awesome. Breath of the Wild is so massive that I feel like it'll take forever for me to master it, I just wish there were a few more games to play. I set it up on merch tables for group Bomberman and co-op Metal Slug, but I feel like once there's more to play on Switch, this thing is gonna be a beast.
---
Thanks for your time Mega Ran. Be sure to catch the chip-hop dynamo on one of his UK tour dates in May this year!