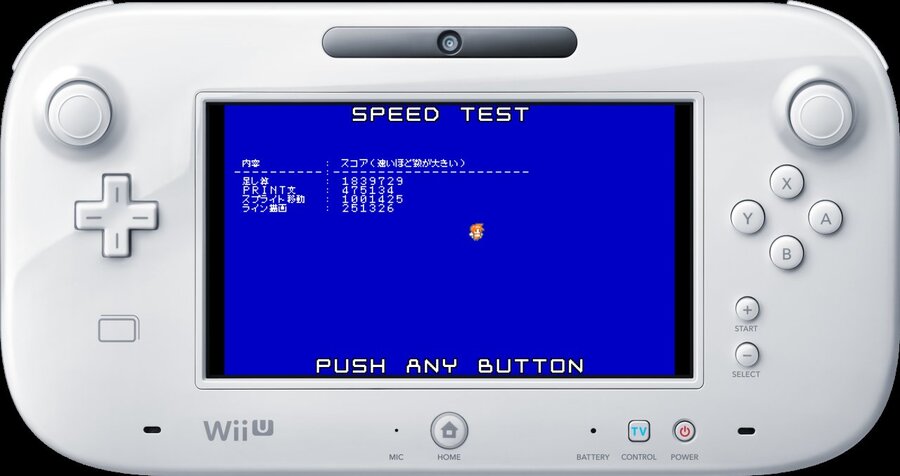 SmileBoom, developer of the excellent Petit Computer on DSi and most recently SmileBASIC, has confirmed DLC and update information for the 3DS entry, and a hugely exciting Wii U version.
SmileBASIC for Wii U - or PetitCom BIG - will be fully compatible with all creations from the 3DS version, with cloud-based saving allowing players to create games on the portable, save to the cloud and then access on the Wii U, or vice-versa. The Wii U version will have new features, including the capability to develop games that support the GamePad or Wii Remote. Off-TV will be included, but most exciting is the news that USB keyboards will be supported, which is a bit of a game changer for the series. This is coming to Japan in Spring 2016 and overseas afterwards.
There's news for the existing 3DS version, too, with the "Advanced Sound Unit" on the way this year as the first paid DLC. It's described as follows.
"Advanced Sound Unit" empowers SmileBASIC to process audio signal with various methods. "Advanced Sound Unit" allows you to process audio signal in real time coming from the MIC input. You can process the signal by analyzing with a FFT algorithm or with a BIQUAD filer and put it into the playback stream to output. In short, you are able to create your own software synthesizer or guitar effectors on your Nintendo 3DS system.
In addition there's currently an 'Ogiri' contest for users in Japan and North America to share 'Ninja'-themed creations - it's worth checking out the official page for more information.
The final bit of news is for Japan-only, but is so cool we just have to share it. SmileBoom has agreed with Bandai Namco that it can offer resources and assets for some of the major publisher's classic franchises in its homeland. From the press release:
As an initial phase of the collaboration we will deliver graphic and sound materials of Galaxian, Galaga, Xevious, Pac-Man, DigDug and Mappy. These IPs will be sold online for Petit Computer the 3rd owners in Japan. You can create your own game by using graphic and sound materials from these games.
Are you excited about SmileBASIC coming to the Wii U, especially with that keyboard and cross-platform support? Are you also tempted by that Advanced Sound Unit DLC that's on the way?
Let us know, and here's hoping a European release isn't too far away.