Splatoon has various strengths to appeal to gamers of all ages, from its colourful aesthetic to hugely effective controls, and also its blend of shooting for kills and covering the ground. Another strength is fashion. There are clothes, hats, sneakers and even trendy glasses so you can look good when splatting opponents.
Fashion may not be a priority for all, but it can help, and we've had a charming young reader brighten our Saturday and remind us that an Inkling's look matters as much as the gun they're carrying. Wii U owner Kevin got in touch to share that he'd been enjoying the previous rounds of the Splatoon Global Testfire with his nine year old daughter, Erin. Unknown to him Erin was so taken with the game, and clearly by its sense of style, that she wrote us a letter.
Erin somewhat overplays our ability to sway Nintendo, but nevertheless shared some rather stylish ideas for outfits in the game.
Needless to say Kevin and young Erin are looking forward to the game's launch in the coming week.
We've picked out some of the official fashion shots from the game, below. Maybe it's worth picking out some neat outfits before heading into battle, not just eyeing up available gun upgrades.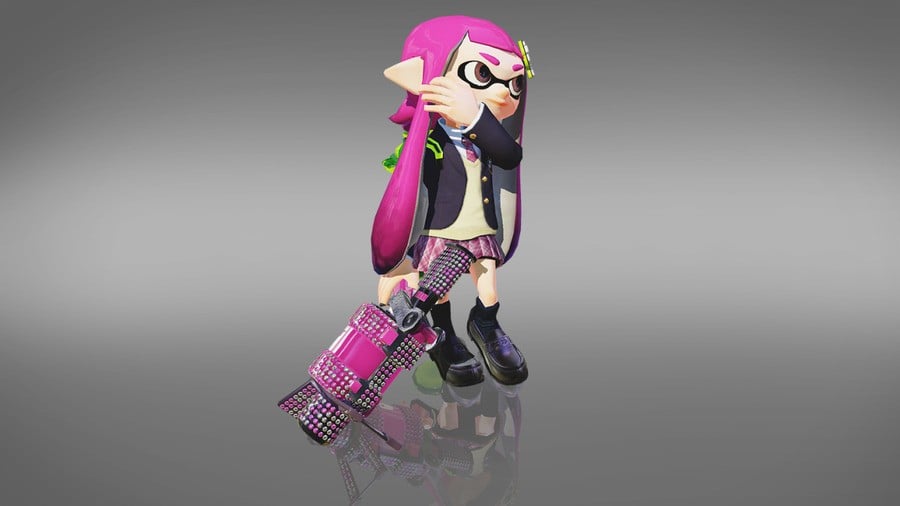 Don't forget that the final Global Testfire is today (23rd May) at 3pm Pacific / 6pm Eastern / 11pm UK / midnight CET; we'll have live chat on the go for the final pre-launch online session.
With special thanks to Erin and dad Kevin for the letter.