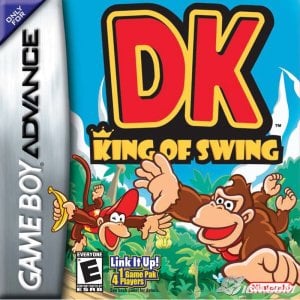 There's certainly more to Donkey Kong than terrific 2D platformers — the ape began life as a villain in the iconic self-titled arcade, went 3D on the Nintendo 64, has gone up against Mario in some tricky puzzle games and even had his own set of bongos. All of that said, Game Boy Advance title DK: King of Swing is still one of the mascot's more surprising titles.
In this game you use the two shoulder buttons to guide DK between pegs from a top-down perspective, swinging through environments while collecting bananas and taking down foes. It's tricky to explain, so the official trailer below may help.
As you may have guessed that's from Nintendo's Japanese YouTube channel; this title's been released today on the Wii U Virtual Console in the country. It seems to be headed to the West too, however, courtesy of a heads up via an ESRB rating.
Do you think you'll get into the swing of this one when it makes it out of Japan? Let us know.
[source esrb.org, via nintendoeverything.com]