The online modes for Super Smash Bros. for 3DS and Wii U were finally revealed to the world in Nintendo's recent Super Smash Bros. Direct presentation, and it seems that both inexperienced and competitive players have something to be happy about.
The online portion of the game, which has been confirmed for both versions (though it must be noted that it doesn't include cross-play between 3DS and Wii U), will come in two flavours: "For Fun" and "For Glory".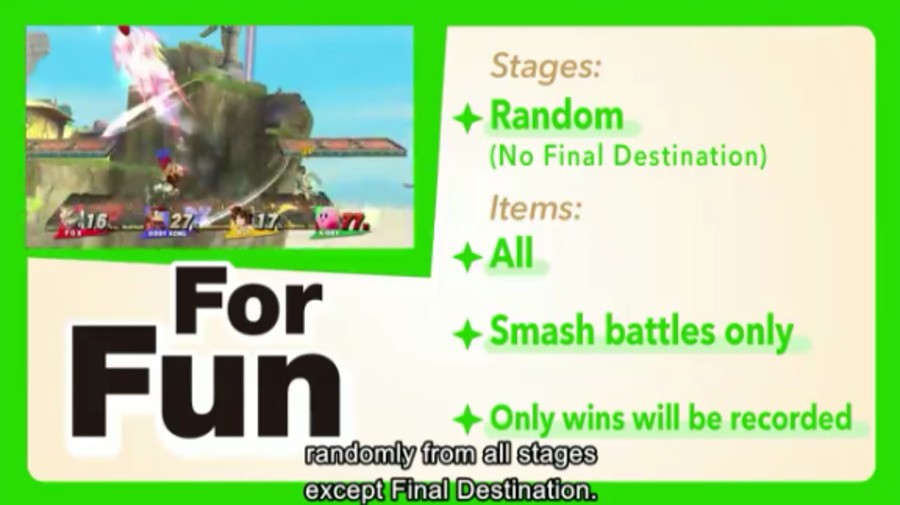 "For Fun", as you might have guessed, is designed to provide a more laid back Super Smash Bros. experience. In this mode, all stages are picked randomly and all items and power-ups are available. "For Glory" looks like a move on game director Masahiro Sakurai's part to appease more competitive players. Here, only Final Destination and the new Final Destination stage variations (existing stages that have been modified to emulate the basic Final Destination design) are available. Moreover, items and power-ups are nowhere to be found, and even 1 vs 1 battles are possible.
Of course, when playing with friends you can choose whatever settings you like. Sakurai-san has recommended that for the Wii U version at least, players should invest in a Wii U LAN Adaptor or wired connection to ensure the smoothest possible online experience. Let's just hope that the game performs a lot better than its predecessor in this area.
What are your thoughts on the new online modes? Which one do you think you'll be spending most of your time in? Let us know in the comments section below!