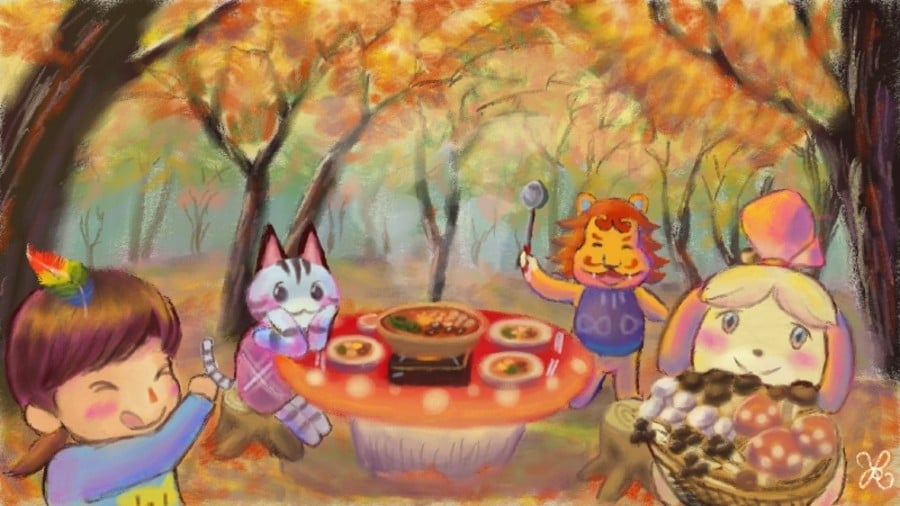 Nintendo has been making good use of Miiverse and Wii U title Art Academy: SketchPad in recent months, running events for the Year of Luigi and The Legend of Zelda: A Link Between Worlds. Its latest event is for Animal Crossing: New Leaf; while it might seem late in the day for an event based on the summer 2013 release (as it was in the West), it also reinforces the point that this is one title where timelines are irrelevant.
For those bitten by the bug — rather than, say, successfully catching it in a net — New Leaf may still be a game earning 30 minutes to an hour of time on an almost daily basis. It's been a major success for Nintendo, and this latest drawing event on Miiverse gives fans a chance to show their affection for the title; this especially applies to those that have made good use of the Animal Crossing Plaza on the home console. New Leaf director Aya Kyogoku has outlined the rules, an excerpt of which is below.
The theme is "The Four Seasons of Animal Crossing." I want you to draw an Animal Crossing picture based on your favourite month of the year!

Guidelines:

Pictures must be drawn using Art Academy: SketchPad which is available for purchase in the Nintendo eShop.
Pictures must feature at least one character from the Animal Crossing series.
Entries are limited to one original work per person.
Comment on this post to submit your entry.
Please specify which month you have drawn in the comment field.
Drawings will be chosen by Nintendo based on the skill, artistic expression, originality and creativity of the author.
We will choose our favourites from the entries. We may share your drawings outside Miiverse.

The event will end on Mar. 16 or after there are over 1,000 comments, whichever comes first. We will choose our favourite works representing each month, and after reviewing, we will announce them in this community.
Check out the full post, linked below, to see all of the details and, of course, submit your entries. Will you be expressing your creative side for this?
[source miiverse.nintendo.net]