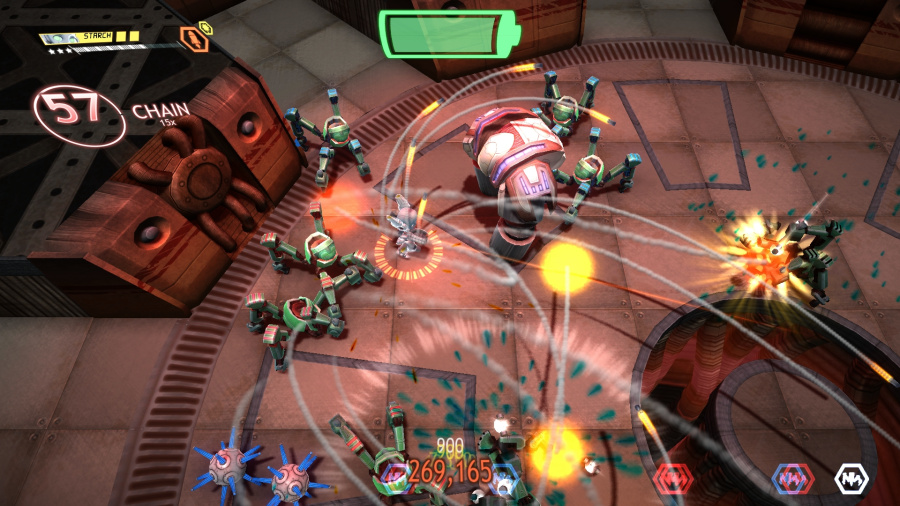 Not long ago we told you about Assault Android Cactus, an action shooter from Australian developer Witch Beam that's targeting a Q1 2014 release on the Wii U eShop. With a top-down perspective and plenty of twin-stick mayhem potentially on offer, it looks like it could be a stylish slice of fun.
For those lucky enough to have a ticket for the Eurogamer Expo, Witch Beam has confirmed that the PC build of the game — due later this year — will be on show at the Indie Game Arcade area of the show. We'll be going hands-on and having a chat with the developer, and the studio's co-founder Sanatana Mishra has also given us a few pointers into the control options that will be planned for the Wii U version.
For starters we will definitely be supporting off-screen play and also the use of practically any controller configuration, Wii Remote + Nunchuck as a replacement for Keyboard/Mouse and the twin stick pads. GamePad specific elements are still a bit TBD as we need to be careful to avoid gimmicky tacked-on gameplay, so I imagine we won't be talking about them until much closer to the Wii U version's release.
The Wii Remote pointer has often been considered by some — particularly in FPS titles or fantastic shooters such as Sin and Punishment: Star Successor — as the most accurate control scheme for aiming aside from the mouse and keyboard. Not everyone will agree with that, but it's encouraging that the option will be included.
If you missed it before you can check out the trailer for Assault Android Cactus below.